Time Flies
Pilot watches earn their wings through function and a flair for stylistic history
The most significant pilot's watch in history wasn't a pilot's watch—or at least not what we'd think of as one today. While technically qualifying (because it was made for a pilot), the Cartier Santos lacked the features commonly associated with the category.
In 1904, the year after the Wright brothers' first flight, the Brazilian aviator, adventurer and bon vivant of Paris society, Alberto Santos-Dumont asked his friend Louis Cartier to create a watch that he could read on his wrist—instead of reaching for a pocket watch—while he flew his aircraft. Cartier delivered the square Santos featuring the brand's now signature Roman numerals. It would be decades before aviators carried bells and whistles like slide rules or multiple time zones on their wrists.
In fact, it was as a wristwatch (not as a pilot's tool) that the Santos caused its biggest stir. In 1911, the maison partnered with a forerunner of Jaeger-LeCoultre to produce watches with wrist straps for public consumption, and sleek, modern timekeepers for men soon dominated old-fashioned pocket watches. Still, the Santos established the pilot category, which has evolved in functionality and design ever since. The spectrum of pilot watches on the market today contains almost a timeline of its evolution from retro editions to the advance guard of design.
Following last year's revamp of its modern Santos, Cartier expanded the collection with a variety of new designs including six new chronographs ranging in price from $8,950 to $24,700 and powered by a modified 1904-CH MC caliber that moves the start and stop button to 9 o'clock, across from the crown, which features an integrated reset function.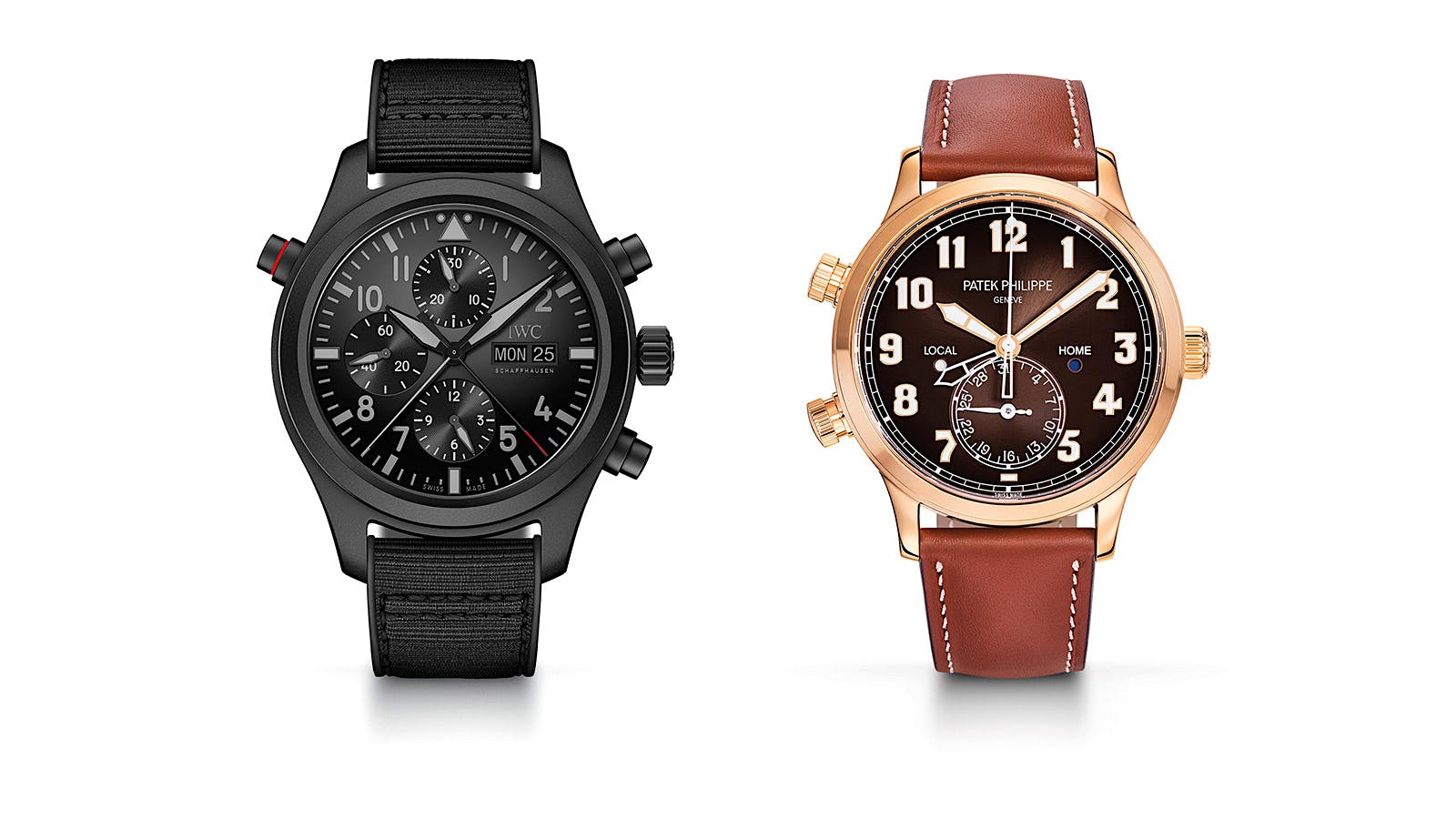 What early pilot watches lacked in technical extras, they made up for with rugged reliability and optimal legibility. They came in large sizes, often with black dials contrasted with white glow-in-the-dark Arabic numerals. The masculine, no-frills styling still resonates with modern watch enthusiasts. "Today, there is a huge trend for anything large, steel and sporty," says Alexandre Ghotbi, a watch sales specialist at Phillips auction house in Geneva. "All these chronos from the '50s, '60s and '70s by Rolex, Omega, Longines and others are doing really well in the auction market."
Other brands are referencing the dawn of flight. Zenith's aviation heritage traces to 1909, when Louis Blériot flew across the English Channel with a Zenith watch. This year, the brand marks the 110th anniversary of that flight with the 45mm Pilot Type 20 Extra Special Silver ($7,700), a 200-piece limited edition in silver with a brushed silver dial stamped with a rivet pattern.
Patek Philippe's vintage-inspired Calatrava Pilot range added the 42.2-mm 5520P Alarm Travel Time ($226,810) boasting a new integrated striking movement with an alarm using a hammer-and-gong system. The unconventional design has three pushers plus a crown for setting home and local time as well as the alarm.
Pioneering aviators decked out in leather, goggles and flowing white scarves conjured a romantic sense of adventure and derring-do. But during World War I, a reliably accurate pilot's wristwatch became vital military gear that made the difference between life and death.
"Before satellites, GPS, electronic microchips—all this wonderful equipment that today's armed forces have—watches were one of the key tools," says Aurel Bacs, co-founder of Bacs & Russo, a Geneva consultancy and partner with Phillips. "They were used for navigation, at sea and on aircrafts."
Following his famous New York to Paris flight in 1927, with Longines as official timekeeper, Charles Lindbergh partnered with the brand to make a watch as a navigation aid. The Lindbergh Hour Angle was modeled on a piece Longines had developed with the U.S. Naval officer and navigation expert Philip van Horn Weems, who had filed a patent for the first rotating bezel in 1929. The massive 48-mm Weems Second Setting watch allowed navigators and pilots to synchronize to the second by using radio time signals and a rotating central seconds dial. "It's like a second dial that rotates in the center for pilots to use to plot courses more accurately," explains Brandon Frazin, watch specialist at Christie's, which sold a 1948 version for 35,000 Swiss francs in 2017. The Longines Avigation BigEye ($2,625) embodies the pilot watches of the 1930s with its semigloss black dial with luminous Arabic numerals. The column-wheel chronograph movement has oversize push buttons that can be manipulated while wearing gloves.
On the eve of World War II, Breitling established the Huit Aviation Department to produce cockpit instruments and pilot watches for both military and civilian use. Huit, French for eight, was a reference to an eight-day power reserve. Last year, CEO Georges Kern presented the new Navitimer 8 collection in a tribute to that aviation heritage. Breitling is most famous for its Navitimer introduced in 1952 with a slide rule for flight calculations, making it the ultimate tool watch for serious pilots. This year, it revived a 1959 Navitimer with the Reference 806 1959 Re-Edition ($8,600), a faithful reproduction endowed with the latest technology.
During World War II, watches were standard-issue gear for soldiers and pilots. American armed forces were outfitted with military spec A-11 watches produced by Bulova, Waltham and Elgin. Seikosha, a division of Seiko, supplied pilot watches to Japanese forces, and the Brits wore watches by IWC, Omega, Longines and Jaeger-LeCoultre, among others. Those military models had to resist dust, water, shocks, magnetic fields and extreme temperature fluctuations. Accuracy was critical, particularly when performing synchronized bombing runs. "Military watches were never embellished or overly decorated, they were no-nonsense designs—form followed function," says Bacs. "They had great legibility, and many of the best watch designs that have weathered the test of time are military watch designs." He adds that auctioned watches with authentic battle stories carry special value for collectors.
IWC made a watch for pilots in 1936, followed by the first Big Pilot's watch for the Luftwaffe in 1940. The German air force contracted watches from a number of brands that also included A. Lange & Söhne, Laco, Wempe and Stowa. The giant 55-mm pieces were legendary tool watches and the design was the model for IWC's modern Big Pilot. This year, IWC concentrated on its pilot offerings with 14 models in its Spitfire, Le Petit Prince and Top Gun ranges. The latter includes innovative materials such as a beige ceramic case for the limited-edition Chronograph Mojave Desert ($9,100) and the Double Chronograph Ceratanium ($14,600) made with a proprietary alloy of ceramic and titanium.
After World War II, pilot watches fell out of fashion. "People went back to smaller watches," says Ghotbi. "The trend was 33, 34, 35 mm, but often with funky lugs and case shapes." But aviators still needed the functionality of a pilot's watch, and, during the mid-1950s, the French military established specifications for Type XX watches to equip its pilots. The watches had large dimensions, black dials and were equipped with a flyback function to instantly reset the chronograph to save fractions of seconds. Brands that produced these pieces included Tissot, Leonidas and, most famously, Breguet, which carries on the Type XX legacy today. It recently introduced a limited-edition (111 pieces) rose-gold version of its Type XXI 3817 flyback chronograph ($25,600), pairing retro design with state-of-the-art movement technology, including silicon components.
With a luminary in each field, the Breguet family linked watchmaking with aviation design. Abraham-Louis Breguet, a watchmaking innovator and the cofounder of the company named for him, was the great-great grandfather of aircraft designer Louis Charles Breguet, whose firm made the gyroplane, a precursor to the helicopter. The companies developed chronograph mechanisms for cockpit instruments and made pilot watches, including their first wrist chronograph in 1935.
Pan Am Airways commissioned Rolex in the 1950s to produce watches that would allow pilots and crew to keep track of different time zones, and the GMT Master was born. The watches were fitted with a distinctive red and blue bezel that served as a day/night indicator. The two-tone bezel was nicknamed Pepsi. Last year, Rolex introduced a GMT Master II in steel with a Cerachrom ceramic Pepsi bezel paired with the brand's distinctive five-link Jubilee bracelet for the first time. These pieces are in such high demand that most retailers can only offer to put you on a waitlist. The Rolex specialty website Bob's Watches sold a 2018 GMT Master II for $22,000 last fall, more than double the retail price.
Alpina has supplied pilot watches to air forces for more than half a century. Last year, it revisited the 1970s with its Startimer Pilot Heritage GMT ($1,395), modeled on a watch called the Dispomatic. The alarm from the original is replaced with a GMT. A rotating disc at the center of the dial indicates the second time zone. The Startimer Automatic, with a Sellita base movement, struts a daring 1970s style with its tonneau case and an orange seconds hand. Breitling also paid tribute to '60s and '70s style with the special-edition Navitimer 1 B01 Chronographs commemorating Swissair, Pan Am and TWA, airlines that embodied that golden era for globe-trotters.
Oris, which has made pilot watches since 1917, introduced its first Big Crown—named for an oversize crown that pilots could adjust with their gloves on—in 1938. This year's updated Big Crown ProPilot Timer GMT features a slimmed down 44-mm stainless steel case ($2,600 to $2,800). The red-tipped central GMT hand indicates a second time zone, and a bidirectional rotating bezel allows you to time events.
In the modern era, passion and great design can replace a long legacy in making aviation watches. Lifelong friends Bruno Belamich and Carlos A. Rosillo founded Bell & Ross in 1993. From the start, it developed rugged designs that evoked cockpit instruments. Collections include the signature square BR range and the Vintage collection based on pilot watches from the 1940s. Recently, the brand's design studio branched out into airplane design with the speedy BR-Bird, which competed at the Reno Air Races. To commemorate that aircraft, the brand launched two Racing Bird watches that mimic the plane's flight instruments. The colorful BR V2-94 automatic chronograph ($4,700, limited to 999 pieces) is accented with blue, orange and gray in a striking departure from traditional black dial and white dials.
Nick and Giles English were raised by an ex-RAF pilot, and grew up flying in vintage planes. The pair launched Bremont in 2002, naming the company for a French farmer in whose field they had made an emergency landing. Last year, the brand expanded its U-2 range, a line designed for and tested by an elite spy plane squadron. The U-2/51-JET ($5,395) is cloaked in black and illuminated with phosphorescent material that Bremont trademarked as "51," for its use on the limited-edition P-51.
Ironically, the watch that first made the ultimate flight—the one to the moon and back—was never meant as a pilot watch. It was designed for road and track and introduced in 1957 with a tachymeter on the bezel for tracking speed. But Omega's Speedmaster chronograph made history on the wrist of Buzz Aldrin when he strolled on the lunar surface in 1969.
This year, Omega pays tribute to the flight's 50th anniversary with the Speedmaster Apollo 11 50th Anniversary Limited Edition ($9,650). The new Cal. 3861 movement powers the model with a coaxial escapement for heightened accuracy, a hacking seconds function and extreme resistance to magnetic fields thanks to silicon components. The gray and black dial features a golden laser-engraved image of Aldrin descending to the surface. And while the Speedmaster doesn't exhibit the hallmarks of a pilot watch, it has flown higher than any other.