Where to Smoke: Red Phone Booth, Atlanta
On a quiet side street in the middle of downtown Atlanta sits a bright red antique English phone booth. To the average passerby it's just an oddity, but for those in the know, it's the only way to get into the Red Phone Booth cigar bar. Before you open the phone booth door, you'll need to secure the private phone number that's only available by emailing the venue's website or one of three ways: from a Red Phone Booth member, from someone who knows the number, or from a concierge at a hotel where you are staying. Dial the correct number and the booth opens up into a speakeasy styled bar with Prohibition-era cocktails, quality cigars and serious bartending.
Greg Grant, Red Phone Booth president, is serious about the integrity of the speakeasy experience. He has been known to turn away thirsty customers because they lacked appropriate attire. As he explains, "We aren't being snobbish. It's about the selectiveness of the experience. Our guests don't want to be sitting next to some college kid turning green as he puffs on his first cigar." He has a point—you will want to be dressed for this destination.
The space is set inside a restored, 100-year-old historic building, with backlit hand-painted ceiling tiles and a honey onyx bar that lend a lambent glow to the classy vibe. Seating is plush and comfy with several booths and smaller groupings of Italian leather sofas. In the back you'll find a private party room with a pool table and plenty of big-screen action.
Once you've sorted out the necessary phone booth details and made your grand entrance, you'll want to get to the business of imbibing and smoking. The drinks menu is dense with premium spirit choices, and whiskey lovers will be impressed with the range of older age statements. Yet, cocktails are king here.
The double-reverse osmosis ice is always hand cut and juices (blood orange, mango, and cranberry) are 100 percent freshly squeezed. They offer beautifully executed classics such as The Aviation, Brown Derby and Clover Club. Their decadent Smoked Old Fashioned, a house favorite, pairs nicely with the hugely popular Pappy Van Winkle Family Reserve by Drew Estate.
The cedar-lined humidor has more than 100 labels to choose from and a steady rotation of new offerings. Many patrons opt for the Red Phone Booth's house stick: 18th Amendment, a dark, medium-bodied cigar with a Brazilian Arapiraca maduro wrapper and a blend of Dominican and Nicaraguan filler.
The dining menu is modest but well-conceived, with offerings such as West Coast oysters, shrimp martini and caprese salad. If you need a dish to stand up to your cigar, opt for the beef carpaccio or chilled beef tenderloin medallions and roasted potatoes.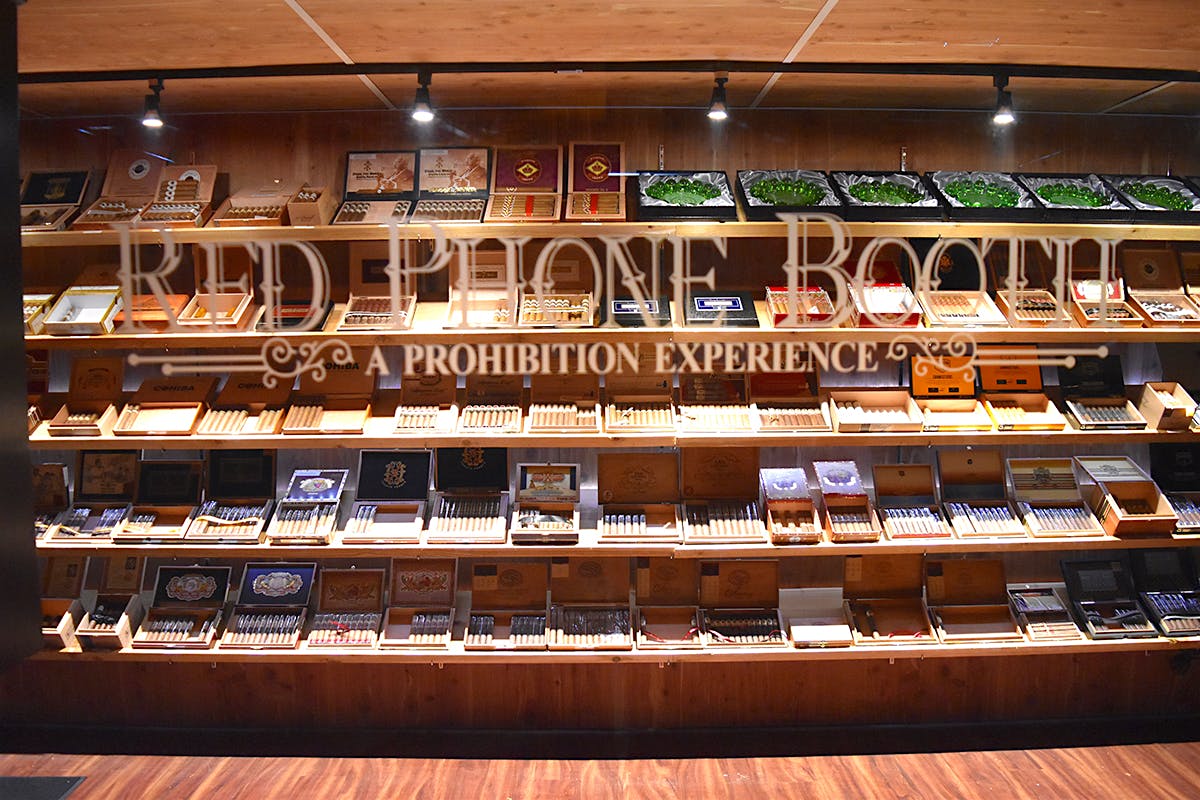 The crowd is promisingly diverse with a strong female contingent puffing on cigars and ogling the cocktail menu. There doesn't appear to be an age majority either—the only commonality is that these people have the secret number. And the mood is distinctly relaxed; you can socialize here without being on top of everyone else.
Grant is obsessive about quality and the guest experience. Indeed, one of the first things you'll see when you open the menu is this statement: "We are in the business of exceeding your expectations. If we don't, please call us out on it." Cigar lovers—Red Phone Booth has your number.
Memberships levels start at $120 per year, but are not required for entry. Members, depending on level, enjoy priority seating and sofa reservations, private cigar lockers and discounts on select items.
Red Phone Booth
17 Andrew Young International Blvd. Northeast, 1st Floor 
Atlanta, GA 30303
(404) 228-7528
www.redphonebooth.com
Open Monday through Friday: 4 p.m. to 2 a.m.
Saturday: 5 p.m. to 2 a.m.
Sunday: 5 p.m. to midnight
archived comments
"In Atlanta on business this past week. Had a chance to visit Red Phone Booth for the first time, it will not be the last time I can promise you. What a great experience, not only did we have a great cigar and drinks from the bar, Greg Grant made it a point to make us feel like we were family. When in Atlanta you have to visit the Red Phone Booth." —June 17, 2017 13:20 PM
"A thousand times, yes. COME TO LA." —March 22, 2017 20:40 PM