U.K. First To Get New Cohiba
The highly anticipated Cohiba Talismán Edición Limitada 2017 will be launched at a party in London
Cigar lovers in the United Kingdom will be the first to receive the Cohiba Talismán Edición Limitada 2017, the biggest—and most anticipated—of this year's trio of Cuban Limitadas.
The cigars will be unveiled at a November 7 launch party in London held by British distributor Hunters & Frankau, with the cigars officially going on sale the next day.
Habanos confirmed that the U.K. would be the first to receive the cigars. 
The Cohiba Talismán is fairly fat for a Cuban cigar, with a 54 ring gauge and a length of 6 1/8 inches, along with a pigtail cap. This size is a new one for the Cuban cigar portfolio, called a cañonazo doble, which translates to "double cannon shot." It's a beefed up version of the cañonazo vitola, created in 2003 with the launch of the Cohiba Siglo VI.
The Siglo VI is no small cigar, measuring 5 7/8 inches long by 52 ring, and upon its debut nearly 18 years ago it was one of the biggest smokes in the Cuban portfolio. It has come to be known as one of Cuba's better cigars. In 16 tastings in Cigar Aficionado magazine and Cigar Insider, the cigar has failed to score 90 points only three times. In its most recent tasting it scored 93 points and was named our No. 19 Cigar of 2016.
It's fitting that this new Cohiba would be launched in the U.K., as the Siglo VI had its debut on British soil as well.
The Cohiba Talismán is plumper and longer than the other two Edición Limitadas for 2017. The Punch Regios de Punch measures only 4 3/4 inches long by 48 ring, and the Partagás Serie No. 1 is 5 1/2 by 52. Unlike some of the new cigars of 2017, there was no advance tasting of the 2017 Edición Limitadas at the Habanos Festival in Cuba earlier this year, and as of today, none of them had appeared in retail humidors anywhere in the world, including Havana.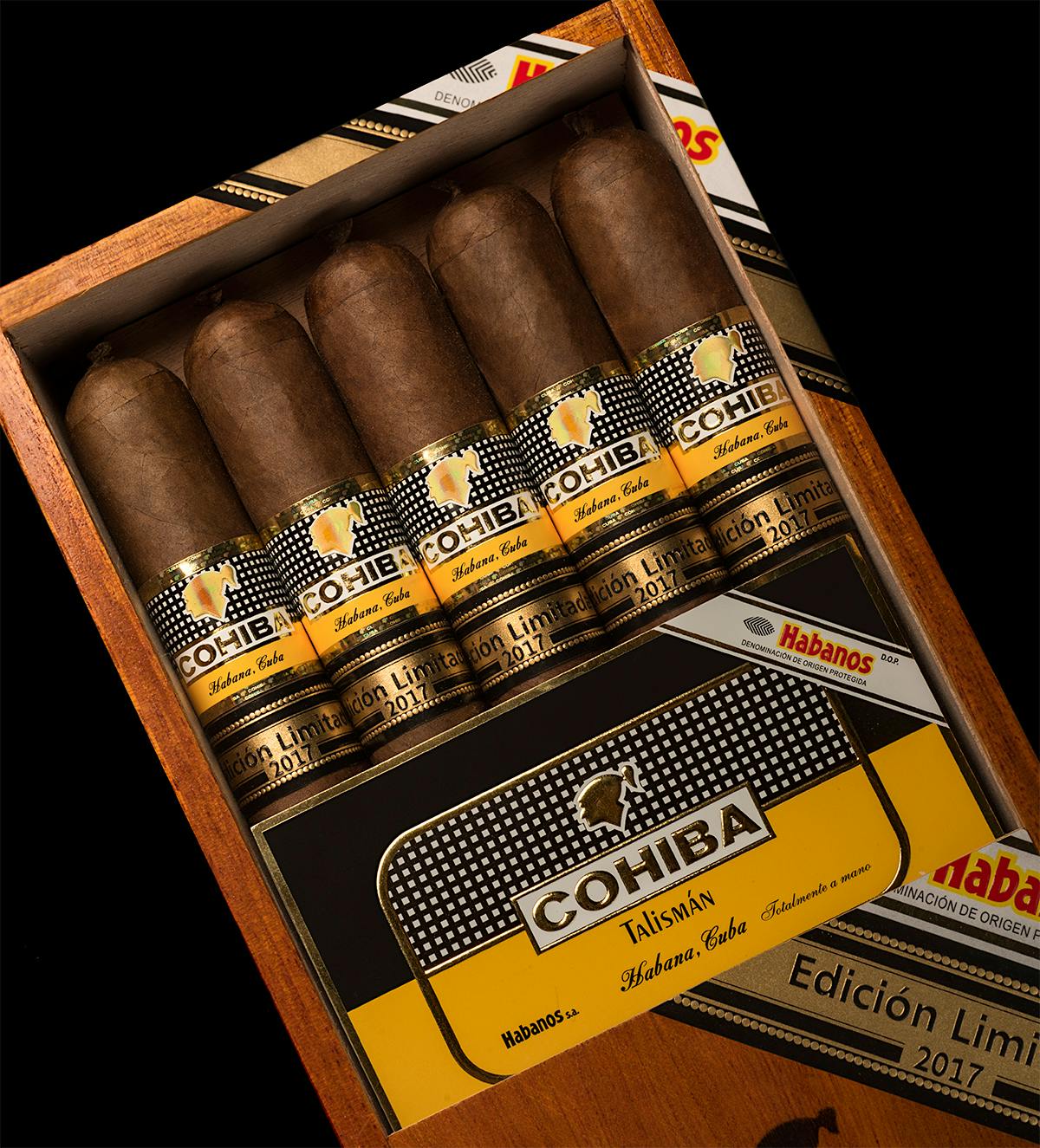 Cohiba is no stranger to heavy ring gauges when it comes to the Edición Limitada program. The Cohiba Sublimes (2004) had a 54 ring gauge; the Cohiba 1966 (2011) was rolled as a 52 ring Cañonzo Especial and the Robusto Supremo (2014) came in at a whopping 58 ring gauge, the thickest Edición Limitada ever to be released, not to mention one of the heftiest smokes in commercial Habanos history.
The Talismáns will retail for £65 per cigar, or £600 ($784) for a box of 10. 
[UPDATE, Nov. 2, 2017: Habanos S.A. has released new photos of Cohiba Talismán that show the cigar is rolled with a pigtail head. These photos, along with new text, have been added to the story.]
[UPDATE, Nov. 3, 2017: Pricing information]
This article first appeared in the October 3, 2017 issue of Cigar Insider.