Standing Tall
Joe Manganiello made his mark by sculpting his body, but the cigar-loving actor has dreams of succeeding on the other side of the camera
Joe Manganiello relaxes in a chair by a large card table in a sprawling basement rec room in his Beverly Hills home, right next to the man cave where he keeps his humidor.
Manganiello, who has been talking about his cigar collection, looks up and smiles when his wife, actress Sofia Vergara, pokes her head into the room. Vergara, as breathtakingly striking in person as she is onscreen, returns his smile as she says, "Would anyone like something to drink?"
After a housekeeper brings the beverages, Manganiello (pronounced MANG-uh-nello) takes a moment to recall the first time he understood that fine tobacco required a more sophisticated approach than he'd known.
"It was probably after I started 'True Blood,' " the Pittsburgh native says, taking a sip of his water. "There was a cigar bar on Sunset Boulevard next to Sunset Tower. They had a great back patio, where I used to go all the time to read scripts or have meetings or just meet friends. I just stumbled upon it—and they had Cubans. You can get fake Cubans a lot of places, but they had the real thing. A couple of the guys there had watched 'True Blood' and knew who I was, so they opened up the wall safe and pulled out a bunch of Cohibas. I smoked those with them and kept coming back."
In person, the six-foot-five Manganiello is imposingly welcoming, towering but warm. Though he's dressed casually in black jeans and a long-sleeve, steel-colored Henley shirt, he can't disguise the powerful build underneath. While gray has begun to dominate his beard, the salt-and-pepper facial hair belies an otherwise youthful face: a hawkish profile that features a strong chin, aquiline nose and eyes which can harden onscreen to the Clint-like squint of a seriously tough guy or soften to reveal the funny, emotionally attuned human within. He has the lanky looseness of an athlete, someone who has learned how to live in that large frame, and a boyish enthusiasm that takes over when he talks about cigars.
"I probably started collecting seriously—with a really good humidor—in 2012 or 2013," he says. "There's some debate about which is my oldest [cigar], but I have an '05-'06 Partagás that's probably it," he says. He has a dwindling stash of special Cuban Cohiba cigars reserved for dignitaries as diplomatic gifts "with the seal of Castro," he says. They're powerful. "These cigars will put you on your ass—they're real elephant legs. We smoked a couple when my brother had his first baby. They're for special occasions. I've got five and once they're gone, they're gone."
The room where Manganiello's tall humidor resides resembles a glassed-in medieval dining room, complete with a banquet table and chairs. On the wall is a realistic-looking dragon's head—Manganiello is a big fantasy fan.
He's also a fan of cigars that are fat and powerful. "I like a bigger ring gauge, and I like a strong cigar," he says. He has a special affinity for Partagás cigars, which he explains as he takes out one rolled in 2008. "My favorite—these are delicious," he says. "And I have a drawer of Daniel Marshall for everyday. They're a little more affordable."
Cigars play a role when Manganiello acts. "When you're on the set, you have downtime—when they're changing the camera or setting the lights," he says. "So I will start a cigar. When they're ready for me, I put it aside. And when I'm done with the scene, I light up and keep going while they set up for the next one."
At age 41, Manganiello has had ample opportunity to light up on set, appearing in two hit Magic Mike films and having a five-season run as a heartthrob werewolf on HBO's "True Blood."
On April 13, he will appear in the big-budget, action-fantasy Rampage, opposite Dwayne Johnson. He also dipped his toe into the DC Extended Universe as super-villain Deathstroke, popping up in the role at the tail-end of the credits of 2017's Justice League.
It's telling which aspect of playing Deathstroke gets him talking: "I have to wear a mask, and there's a real style and technique to that," he says. "Mask-work is something I haven't done since I was at Carnegie Mellon."
Yes, Manganiello is a bit of a theater nerd. Or just a plain nerd, period. There's a lot more to the man than just his muscles.
"It's the most surprising aspect about Joe," says Brad Peyton, who directed Manganiello as an ultra-tough mercenary in Rampage. "I'm a giant nerd, a proud video-gamer who loves things like Dungeons & Dragons. And Joe is the same way—in the body of a six-foot-five muscle-bound human being."
"Joe is not all brawn by any means," says actor Adam Rodriguez, who became friends with Manganiello on the set of Magic Mike. "He's a really intelligent guy. I think he's an artist in the body of an athlete. And the bastard has the body of Adonis."
"From the moment I met Joe, I was just blown away by his strength, his muscles and his look," says Arnold Schwarzenegger, Manganiello's idol. The two worked together on the 2014 film Sabotage. "In the '70s, he could have easily been on stage at a bodybuilding show. He has that classic muscular look that everyone wants. But it's what I found behind the muscles that really impressed me. Joe has a huge vision, and he's also a sweetheart of a guy, with a huge heart. He's the kind of guy who dotes on his wife, gets you the perfect gift for your birthday or shows up to give away toys in East L.A. to less fortunate kids. Don't ever look at the six-pack, or eight-pack, or 12-pack, or whatever he has now, and think that's all he is."
The rippling physique that has become Manganiello's trademark is the product of long hours of work in the gym. He even wrote a 2013 book on fitness called Evolution. "I was a skinny kid, but a good athlete," he says, and he dominated in football, basketball and volleyball.
He also had a creative side. "As a kid, I was an artist. I painted and wrote and created stories," he says. He started acting in his senior year of high school. "At the urging of a high school acting teacher, I made the difficult decision to forgo my senior season as the captain, Junior Olympic qualifier and four-year starter on the volleyball team and try out for the musical instead."
He dreamed of applying to a hometown institution: the highly selective Carnegie Mellon School of Drama. He auditioned during his senior year of high school, only to be rejected. "I wasn't really ready," he admits. "While I'd been playing sports, everyone else had been performing and focusing on that. By the time I got out of sports, they were way ahead of me. When I auditioned, I didn't really know what I was doing, and they did."
He took a year to hone his craft, "working my ass off," he says, and went back for another audition, this time getting in. "It proved to be such a great place to work. Role after role now, I still blow the dust off the old tricks I learned back then. Like acting with a mask."
Manganiello always had a natural athleticism. But being in front of the camera requires a different kind of commitment to his art. He may not be a bodybuilder, but he had to look like one. He gradually developed an appreciation for the kind of body sculpting necessary to be an action star.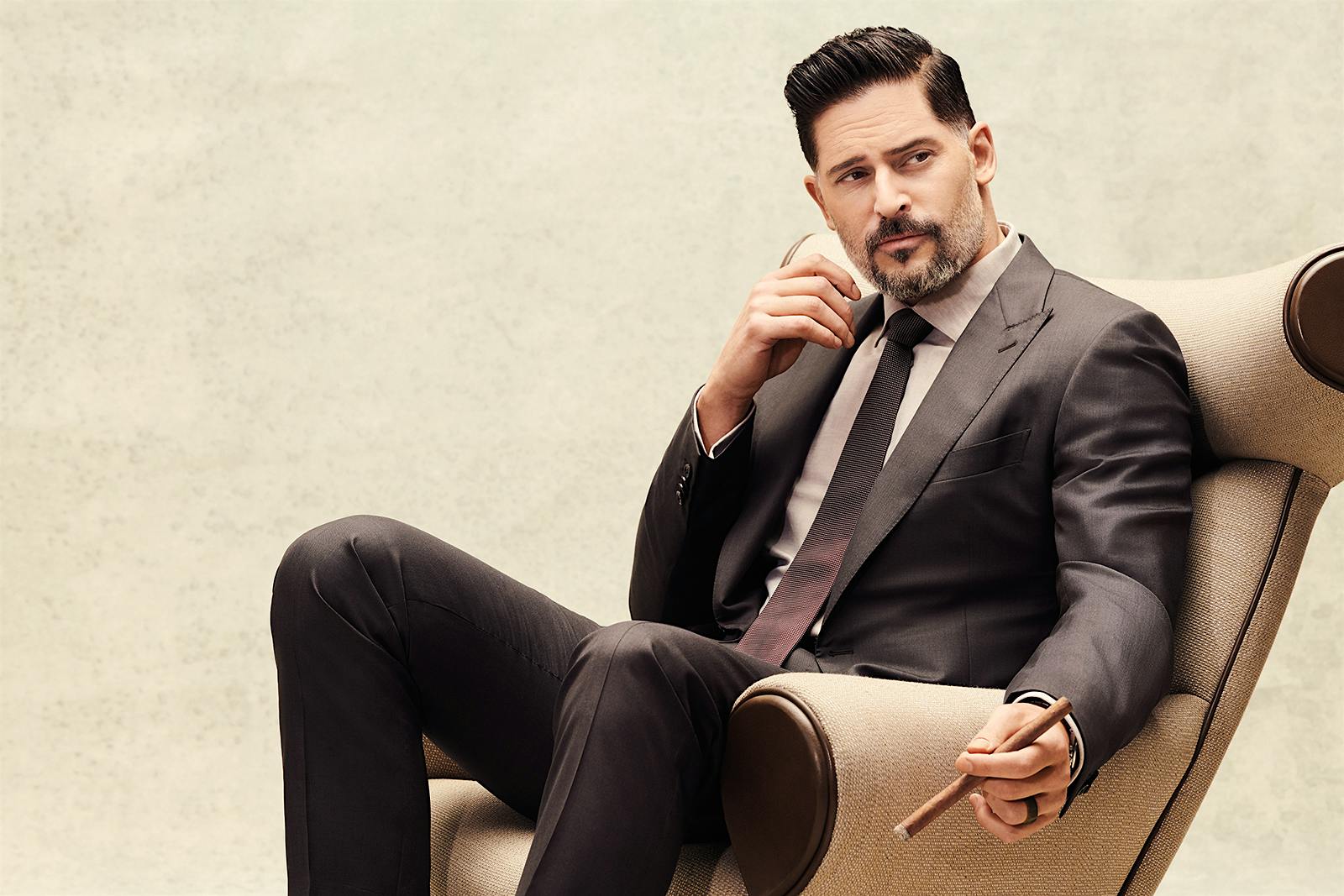 "I liked being healthy, feeling healthy," he says. "And it's fun to push your physical form around." Chiseled, cut, ripped—choose your adjective and it describes Manganiello, whether he was shedding his clothes (just before he turned into a large wolf) in "True Blood" or as a male entertainer in Magic Mike. But Manganiello maintains that the emotional challenge of acting is more daunting than the physical demands of bodybuilding.
"Working out is fun," he says. "But playing Stanley Kowalski eight times a week? That's tough. That's the real challenge."
He's in no hurry to go back to theater: "I have to say I love the exhilaration of film sets. I love the permanent, yet fleeting nature of film. It lasts forever but it's the only time you'll perform it. And so you put everything you've got into that moment. That's really exciting to me. I do love the live audience in theater: the feedback, the interface. But film is what made me want to be an actor."
Manganiello seemed to make an effortless leap from Carnegie Mellon to Hollywood. He was cast almost straight out of college to play Peter Parker's high school nemesis, bully Flash Thompson, in the 2002 Spider-Man. The film was a hit, but Manganiello was unable to capitalize on that auspicious debut. "That film was amazing," Manganiello says. "But then—well, I needed to quit drinking." He'd struggled with alcohol addiction, and once in Hollywood, he went off the deep end at the first taste of success. "My life was ruined," he told Men's Health in 2016. Sitting in his home now, he says that he stopped drinking, started working construction jobs and eventually got back to acting. "When I got the drinking taken care of, the work came back," he says. "It was just my time. I needed to handle all that."
Manganiello has the look of a romantic hero, and he played that role in "True Blood," the show that really launched him during his 2010–14 run. But he's shown he can deftly handle comedy as well. He's appeared on hit TV sitcoms like "How I Met Your Mother" and "Two and a Half Men," and while his Magic Mike role may have been built around his physique and physicality, it played to his comic talents as well. "He brought a kind of goofiness to that role, a willingness to be absurd," says Steven Soderbergh, the Oscar winner who directed the film and produced and shot its sequel. "He had this understanding that this character is someone who takes himself seriously—and that there's a deep vein of humor in a character like this. Joe was in on the joke and understood totally how to play that rich comic figure. He was inside and yet able to look at it from a distance."
Manganiello even appeared in the 2016 Pee-wee's Big Holiday, opposite the goofy and childlike character Pee-wee Herman. At one point, the massive Manganiello is clad in the same slim-fit, gray-plaid suit and red bow-tie as the much smaller Pee-wee.
"Joe's sense of silliness is the reason I like him so much in the movie," says Paul Reubens, who has played Pee-wee for nearly 40 years. "A director friend of mine wrote me after it came out to rave about Joe. He said, 'There's not a single hint of irony in his performance' and I thought that was a huge compliment… He's a phenomenal actor."
The film also changed the profile of some of the fans who recognize Manganiello when he's traveling. (The lifelong Pittsburgh fan goes to as many Steelers games as he can.) "I'd get girls, but I'd also get guys who knew who I was but would say, 'My girlfriend would kill me if I didn't get a picture with you,' " Manganiello says. "And I'd think, 'Why not just admit you want a picture with me?' " Doing the film with Reubens means his demographic now also can skew younger. "Joe told me a few months ago that, when he's in an airport, he gets little kids saying to their parents, 'Look—it's Pee-wee's friend,' " says Reubens. "Although I will say that when I hang out with him, he gets plenty of recognition from women, too."
But there's only one woman for Manganiello: Vergara, to whom he's been married for two years. It is the first marriage for Manganiello, who met the "Modern Family" star in 2014 and proposed marriage six months later.
"The biggest adjustment in marriage? Coming to grips with the idea that someone who is not related to you could possibly love you that much," Manganiello says. "There's nobody I'd rather spend time with. She was it for me.
"People say things like, 'Marriage and relationships are work.' But it's not. Life is hard. Having somebody to help you deal with it is the greatest thing that ever happened. It's such an easy relationship—easy in all the right ways. Looking back on the relationships I had before this, I think the universe was giving me some tough practice so I'd get this right."
Manganiello and Vergara will appear together in this year's Stano, an independent film that he developed, produced and stars in. He plays a one-time baseball phenom whose career is derailed before it gets started, and who must reassemble his life after almost 20 years in prison. "I read the script and knew it was a great role for me—then it was a five-year struggle of getting it made," Manganiello says. "It's a story about redemption and putting your life back together. It's more like what I used to do in college drama school." The straight dramatic role is part of his plan to create and produce more films of his own. A teacher from the Moscow Art Theater and Carnegie Mellon once told Manganiello "inside of every actor is an artist and a bill payer, you have to make them both happy." Those are words he has taken to heart. "So I'm the one who pushes me," he says. "You get offered the last thing you did. But most artists want to continue to grow, to move on to the next thing. That's the challenge to a career as an actor. A painter gets to paint what he wants. But an actor has to wait for someone else to hire him. As an actor coming up, you take jobs you're not passionate about, or you lose jobs you would be passionate for."
Although Stano is small budget, Manganiello has dreams to make bigger films as well. "I want to get to a place where I can finally shape things the way I want them. I want to be able to write, direct, produce, act, and do it in my own big-budget sci-fi features."
"The good news is that he's focused on expanding his ability beyond just appearing in front of a camera," Soderbergh says. "Anyone who understands the business and wants to do that is smart. If you're an actor still waiting to be called to work, you don't know what you're doing."
Part of his long-term vision stems from turning 40 last year. "It probably hit me during Magic Mike XXL that if we even thought of doing another one, we wouldn't be young anymore. Turning 40 solidified that," he says with a smile. "I'm not a young buck anymore. I'm a crafty older guy."
Manganiello has forged a friendship with Schwarzenegger, another cigar-smoking crafty older guy, who wrote the foreword to Manganiello's fitness book. "He has the ability to put a smile on anyone's face," Manganiello says of the former California governor. "He makes people feel good about themselves. He takes really good care of himself and he's incredibly smart. He smashed all the stereotypes about bodybuilders. Arnold is proof that Renaissance men do exist. I asked how he gets so much done and he said, 'You have to learn to sleep faster.' "
For Schwarzenegger, the feeling is mutual. "I think if you tell Joe to do 10 reps, he would do 20," Schwarzenegger says. "That's just part of his intensity. When he does something, he isn't content with doing it halfway. He isn't even content with doing it 100 percent. He has to go beyond."
Manganiello's urge to go beyond his recent résumé will have to strike a balance with Hollywood's interest in turning him into an action star. Peyton's experience directing Manganiello in Rampage has whetted his appetite for more: "He's an artist mixed with a gamer geek. He puts his creativity into those worlds, which is why he's so good in movies like that. He just gets them. I'm actively looking to work with him again."
Asked to reveal something people wouldn't guess about Manganiello, Soderbergh chuckles and says, "Most people don't know Joe wears super-thick glasses. He's really blind without them. There's this assumption you have that he's perfect, but the first time you see him in the glasses, you go, 'Whoa, wait a minute.' It's like a Clark Kent moment." Which is interesting, given Manganiello's close call with playing Superman in 2013's Man of Steel and its sequels. Considered for the role, he ultimately couldn't reconcile conflicts with his "True Blood" obligations.
Manganiello should end up with plenty of opportunities to fill his spare time on the movie set with more than a few choice cigars. "I don't shy away from them. Cigars are a great way to socialize. That's the beauty of a cigar: A good one takes an hour, or an hour and a half. The way attention spans are going, everyone spends their time fiddling with their phone and doing everything they can to not pay attention to the person they're sitting across from. But a cigar forces you to bond with other human beings."
Manganiello sometimes smokes cigars with the Terminator. "When you smoke a stogie with Joe, the intensity dissipates with the smoke, and you can see his sense of humor, his heart, and his intelligence," says Schwarzenegger. "You can have a long conversation about any subject that will last through a full smoke and then some, and both of you will leave feeling better off."
Manganiello remains focused on the future. And it comes as no surprise that the man who works so hard in the gym to build his body doesn't take any part of his current situation for granted.
"I can't sleep unless I know I've done my best," Manganiello says. "I can accept failure, or 'No,' if I did my best. I don't wake up in acceptance. When I wake up, my first thought is, 'There's work to do.' When I lay my head down at night, I have to accept where I'm at."
"Am I happy with my life? Absolutely. But the finish line is constantly moving. When I was younger and greener, I probably thought there was one finish line and a race to get over it. When I got older, I realized there is no finish line—you just keep going and going and going. And whatever happens in your life is fuel for what you do in your work."
Contributing editor Marshall Fine is critic-in-residence at The Picture House Regional Film Center in Pelham, NY.