Review: Leopard Bar, Hotel d'Angleterre, Geneva, Switzerland
A sophisticated space with a separate cigar lounge for aficionados
The five-star Hotel d'Angleterre sits on edge of Geneva's famous lake in a prime spot in the heart of town, with direct views to Mont Blanc, Western Europe's highest peak, and has long been known as one of Europe's finest small city hotels, with white glove personal service and just 45 opulent rooms. Despite its rich history, the hotel's now legendary Leopard Bar was the staff laundry room until 1996, when it became a library-themed lounge. Six years later, the hotel was purchased by Beatrice and Stanley Tollman, renowned South African hoteliers whose Red Carnation group owns twenty luxury properties worldwide. It was Beatrice who installed the namesake upscale safari-chic theme in 2002 and her husband who indulged his passion for cigars.
For nearly two decades the Leopard Bar has been one of the classiest drinking establishments in the sophisticated Swiss city, with tuxedoed Italian barmen, shelves full of leather-bound books, and live music. It's the kind of place that eschews the mixology trend for classic cocktails, presented with a trio of snacks, and ups the ante with little touches. For instance, the popular Aperol Spritz is topped tableside, not with the usual cheap Prosecco, but rather Ruinart Champagne, and the list is deep with Scotch whiskies, Cuban rums, and brandies, including Armagnacs dating back to 1848.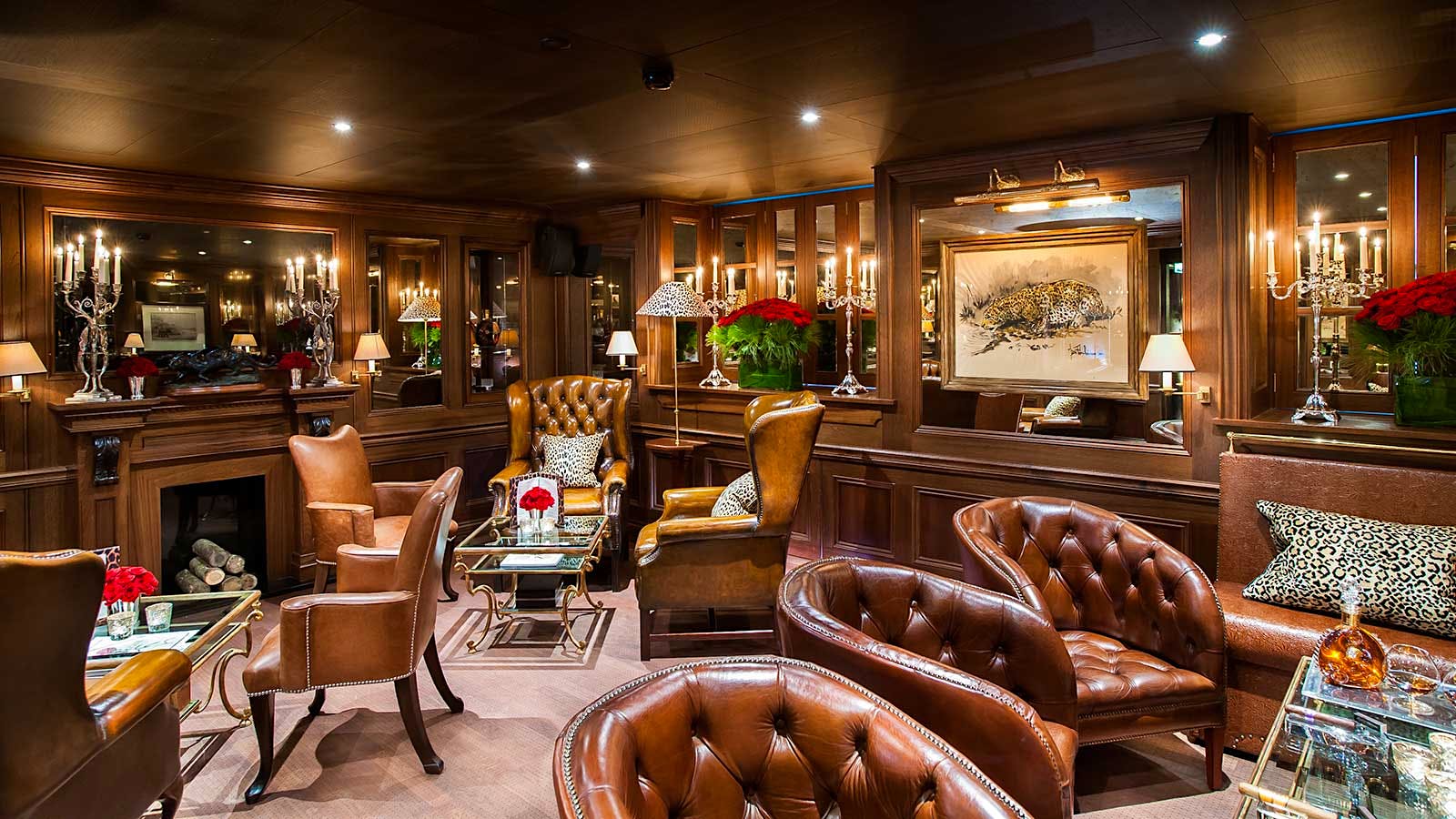 Beatrice managed to pull off an animal theme that's not kitschy, despite the leopard motif that surrounds the space. An alcove between the bar and the street front windows is done up as a mini-cigar area with tobacco art and black-and-white photos of cigar rollers, but this has not been used for smoking since Geneva's citywide ban went into place in 2008. Instead, the hotel constructed an entirely separate cigar lounge next door, much larger and with the same feel and framed leopard lithographs, plus a lot of leather couches, chairs and low cocktail tables.
The humidor and cigar lists sit in the entryway between the bar and the cigar room, and the room features Airkel, a high-tech filtering system invented right here in Geneva, with thousands of tiny holes in the wooden floor and ceiling, creating a constant, vertical "air curtain" that you cannot feel but that miraculously keeps your clothes from smelling. The room's air is changed completely, and silently, every three minutes. There is even a large TV transmitting the live music performance next door, so smokers don't feel detached, and it is fully staffed with the same extensive bar menu.
The Cigar Lounge at the Leopard Bar has proven so popular, both for hotel guests, tourists and the regular local after work crowd, that they had to ban cigarettes to keep enough seats for cigar lovers. It's busy after work on weekdays, and after 10 p.m. every night, but it is open from breakfast time to the wee hours and is also a great spot for a peaceful midday smoke break. The list is mostly Cubans, including Cohiba, Romeo y Julieta, Hoyo de Monterrey, Montecristo, Partagás, Ramon Allones, and Trinidad, along with choices from the Dominican Republic and Nicaragua. Regular selections span everything from an El Rey del Mundo Demi Tasse at 22 euros to a Fuente Fuente OpusX at 82 euros.
There is also a rotating selection of off-list rarities, and they usually have several sizes of Cohiba Behikes. During a recent visit, the lounge offered Cohiba Talismán Edición Limitada 2017 (176 euros), Montecristo Dantes Edición Limitada 2016 (85 euros) and Romeo y Julieta Capuletos Edición Limitada 2016 (90 euros).
"Our owner buys rare vintage cigars constantly and is always bring boxes and tweaking the list," explained the hotel's longtime general manager, Jean-Vital Domezon.
The Cigar Lounge at the Leopard Bar
Hotel d'Angleterre
Quai du Mont-Blanc 17, 
Geneva, Switzerland, 1201
+41 (0) 22 90 65 555
www.dangleterrehotel.com  
Open Every day 9 a.m. to 1 a.m.