Review: Hearth and Tap, Montvale, New Jersey
Hearth and Tap is that rarest of restaurant jewels: a cigar-friendly venue where one can dine and smoke at the same time. Here the right to smoke goes back for decades—it was once a restaurant known as The Porterhouse.
Lying on the New York-New Jersey border, in the woodsy burg of Montvale, this sprawling but cozy edifice has dining rooms and fireplaces aplenty. There are so many rooms with dark wood beams and antique fixtures that you might think you were touring an Irish museum.
The menu has evolved, and Hearth and Tap now bills itself as a Gaelic craft gastropub. If that seems like too many syllables to say or recall, suffice it to say they keep the food singularly tasty, with reasonable prices.
Lunch offerings include such hearty fare as braised, dry-aged beef meatballs, complete with pine nuts, whipped ricotta and ciabatta, skillet mac and cheese with short ribs, and pancetta lardons and mushrooms. For dinner the variety is more impressive: Berkshire pork schnitzel, crispy skin salmon, New York strip steak or a variety of flat breads with various toppings.
In the four years I've been coming here, I have never been disappointed in the food or the service. The establishment serves up craft beers by the dozens, as well as hand-crafted cocktails, and the wine list covers all the major varieties.
There's plenty to keep you busy while inside. Upon entering you pass by the maître d' station and soon realize that this is an all-purpose venue. Lying straight ahead is a bar, where you can sit and watch a sports event on one of several big screens, or hang back a few yards in the cheaper seats and catch the action from a table.
Some of those two-person tables butt up against a hallway with two glass humidors, running from the floor to the ceiling. Premium smokes abound: Montecristos (Pilotico included) and Romeo y Julietas, Padróns, Ashtons and dozens more fill the wraparound humidor.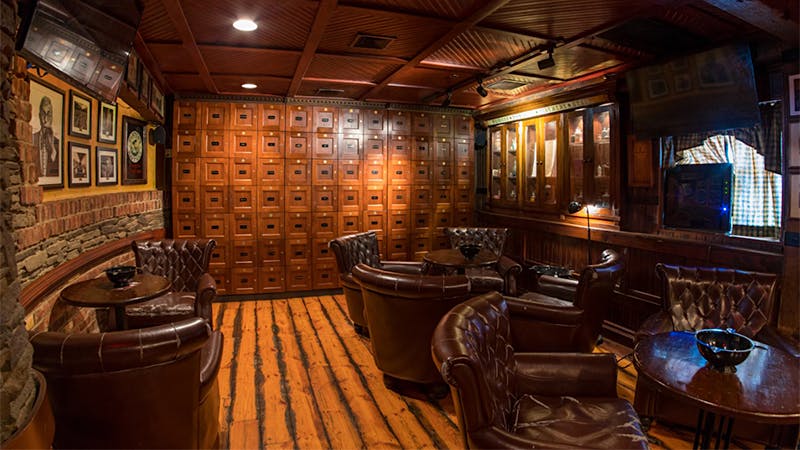 Past the humidor is a formal dining room for non-smokers. The room is a cornucopia of all things Irish. The building itself was constructed in 1849, and in this and every room you are apt to find rustic décor, including antiques brought over from Ireland by the owner Fintan Seeley. One parlor has a pitched pine floor that dates to the 1800s, and a chestnut mahogany fireplace in the formal dining room traces to the late-1700s.
Smokers have a dedicated dining area here. If one wishes, you can smoke while you dine, or you can eat and then move to the bar to watch a game. Hearth and Tap will put out a generous buffet for some of the bigger sporting events.
There's also a members-only Montecristo Lounge, appointed with dark wooden lockers and plush leather chair, and in warmer times, the patio is the spot for tasting food and blowing smoke.
Hearth and Tap is spacious, able to seat more than 200 people. They have been known to host parties up to 100 people, and they also deliver food. But why not stay? If you prefer your food and cigars in one venue rather than two, then this is your place. 
Hearth and Tap Co.
125 North Kindermack Road
Montvale, New Jersey 
201-307-6300
Hearthandtap.com
Open Monday through Friday: 11:30 a.m. to 3 a.m.