Review: El Gaucho Steakhouse, Portland, Oregon
A truly exceptional old-school cigar and steak experience
Sure, it's a little predictable. Maybe a little bit cliché, but having a steak dinner as part of a night focused on smoking a great cigar is a classic pleasure. When you're visiting ultra-hip-too-cool-for-me-culinary-cutting-edge Portland, Oregon, going against the grain and enjoying that experience is, well, just the right thing to do.
The right place to do it is at El Gaucho Portland, which describes itself as "The Northwest's steakhouse legacy focused on old-school, tableside service for people celebrating their lives." That barely tweet-able credo is supported even beyond—and before—what comes out of the kitchen. You see, El Gaucho has a cigar lounge.
In the lounge, which seats 25, you'll be able to enjoy a cigar and a drink and watch the game and end up meeting some people who might set you up at a great winery that weekend. It's got a few tables and several overstuffed leather chairs and sofa. Happy hour is available here and in the restaurant bar all night on Sunday and from 4:30 p.m. to 6 p.m., then from 10 p.m. to closing Monday through Friday, then on Saturday from 10 p.m. to closing.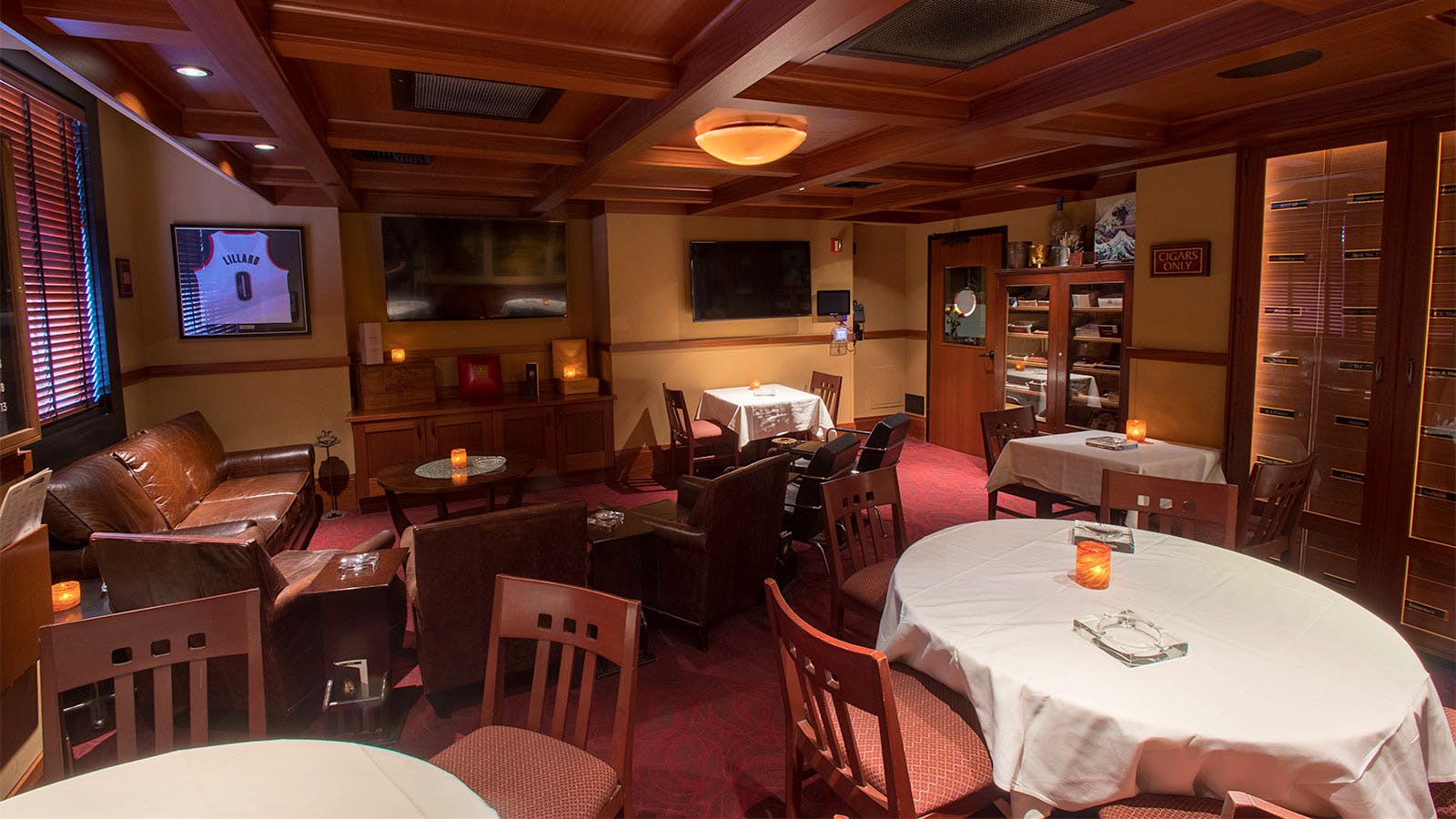 "You can have anything in here that you can in the restaurant, but here you can smoke cigars and watch TV," explained Nick Henley, director of the cigar program.
You can also choose from a bar bites menu available only in the cigar room. Perhaps hold off and just chill a bit to ready your appetite for dinner. Order a house-special Black Manhattan, the distinction being that instead of vermouth, a rich amaro is mixed with Eagle Rare Bourbon (they were out of their house Woodford Reserve), a local cherry and orange peel. It's a beautiful, dusky dark drink that offers just the right amount of sweetness to balance the Ashton Symmetry Prism being puffed at a table.
If you prefer other spirits, there's a comprehensive list, including "Oregon Booze" and lots of Bourbon, rum, Scotch and Japanese whiskies, among others.
El Gaucho shines a cigar spotlight on a Macanudo Vintage Maduro 1997 ($30) paired with a Barbancourt 15 Estate Reserve Rum ($14). Or choose from an extensive cigar menu that ranges from $15 for a small Oliva Connecticut Reserve to $165 for a Davidoff Royal Release. In between, there are Fuente Hemingway Short Story, My Father Le Bijou 1922, La Gloria Cubana, E.P. Carrillo Encore Majestic (2018's Cigar of the Year), Oliva Serie V Melanio, Padrón 1964 Anniversary Maduro and 1926 Series 80th Anniversary, Fuente Fuente OpusX and a La Aurora 1903 Edition Platinum.
The cigar lounge has 56 lockers at a cost of $450 a year. There are 40 people on the wait-list. There are two TVs in the lounge. The time passes quickly. Soon, it's time to move to the restaurant where executive chef Steve Cain has promised to dazzle us. Who's arguing? We're in his hands.
Garlic toast hits the table and the traditional "don't fill up on bread" warning must be issued. Our server is dressed in a short black jacket and wears a bow tie. He knows his stuff. A live flamenco guitar fills in the spaces between snippets of conversation.
Carafes of Moffett (Willamette Valley, Oregon) pinot noir and Gehricke (Russian River Valley, California) zinfandel arrive. The amuse-bouche is a simple caprese skewer of mozzarella, tomato and basil, with a heavily reduced balsamic vinegar.
Take in the room and you'll be soothed by the dark paneling, smoky blue paint and a restaurant full of people celebrating. There is no small number of "oohs" and "aahs" as various dishes arrive at booths along the walls and tables in the middle. The lighting is properly low.
Our table soon has an off-menu scallop crudo aguachile that Chef Cain makes whenever the massive scallops are as good as on this night. There's just a touch of mango to sweeten the heat from the chilis. Glasses are raised to the open kitchen and Chef Cain nods back with a smile.
The scallops are followed by a Caesar salad prepared tableside. The last time I had this was at the birthplace of this salad, the reopened Caesar's in Tijuana, Mexico. El Gaucho's is fantastic, with the superior touch of our server mashing the anchovies into a paste that combines with the rest of the dressing. The creation of this salad takes more than seven very entertaining minutes in our server's hands.
A spicy Dungeness crab bisque follows. It's delicious and much lighter than most, but dread on not being able to finish this meal is beginning to set in and is completely justified when the bone-in, 28-once, dry-aged prime Certified Angus Beef strip steak and a filet mignon are placed on the table. There is nothing left of either in only a few minutes.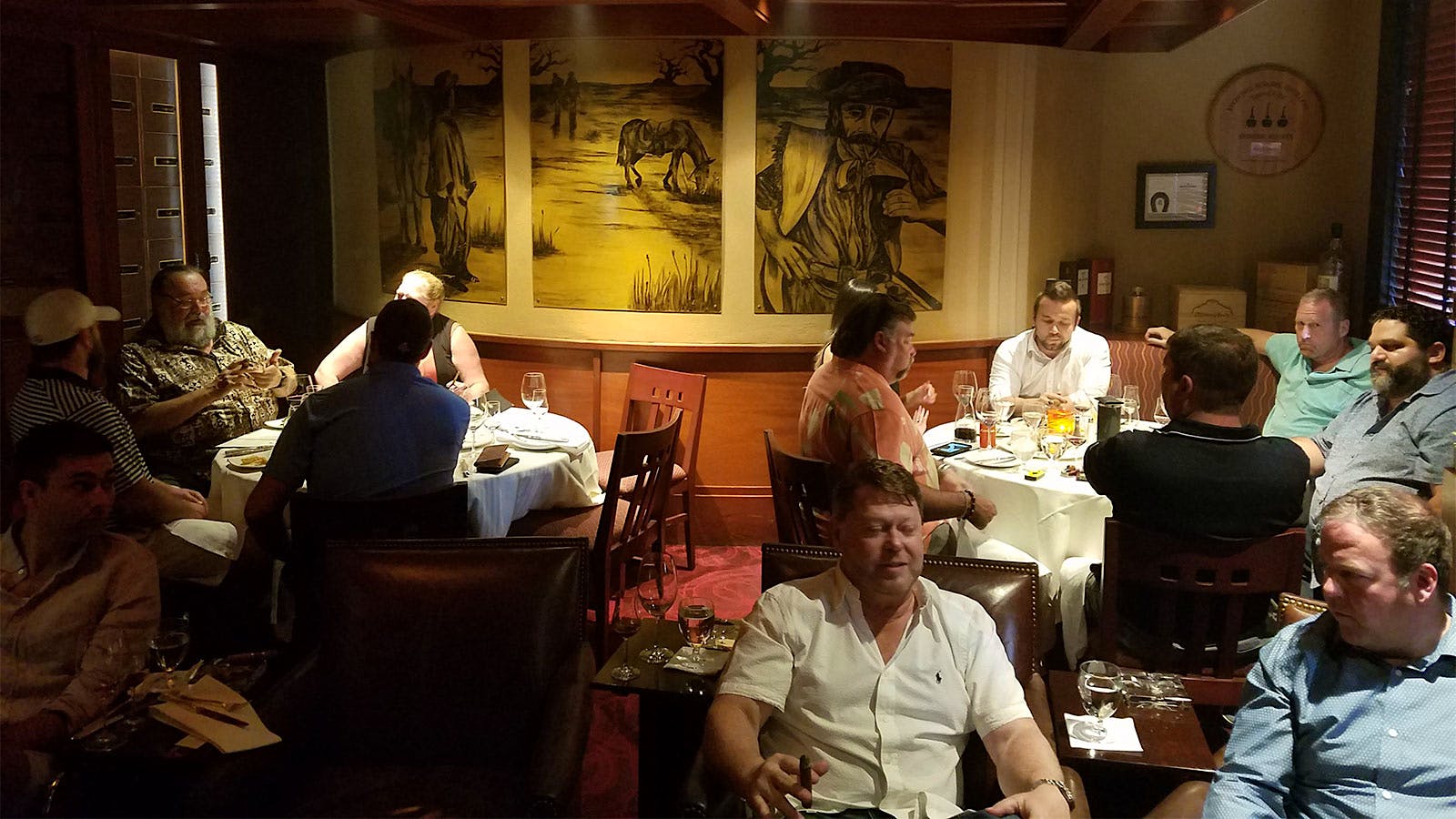 A loaded baked potato, Brussels sprouts with bacon and lemon beurre blanc, and wild mushrooms that are just stunningly flavorful are the side dishes. Oh yeah, did I mention the very tender lobster? Our server insisted on going surf-and-turf because that's what El Gaucho is known for.
Finally, we're at the point of deciding on dessert. I would like to pass, but have committed to the chef's menu. Bananas Foster and Cherries Jubilee are the old-school specialties. Nick is at the table and awaiting our decision after we said we'd share one. We choose the cherries. Nick smiles approvingly. The cherries, grown nearby, are chock full of flavor.
Here's the challenge. Even when you've had dessert, you're not finished at El Gaucho. I know this because in 1998 I visited and wrote about the first El Gaucho in Seattle, which is still there, but no longer offers a cigar room. Every table, at the end of the meal, is delivered a plate of cheeses, fruit and nuts. In Seattle, back in less restrictive times, I paired cigars with the cheeses. In Portland, we just wonder how little we can eat and not offend. No sweat. The blue cheese seduces and it's gone quickly.
The question now is whether to have a cigar after dinner. Nick is offering to hold a table open in the lounge. Much as one wants to, there is no energy left. We still have to walk two blocks back to our hotel. And it's been a long day. But next time, we'll sit in the cigar lounge and have dinner there. And cigars before and after. Maybe during.
The truth of El Gaucho is that it fulfills its promise brilliantly. There are other places to smoke a cigar, but there aren't any others that have the people you meet at El Gaucho who are dedicated to making the visit a truly exceptional, stress-free cigar and culinary experience.
El Gaucho Portland, at the Benson Hotel
319 SW Broadway
Portland, OR 97205
(503) 227-8794
www.elgaucho.com
Open Monday through Thursday: 4:30 p.m. to 11 p.m.
Friday through Saturday: 4:30 p.m. to midnight
Sunday 4:30 p.m. to 10 p.m.