Review—Cigarbox, Las Vegas, Nevada
A Tranquil Cigar Lounge Off The Las Vegas Strip
You would not be alone if, upon seeing the Cigarbox in Las Vegas for the first time, you thought this was another makeshift smoking lounge. The place is off The Strip in an office complex, behind glass doors. Not quite like the always-packed Casa Fuente or Montecristo Cigar Bar over at Caesars Palace. Cigarbox, though, is arguably the best place to find a superb cigar and then enjoy it immediately in a relaxed atmosphere that does not scream "Vegas, baby!" And that, at least occasionally, is a good thing.
Cigarbox was opened in October of 2016 by the venerable FreyBoy Tobacco group, which operates Casa Fuente, Montecristo Cigar Bar and Rhumbar (at The Mirage hotel) and a few other cigar stores. Michael Frey, one of the Frey boys, is often at Cigarbox and his guidance will immediately disabuse you of the notion that Cigarbox is just another place to have a cigar. As he leads his guests through the humidor, the shelves are stocked with many great cigars, some of them hard to find.
"Our humidor is full of the best of the best," Frey explains. "We have cigars by our friends and the newest, latest products." The cigars by friends are from Fuente, Ashton, La Flor Dominicana, Illusione and others. There are more Fuente Fuente OpusX vitolas in a couple of square feet than you'd likely find in most tobacco shops.
"We like to carry a lot of Illusione cigars because Dion [Giolito, the owner of the brand] is a friend and is in the state [based in Reno, Nevada]," Frey says.
The two visitors, grizzled veterans of the leaf, are looking at Liga Privada, Warped Cigars and Viaje. Then Frey points them to a new offering from La Aurora, the ADN Dominicano. "ADN" is the Spanish equivalent of "DNA" in English.
"These are amazing," Frey assured. Both visitors select the ADN Churchill, which includes andullo tobacco that is often found in pipe tobacco. It's a strong cigar, but fortunately, there is a bar at Cigarbox.
While Cigarbox is licensed as a retail establishment, Frey explained he was able to obtain permission to sell wine and beer, but also brown spirits if they were rare and carried an age statement. So, what's rarer than the single-barrel Jack Daniel's made for Casa Fuente? The brown nectar opens up nicely with a couple of ice cubes and tames the power of the cigar.
On the Bourbon and American whiskey list, you'll find Elijah Craig 12-year-old, Eagle Rare 10-year-old, Westland Sherry Wood Single Malt, Redemption 8-year-old Barrel Proof Rye, Michter's 10-year-old and High West Campfire. The Scotch list is equally impressive, with, among others, a Dalmore Cigar Malt at $25, Macallan Editions 1 and 2 at $18 and The Balvenie 12-year-old Single Barrel at $15. A Nikka Coffey Grain (Japan) single-barrel, single-grain is available at $12. A Taiwanese Kavalan Sherry Cask Single Barrel, at $26, is a must-try. Montecristo and Zacapa rums are also available.
"I'm waiting for an aged vodka," Frey joked. "Or a really rare one that would qualify."
A bar offers guests stools to sit on, or you could take a seat in one of the 40 available leather chairs in the store. Have a drink or an illy double-espresso (Cigarbox also serves illy drip coffee). There are four large TVs, usually with some sports game on. You can have food delivered, and the Cigarbox is now open on Sundays for football fans.
Frey has brought memorabilia from his career into the store. There's a square of the wall from the old cigar store at the Rio that he cut out and transported a few blocks east. It now hangs in the small conference room that can be booked for meetings. A 1921 American Legion banner that he picked up at an outdoor market hangs above the bar on the exposed brick wall that runs throughout the place. There's a small, separate room in the back with three red leather chairs from the old Dunhill shop in Beverly Hills.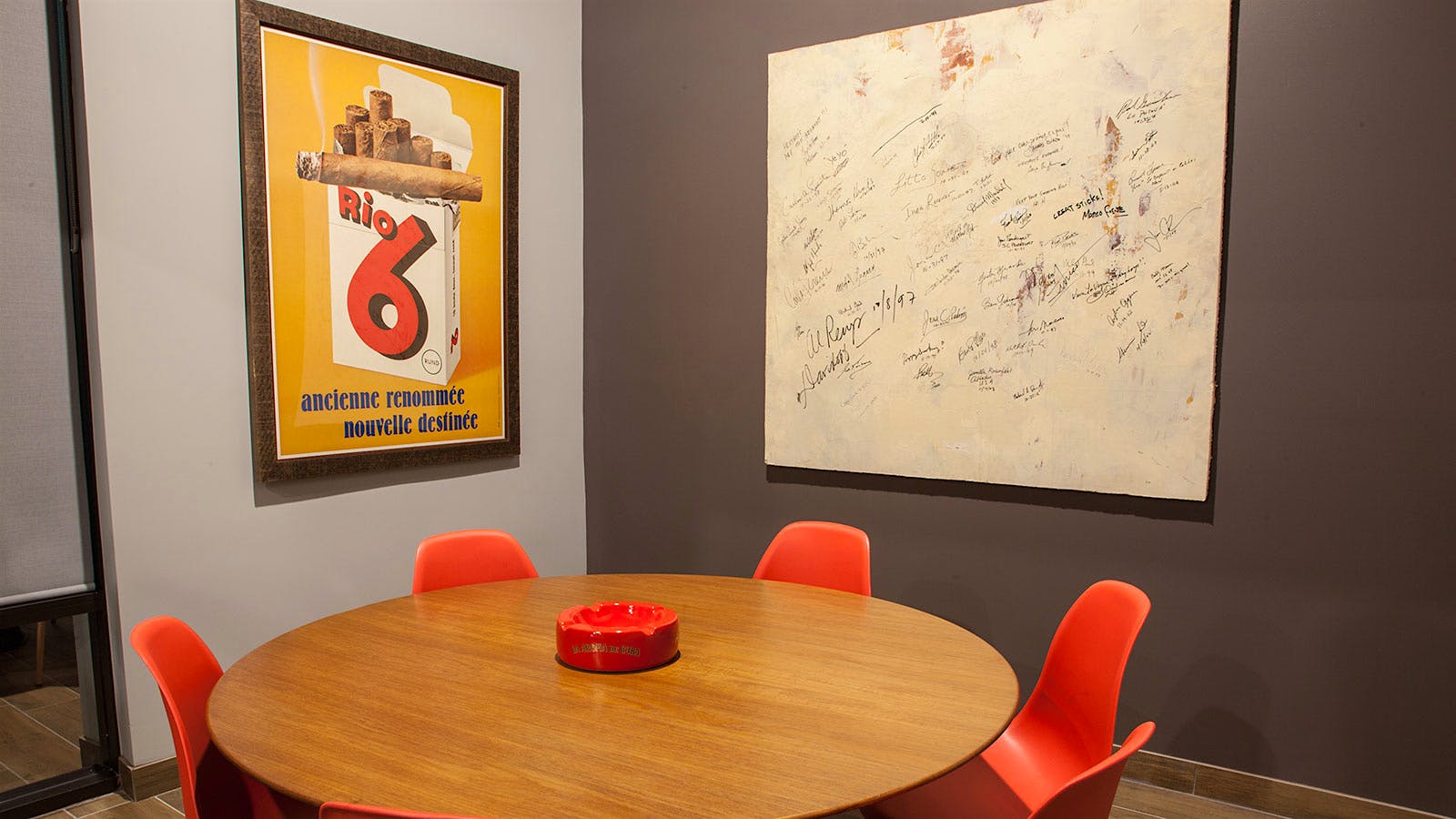 Cigarbox was cobbled together from two office spaces that totaled a bit less than 3,000 square feet. The space is now filled and is a refuge for cigar lovers who don't need the crowds of the Vegas Strip walking by.
"I get people from The Strip coming in," Frey said. "I also have a lot of regulars who come in and spend much of the day here working on their laptops and smoking. I also just get a lot of customers who come in and pick up two or three boxes and never sit down. It's all good."
Yes, it is. Just pace yourself as you try all those cigars you can't find at home.
The Cigarbox
4046 Dean Martin Drive
Las Vegas, Nevada89103
702-405-5755
https://www.cigarboxlv.com/
Open Monday through Sunday: 10 a.m. to 8 p.m.