Review: Blend Bar, Nashville, TN
A relaxing oasis tucked away in Downtown Nashville
The heart of Downtown Nashville is a lively place—perhaps too lively for some. The tourism hotspot, clustered around the intersection of Broadway and Fifth Avenue, is home to excellent live music venues, the Country Music Hall of Fame, the Bridgestone Arena, Nashville's fast-surging culinary scene, and one of the most legendary performance venues in the nation, the Ryman Auditorium, also known as "the Mother Church of Country Music," or "The Carnegie Hall of the South."
Whatever style you choose to visit Nashville in, chances are your days are going to be action packed, and fortunately, there is a hidden gem oasis tucked discreetly on the edge of the city center, just two blocks from the Ryman. Blend Bar with Davidoff is an offshoot of the original Indianapolis flagship Blend Bar, with a selection of great cigars that extends far beyond its namesake brand.
The Nashville storefront fits like a comfy pair of cowboy boots, tucked half a block down a quiet side street from Fifth Avenue. The entire space is just one medium-sized room. It's split into a front sitting area, full of cozy leather couches and easy chairs, and behind it, a space with some high-top bar tables more suited to snacking. A state of the art ventilation system filters and recycles all the air every five minutes.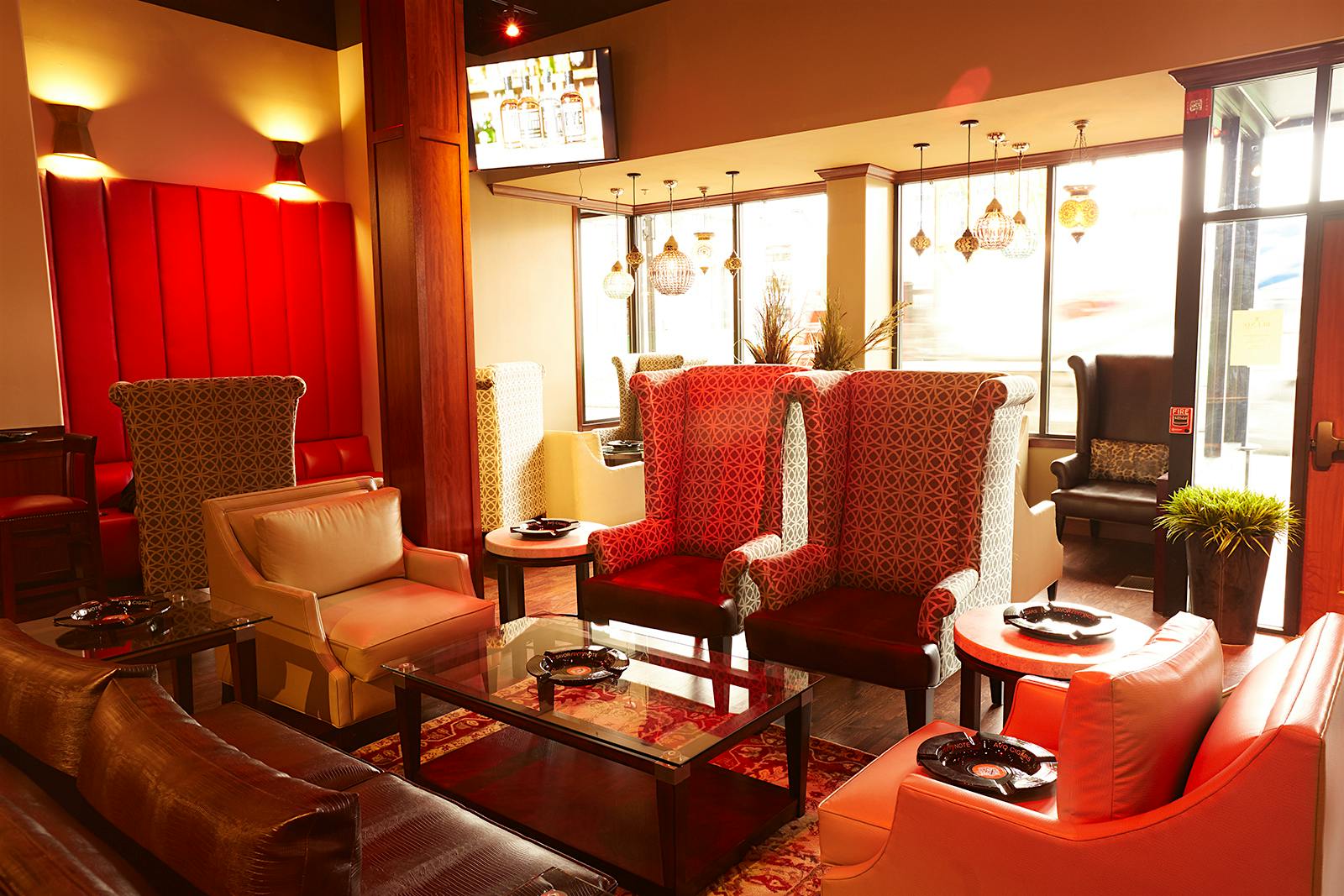 Facing out from the back is an elegant bar, a single marble counter with ten stools, and the walk-in humidor set behind it. While there are a couple of flat screens and some folks come in to watch a game, it is certainly not a sports bar atmosphere.
In Tennessee, no one needs a license to sell tobacco products, and smoking in bars is left up to the discretion of management, so there is a lot more competition than in most places. Blend Bar competes as a clubhouse space, offering a comfortable and tasteful setting to enjoy a curated menu of indulgences. 
The humidor choices range from $5-$100, and besides the vast selection of Davidoffs, it is stocked with top brands including Fuente, AVO, Diamond Crown, and a "local" range from Nashville-based Crown Heads, which makes such labels as the Four Kicks and Tennessee Waltz. There's a small display of lighters, ashtrays, humidors and accessories in the front corner. 
The bar has a decided whiskey focus, with over 50 Bourbons, including many small batch and single barrel labels, as well a deep Scotch list, and all are served as generous three ounce pours—double what you'll find in almost every other Nashville bar. House cocktails skew classic, including Manhattans and Old Fashioneds, both made with small batch Bourbons. The wine list is short but very impressively constructed with top shelf by the glass rarities including blockbuster cabs Caymus, Cakebread, Nickel & Nickel Quarry, and hundred dollar per glass Verite Le Joie, something you are just not going to see anyplace else. The food menu includes gourmet sandwiches and upscale charcuterie boards. 
Between the food, furnishings, atmosphere, cigars and adult beverages, Blend Bar Nashville has turned lingering into an artform.
Blend Bar
506 Church Street
Nashville, TN 37219
(615) 730-9641
http://www.blendbarcigar.com/nashville/ 
Open Monday through Thursday: 12 p.m. to 12 a.m.
Friday and Saturday: 12 p.m. to 12 a.m.
Sunday: 2:30 p.m. to 12 a.m.