Ramon Allones By AJ Fernandez Debuts In NYC
New York City got its first taste of the new Ramon Allones brand last night. The launch party was held at Club Macanudo in Manhattan's Upper East Side neighborhood and cigarmaker A.J. Fernandez was there to meet guests and introduce New Yorkers to his fresh, modern take on the Ramon Allones brand.
Ramon Allones is an old Cuban brand that's still produced today and has a reputation for being one of the earthier, more full-bodied smokes in the Habanos portfolio. The trademark for U.S. distribution is owned by General Cigar—the same company that owns Club Macanudo—but General was never terribly successful with the Ramon Allones brand.
You used to see the non-Cuban Ramon Allones pop up occasionally in cigar stores. Then, it became more of a catalog brand. And then, in 2015, General attempted to revitalize the brand through its Foundry subsidiary. That didn't really work.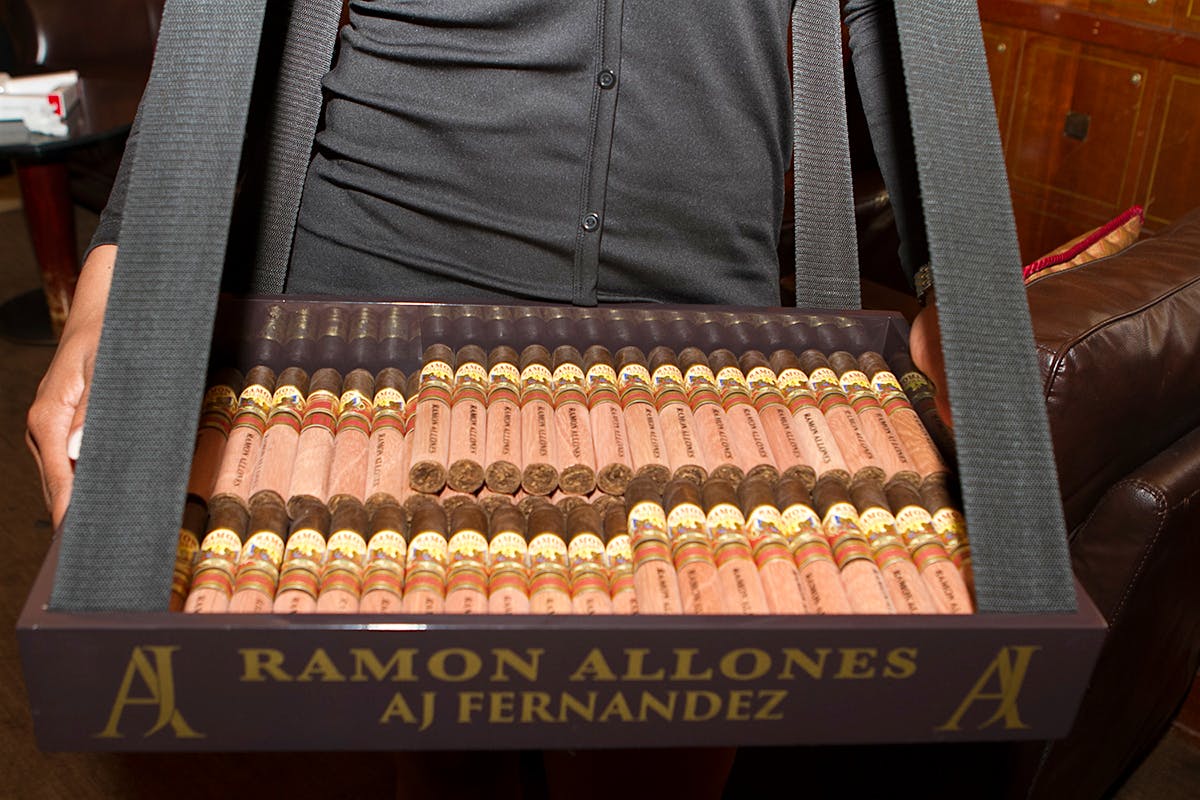 Now, it's in A.J.'s hands. And this wouldn't be the first time that Fernandez created his own interpretation of a classic Cuban brand using non-Cuban tobaccos. The list of brands is quite long. He's done two versions of Hoyo de Monterrey, a version or two of Montecristo (think Monte by Montecristo AJ Fernandez), an H. Upmann, Gispert, and even a Romeo y Julieta (Romeo San Andrés by Romeo y Julieta). What brand hasn't he done?
But according to a speech he gave last night, the Ramon Allones has a special place in his heart because it was one of his father's favorite brands when they lived in Cuba.
The blend is powered by a strong, dark medio tiempo wrapper that he grows in Nicaragua on his own farm from a hybrid tobacco. A.J. defines medio tiempo as a special sprouting of two leaves that sometimes grow on the very top of the tobacco plant, even higher than corona leaves. And no, not every plant produces medio tiempo, so the rarity of the leaf means a very limited production of Ramon Allones. The secret is knowing the exact time to harvest the medio tiempo so that it's at peak aroma, peak flavor, and also of wrapper quality.
I can tell you this: The cigar has some power. But not too much power. Plus, it's quite aromatic and everyone last night seemed to be enjoying them, myself included. A.J. thinks it's one of his best creations to date, and I believe him.
Sure, he's become the go-to guy whenever Altadis or General wants a vibrant, new take on their classic, yet perhaps a bit stodgy, heritage brands. But you can tell from first puff that A.J. put as much care and thought into this blend as he does with all the heritage brands he's reblended. This is because he regards it as an honor. Being from Cuba, he appreciates the cultural implications of each and every one of these brands.
So, as of last night, Ramon Allones by A.J. Fernandez is officially released. Now, if he'll only revamp La Flor de Cano.