Marvin R. Shanken's Cigar Aficionado Interviews
As the founder, editor & publisher of Cigar Aficionado magazine, Marvin R. Shanken has interviewed a host of fascinating people from all walks of life throughout the magazine's long history. He has sat down in person with world leaders, some of the planet's most accomplished sports stars, famous celebrities, acclaimed directors, star cigarmakers and more.
We've compiled links to all of these interviews on this page, available in reverse chronological order, dating all the way back to the earliest days of Cigar Aficionado magazine.
2021
2018
2017
2016
2015
Robert De Niro                                                         
2014
2008
Arnon Milchan                                                         
2005
Michael Jordan (first interview)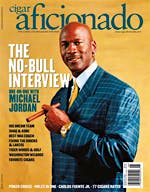 2003
Gen. Tommy Franks                                               

Francis Ford Coppola                                             
1998
Manuel Quesada, MATASA Cigars
José Orlando Padron, Padrón Cigars
Carlos Fuente Jr., Arturo Fuente Cigars
1997
Ernesto Perez-Carrillo, La Gloria Cubana
Stanford Newman, J.C. Newman
1996
Nicholas Freeman, Hunters & Frankau
Edgar M. Cullman Jr., General Cigar Co.
Robert Levin, Ashton Cigars
1995
Carlos Fuente Sr., Arturo Fuente Cigars
Dan Blumenthal, Villazon
Pedro Perez, Tabacalera
1994
Francisco Padron, Cubatabaco
                                                    
Fidel Castro                                                              

Edgar M. Cullman Sr., Culbro Corp
1993