Las Vegas Big Smoke Seminars: The Winners' Circle
What happens when your cigar is named Cigar of the Year? To find out, managing editor Gregory Mottola interviewed three people who know personally: Litto Gomez of La Flor Dominicana, Rafael Nodal of Aging Room and Cory Bappert of Oliva Cigar Co.
Before he talked about winning, Gomez, the maker of La Flor Dominicana cigars, spoke about how happy he was to be back at a Big Smoke. "It is so energizing to see cigar smokers again, talk to them and hear their opinions," he said with a smile from the stage, puffing away on one of his spicy cigars. "Thank you for being here," he told the capacity crowd. "You are the most important part of this whole thing."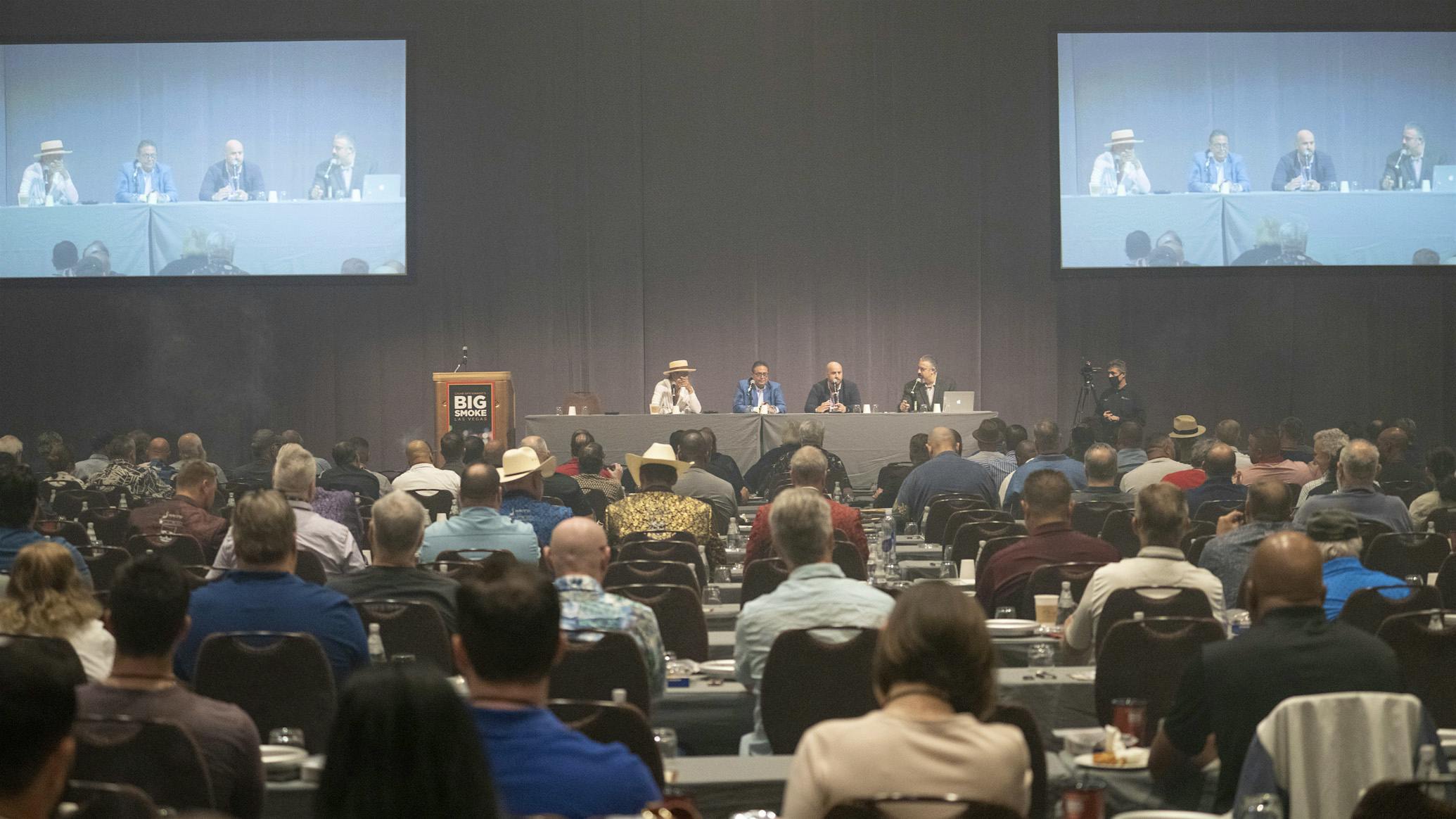 Mottola began the seminar by asking each panelist about their experience when they found out they were named No. 1, as cigarmakers are not alerted to the news before it's made public. Gomez was at his factory in the Dominican Republic when his wife Ines called him to let him know their La Flor Dominicana Andalusian Bull had been named Cigar Aficionado's Cigar of the Year for 2016. He went to the rolling room to share the news with everyone. "They started banging the chavettas in celebration," said Gomez. He then sat down with his quality control team, telling them not to change. "Demand is going to grow," he told them. "Nothing changes in this company. If we don't have the right tobaccos we don't make [the cigars.] That was my message that day."
Then he went into his office, shut the door and began crying, overcome with the joy of the achievement. "It was just a time I will never forget in my life," he said.
Rafael Nodal was also not expecting to be named No. 1. "I thought I am out of the game," he said. That morning, he shut off his phone and went to the doctor, who happens to be a Plasencia, the well-known tobacco and cigarmaking family of Central America. Nodal was in a compromising position around 10 am, when Cigar Aficionado launched its top cigars on its website. He was in no position to touch his phone, but the doctor's mobile starting lighting up. "He started getting calls," Nodal said of his doctor, who got Nodal to put his pants back on and learn the happy news that his Aging Room Quattro Nicaragua Maestro had taken the top spot on the countdown for 2019. Nodal's story of his compromising position had the audience laughing heartily.
Oliva's Cory Bappert was also indisposed when news broke that the Oliva Serie V Melanio Figurado had been named Cigar of the Year for 2014. He was in the middle of a dental cleaning when his phone blew up with messages, causing the dentist to pause and tell him to check to see what was going on. When he saw the news, he left, even though the work on his mouth was incomplete. "I have to go," he said. His phone was overwhelmed with congratulatory texts and requests for the cigars.
Said Bappert: "It's almost like winning the green jacket at The Masters."
Being named Cigar of the Year by Cigar Aficionado is the industry's highest accolade, and causes unprecedented demand for a smoke. For Gomez, it was particularly tough as only one team made the Bull at the time. He had to order more cigar molds, train more rollers, even get more boxes. "I called the box manufacturer and said I need 20,000 boxes. He said 'what?'" Six months later, he ordered another 20,000. "And meanwhile," Gomez said, "the telephone is ringing off the hook."
Bappert, now Oliva's chief executive officer, but then the company's vice president of sales, said "You have to be careful with allocation. Some retailers get upset. You have to give some to everyone." He noted that the fact that his cigars came in boxes of 10, rather than the more common industry standard of 25, meant Oliva could better spread things around. 
Still, the cigar was hard to get for years. "It took us a good three years to meet customer demand," he said. 
The one thing that unified the three men on stage, along with winning No. 1, was their dedication to maintaining the quality of their award-winning cigars.
"You owe it to the consumers to give them what they expect," said Nodal. When the seminar ended, he stood up with Gomez, Bappert and Mottola, and took a selfie of the four of them with the enthusiastic crowd—nearly 600 strong in the room—behind them.