How To Spot A Fake Partagás
Partagás is one of the older Cuban cigar brands, established by Don Jaime Partagás in 1845, the same year he opened his eponymous factory in Havana. (The Cuban Partagás should not be confused with the non-Cuban Partagas that shares the same name, but is manufactured in the Dominican Republic by General Cigar Co.)
Cuba's Partagás brand is large and includes the rich and bold Lusitania, a double corona, as well as one of the best-selling handmade cigars from Cuba, the robusto-sized Serie D No. 4. Along with the Serie D line, other extensions include the Serie E and Serie P lines. Together they are known as the Alphabet Series, and each wears a different band from the core Partagás line.
Partagás Serie D, E and P (Alphabet Series)
The popular alphabet series is a Partagás extension that includes the Serie D, E and P lines. These cigars wear a different, simpler band than the core Partagás brand. The brilliant red color still remains, and each alphabet line band is the same, save for the letter and vitola (or size) information.
1) Embossed Lines
Two gold lines, which are both embossed, run along the the top and bottom of the band. 
2) Gold On Register
The gold lettering of the vitola is also embossed, and should shine when held under light.
3) Embossed Brand And City
The words "Partagas - Habana" appear under the alphabet line extension name and vitola and are also embossed.
4) Embossed Line
The name of the line is also embossed.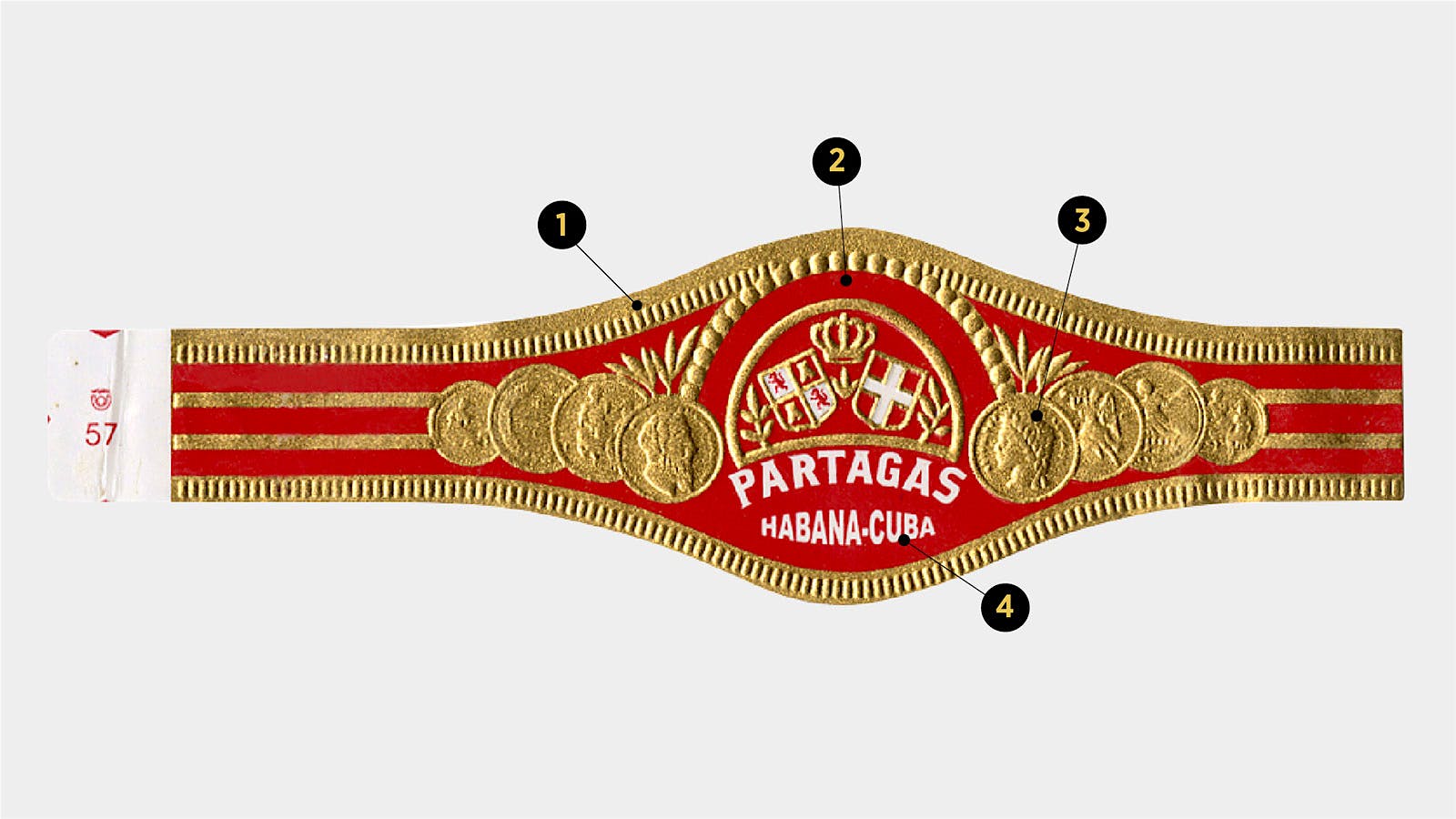 Core Partagás
Core Partagás bands have remained remarkably consistent through the years. The band's brilliant red color immediately stands out and its saturation is heightened by the contrasting brilliance of the gold details and the bright white lettering. Other elements to look for to quickly spot a fake Partagás include:
1) High-quality Gilding
The luster of the gold border shows when held up to light. If you run your fingers along the gilded border, you should feel raised notches.
2) Removal Of "Cifuentes y Cia"
Up until around 2007, these words appeared above the center symbol. On new bands, though, the words have been removed. (Note: On the Partagás Culebras band, the word "Culebras" appears in this spot.)
3) Embossed Detail
The gold coins that flank the center symbol on both sides are not only finely detailed, but embossed, too.
4) Well-printed Text
The bright white text of the lettering should not bleed into the surrounding red at all. Also, note the serif style font of each letter.
---
Submit A Fake
Think you may have purchased or smoked a fake Cuban cigar? Let us be the judge. Send any questionable Cuban band(s), along with a brief description of how/where you obtained the cigar(s), to our office address below. Due to the high volume of mail we receive, a response isn't guaranteed.
Cigar Aficionado 
c/o Counterfeit Cigars
825 8th Avenue, 33rd Floor
New York, NY 10019