Florida's Grown
The Sunshine State was once a major grower of cigar tobacco and the cigarmaking capital of America. Today, two companies are determined to restore the state's cigar heritage
Driving through Clermont, Florida, on a crisp spring morning in his pickup truck, Jeff Borysiewicz steals another look at his phone and furrows his brow. He's worried. It's perhaps the third time he's checked his mobile device since leaving his Corona Cigar Co. superstore on Sand Road in Orlando 30 minutes ago. Borysiewicz isn't concerned about traffic. Rather, he's uneasy over the 10 to 15 mile per hour easterly wind and overnight temperatures that dipped to almost 40 degrees Fahrenheit, cool for this time of year.
"I never really worried about the weather before, except for hurricanes. But now…" His voice trails off, and he takes a puff of his cigar. A little over six years ago, Borysiewicz's primary focus was his chain of highly successful cigar retail shops. Today, though, he owns the only tobacco farm in Florida that is capable of growing cigar-quality tobacco. And just yesterday morning, he and his team planted about 2,000 fragile Cuban-seed tobacco seedlings in the earth, with plans to add more today.
The drive through Clermont—a town located in the center of Florida—feels similar to other American suburbs. Couples walk their dogs on clean sidewalks and wave hello to one another as they pass, automatic sprinklers water the vibrant green front lawns of the evenly spaced houses, and a procession of about 20 antique vehicles from the early-1900s approach in the opposite lane. Borysiewicz slows down to watch. He waves and beeps the horn a couple times. The drivers nod back and smile with pride.
On the surface, Clermont may seem like just another quiet residential area that has surrendered to big-box stores. But not too long ago, the city boasted a thriving citrus industry and still offers plenty of fertile farmland. For Borysiewicz (pronounced BOAR-shuh-wits), it was the perfect area to revive the state's once proud tobacco-growing heritage. Since 1996, he has been growing his retail cigar empire into one of the United States' largest, with four stores in Florida that encompass roughly 22,000 square feet and sell millions of cigars each year. But in 2012, he developed an idea: He wanted to grow cigar-quality tobacco in Florida, something that hadn't been done since 1977.
Despite people calling him crazy, Borysiewicz purchased 20 acres of farmland in Clermont and established Florida Sun Grown LLC in 2012. After a soil analysis, he improved the farm's sandy soil by adding an irrigation system and a little agricultural lime to boost the ph levels. He then prepared two plantations, and built a curing barn. In March 2013, he planted his first test crop, half of it grown from Criollo '98 seeds, the other half Corojo '99. He got the seeds from Eduardo Antonio Fernández Pujals, the owner of Aganorsa, a major force in the world of Nicaraguan tobacco. Borysiewicz wanted Cuban-seed varietals, he says, because "Cuban-seed tobacco is like Cuban people: It's tough, it's resilient and it can take weather." In total, he and a team of temporary day laborers planted 5,000 seedlings of each varietal.
The idea to do two seed types came from Fernández. "He was like, 'Plant them both. Then you'll have a test crop to see which seed varietal works better,' " says Borysiewicz. "We did that, but I was totally unprepared. I never grew tobacco and had zero help as far as someone being there that ever [grew tobacco] before. But, I'd been on many farms, and Eduardo would go back and forth with me on what I should do. We sort of had the cookbook, but never actually made a cake before."
When Borysiewicz refers to that 2013 test crop, he calls it "wild," meaning it was grown using only water but without the aid of added nutrients and herbicides. This helped him determine what type of agricultural pressures he would have to overcome, stresses such as foliar diseases and destructive insects.
"Once you know what you are dealing with, you know how to spray for it," he says. His number one pest has been grasshoppers, which he keeps at bay with spray and a wall of sugarcane that abuts the dirt road next to his fields. Borysiewicz also encountered a nasty fungus that spread whenever the soil was kicked up, and fortunately he found a natural remedy: a weed called nutsedge. He used to kill it, but after he discovered it kept the dust from kicking up, he let it grow between the rows.
It's an example of how Borysiewicz realized that there is no step-by-step system to become a successful tobacco farmer. Microclimates and soils are too specific to certain areas. What works in one country doesn't necessarily work in another. So Borysiewicz had to experiment and learn what works best for his fields. Since his first crop, Borysiewicz has battled all manner of pests and perils. He's even survived a hurricane.
"Irma came through, and that was a Category 5. I was scared on that one," Borysiewicz says. The eye was forecast to go directly over his farm. Adding to Borysiewicz's stress level was the fact that he is unable to purchase crop insurance since, being the only cigar tobacco farmer in Florida, there is no pool to spread the risk. Worried about his curing barn full of tobacco, a structure literally held together only with sheet metal screws, Borysiewicz rented two U-Haul trucks.
"My crew and I, we busted our ass packing all [the tobacco] and putting it in the trucks," he said. Borysiewicz parked the trucks in the open field that night. "By midnight, they showed the track going right over the farm… I really expected the roof of the barn to be gone, like a sardine can." But fortune was with Borysiewicz, as the storm left little damage behind.
His biggest challenge, though, is cost of labor, which he says can be about four times per acre than what it costs to grow in Central America. Additionally, Borysiewicz struggles to find workers who understand the nuances of tobacco growing, since it's a crop that almost zero Floridian agricultural laborers are familiar with.
After devoting 16 years to establishing a highly successful retail operation, why suddenly decide to pursue the life of a tobacco grower at the age of 50?
"Since I was a kid I was into farming," he explains. Though his head of dark hair and pointy beard are now speckled with bits of gray, Borysiewicz still has the barrel-chested build and forearms of a man who clearly enjoys getting his hands dirty doing physical work. He was born in Chicago and moved to Ocoee, Florida, with his family when he was six. By 13, he was earning cash as a laborer in a local orange grove. "I was making six dollars an hour, cash. But the coolest thing is I was driving around the orange grove on a big diesel tractor, which to me made it all worth it," he says, beaming.
So while Borysiewicz possessed an affinity for farming, his family didn't own any land and so he was never able make a career out of it. Still, he never lost the bug, and when he began traveling to Central America for his cigar business, it was the farms, not the factories, that always interested him the most. He enjoyed surveying the tobacco in the fields and asking the growers questions.
Borysiewicz's infatuation with farming may have kickstarted the idea to farm, but it was Florida's rich history of tobacco-growing that solidified his decision.
Florida's cigar tobacco culture began in the 1820s when a pioneer named John "Virginia" Smith settled in Gadsden County, just over the Georgia border. Smith originally intended to take his family and a group of settlers farther south, but one of his wagons broke down. He decided to stay when he realized the sandy soil was ideal for cultivating cotton and subsistence crops, but also for growing the Cuban tobacco seeds in his possession. Soon after, the settlers realized that the silky tobacco they grew with an appealing spotted appearance was wrapper-grade quality. By 1845, Gadsden County was growing 1.2 million pounds of tobacco and shipping it to the booming cigarmaking industry in the Northeast as well as overseas.
The Civil War delivered a big blow to the region's tobacco industry. The North's blockade stopped shipments, but more importantly, ceased operating capital from going South. The industry survived, though, and after the war, recovery slowly began. Then in the 1880s, Florida farmers experimented by planting Sumatra seed, a hot commodity at the time. Cigarmakers not only loved the flavor of Sumatra, but also its workability. Sumatra's small central vein and thinness meant it provided more square feet of usable wrapper per pound.
Almost overnight, Florida Sumatra-seed tobacco revolutionized the state's cigar-leaf industry. Buyers proclaimed Florida Sumatra superior to actual Sumatra, and it gained a reputation for being distinct from Cuban-seed tobaccos grown in Connecticut. Soon, New York companies started investing heavily in Florida's tobacco industry, and by 1890 Florida tobacco production reached 1.5 million pounds, according to the comprehensive 2003 thesis "Shrouded in Cheesecloth," by Robert T. Pando of Florida State University. The state's tobacco industry was chugging along, but it had one more innovation up its sleeve: shade-grown tobacco.
While many believe the concept of growing tobacco under shade was conceived in Connecticut, its birthplace, according to multiple sources, was actually Florida. As the story goes, the heads of Schroeder & Bon, a New York firm with investments in Florida tobacco, were fans of the thinner, finely textured tobacco leaf grown in Cuba in the shade of orange trees. Under orders from Schroeder higher-ups to try the method in Florida, D. Alexander Shaw in 1896 experimented by planting Sumatra seeds on a small plot shaded by orange groves near Quincy, located in Gadsden County. The shade-grown Sumatra was thinner and more flavorful than the Sumatra grown in the sun, and the next year, he expanded his trial to a larger plot. The results were again stellar. Shaw applied for a patent (which would later be rejected) and established a company to build slat-shade structures.
In 1898, Schroeder & Bon's Florida operation would end up cultivating 100 acres of shade-grown Sumatra, enough to bring to market. In 1900, a Florida employee of the U.S. Department of Agriculture named Marcus L. Floyd would be moved to Connecticut to experiment there with the shade-grown method, where it turned into a major enterprise. The Connecticut River Valley would later become synonymous with shade, fields of white blanketing much of the lands east and west of the river.
Beginning in the 1920s and lasting through World War II, Florida produced more than 25 percent of the shade tobacco grown in the United States. The good times, though, began to dwindle due to a complicated mix of rising labor costs, market consolidation and cigar companies choosing to switch to cheaper, homogenized wrapper leaf. Another contributing factor to the demise of the Florida tobacco industry was the long decline in handmade cigar consumption.
After the U.S. passed the Cuban Embargo, Cuban tobacco growers such as Angel Oliva escaped to Florida and Connecticut to try and continue cultivating tobacco. At the time, green candela was the most popular cigar wrapper, but the embargo shut off all tobacco trade with Cuba, the supplier of candela. The new candela tobacco crops were promising at first, but soon, consumer interest shifted from green to natural-wrapped cigars. The last Florida candela crop was grown in 1977.
Borysiewicz's desire to reestablish Florida cigar tobacco, however, was not solely inspired by his appreciation of history. Taking a cue from the locavore movement, Borysiewicz believes smokers will gladly pay a little more money for a cigar that contains tobacco grown nearby. So in 2016, he partnered with Drew Estate to create the Florida Sun Grown cigar brand. The four-size, regular-production line is rolled in Nicaragua with a Brazilian wrapper, Habano-seed binder from Honduras, and fillers from both Nicaragua and Borysiewicz's Florida farm. A limited-edition Toro scored 86 points in the July 10, 2018 Cigar Insider.
The most ambitious project to include Borysiewicz's Florida tobacco, though, is not one of his own brands, but rather a creation from J.C. Newman Cigar Co., Tampa's oldest cigar factory.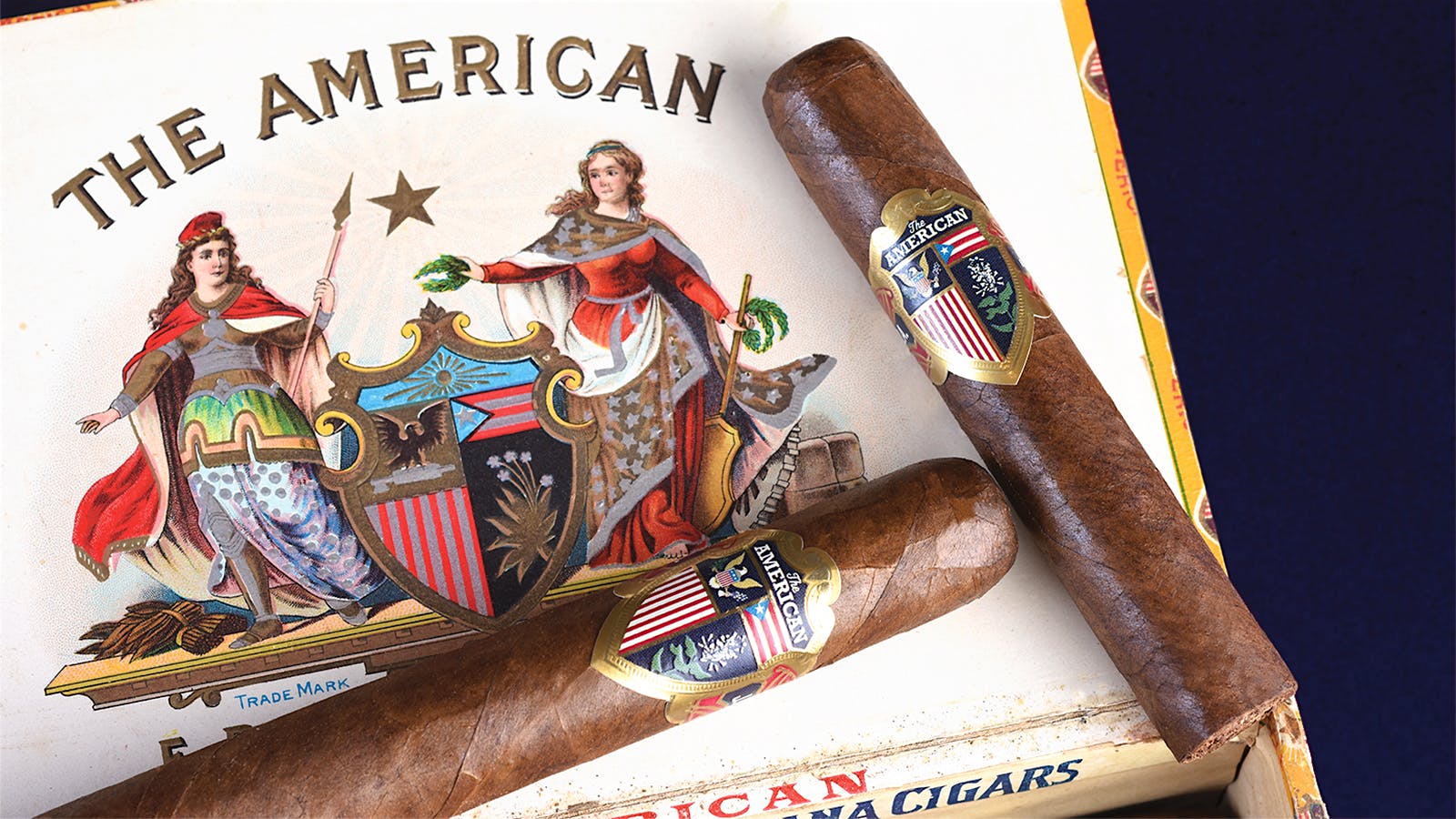 For those who know Tampa today, it can be difficult to fathom that it was once the center of America's handmade cigar industry. In 1886, when Key West was the biggest producer of cigars in Florida, Vicente Martinez Ybor and Ignacio Haya shifted their cigar production from Key West to Tampa, which had a population of only about 1,000 people. By 1900, the population ballooned to 16,000, mainly with immigrants from Cuba, Spain or Italy. Most worked in one of the city's 151 cigar factories, which produced nearly 500 million handmade cigars per year. At that time, tobacco from all over the world was being imported into Tampa, including Connecticut, Florida and even Cuba, with some 205 million pounds coming in from the island nation.
The boom times are long gone. The Great Depression, rising labor costs in the United States and a host of other factors forced many of Ybor City's cigar factories to close long ago. Now, many buildings that once were cigar factories are vacant or in various stages of "revitalization." Some small shops still roll handmade cigars, but the new businesses are geared toward today's fashionable hipster: trendy cafés pour nitro-injected coffee, bars serve up intensive cocktail concoctions and craft beer, with a couple skateboard stores thrown in, seemingly for effect.
One reminder of the glory days still remains: a stately red brick building with a handsome clock tower that looms over the neighborhood. Built in 1910 for cigar production by E. Regensburg & Sons, a famous cigarmaker who wanted to relocate from New York City, for decades locals counted on the clock tower's hourly chimes to schedule their day. El Reloj (Spanish for "the clock") has been the headquarters of the J.C. Newman Cigar Co. since 1953.
The factory is far from dormant. Here, brothers Eric and Bobby Newman oversee production of bargain brands made on ancient machines that date back to the 1910s and still require many workers to operate. But more importantly, the Newmans are once-again rolling handmade cigars at El Reloj, a brand called The American that uses Borysiewicz's Florida tobacco.
The American is an audacious project, admits Drew Newman, general counsel for J.C. Newman and the son of Eric. He has a small, wiry build similar to his father's, with keen, intelligent eyes and a full beard. The American, he says, was originally rolled in New York City by Regensburg in the late-1800s and became the first cigar rolled in the El Reloj factory when it opened. With his wife, Ariel Peters, Newman had been ruminating on the idea of reblending The American as a cigar made entirely from heirloom tobaccos grown in the United States.
"Our fourth-generation business started 123 years ago when my great-grandfather went out behind his house into a barn and rolled 500 cigars by hand," Newman says. "Rolling handmade cigars is how we got started. It's how we had made cigars for decades, and I wanted to go back to our roots as a company and show and honor this history of American premium cigarmaking."
Finding the right tobacco wasn't easy. "We looked at Kentucky fire cured, perique tobacco in Louisiana, and even some tobacco from Wisconsin. But it wasn't right," he says. When he heard about Borysiewicz's farm, he and his father took a trip to Clermont in 2015. "It didn't feel like we were an hour away from Walt Disney World," says Newman. "It become very clear, instantly, that this wasn't a novelty. This wasn't a gimmick; this was a real, premium cigar tobacco farm growing the tobacco the right way. The slow way."
After the visit, Drew struck a deal with Borysiewicz to receive half of that year's crop (the other half went to Aganorsa). "Before Jeff started growing tobacco, we were kind of stuck. There just wasn't enough of a variety of tobacco that could make a really flavorful cigar that wasn't one-dimensional," says Drew. After some trial and error, the blend was complete. The binder is Connecticut broadleaf grown by seventh-generation farmer John Foster, who also provides some filler from Connecticut Habano seed. Other filler tobaccos come from Mennonite family farmers in Pennsylvania. Borysiewicz's Florida Corojo '99, with a slightly reddish tint and dotted oils, serves as the cigar's wrapper.
The American project takes the Americana theme to a new level. Everything concerning the cigar is made in the United States. The boxes are constructed out of U.S.-grown basswood and are constructed by The Millennium Wood Boxes Inc., a Miami company. The labels are printed by Action Label, a company located in Sanford, Florida, and all of the art and packaging was designed by Glenn Wolk, an artist based in New York City.
More important, though, is that The American is being rolled at El Reloj. For now, only two rollers are making them, something J.C. Newman hopes to expand, but that's an expensive proposition, as it's cost-prohibitive to make handmade cigars in America. But as Drew points out, the goal of The American was never to make money.
"If it was up to me I wouldn't even sell it. We sell plenty of other cigars," Newman says. "It's more important to me that the cigar gets in the hands of consumers who then really appreciate it for what it is."
The American project is just part of the ambitious plan for turning El Reloj into a destination for showcasing handmade cigars. "As we build out new rolling and aging rooms along with space to bulk ferment tobacco in our Tampa factory, we hope to be able to open up the space for visitors so that cigar enthusiasts can see and appreciate how fine, handmade cigars are made without having to fly down to the Dominican Republic or Nicaragua," says Newman. After a soft launch in 2016, J.C. Newman hopes to ship about 50,000 of The American cigars in the coming months. If things work as planned, two other brands from yesteryear, Admiration and The 1954, will also be made at El Reloj.
Both Borysiewicz and Newman understand that, in today's marketplace, authenticity and transparency are driving demand. And what better story is there than a product, especially a cigar, on store shelves with a label that reads "Made In America?"