Connecticut Tobacco Crop Report
Growers say 2019 harvest looks good for Shade and Broadleaf in the Connecticut River Valley
After a disappointing 2018 season plagued by heavy, consistent rains, cigar tobacco farmers in the Connecticut River Valley are optimistic that this year's crop will yield some of the best leaf in years.
Recently, Cigar Aficionado had the opportunity to visit the three growers who make up the Windsor Shade Tobacco Co., a cooperative that stores and treats Connecticut Shade tobacco for shipment to cigar manufacturers. In addition to being the few remaining growers of the Connecticut Shade tobacco varietal—which once covered much of the valley—each of the farmers also grow Broadleaf.
Connecticut Shade is grown under elaborate tents of screen-like netting made of cheesecloth that filters the sun, making for thinner, finer leaves. When fully cured, the wrapper leaves are light in color, and are found on milder cigars. The shade netting not only offers some protection from insects, but also forces the tobacco plant to reach for the sun and grow tall. During our visit, the Shade plants were growing to about 9 feet tall and poking the top of the cheesecloth tents.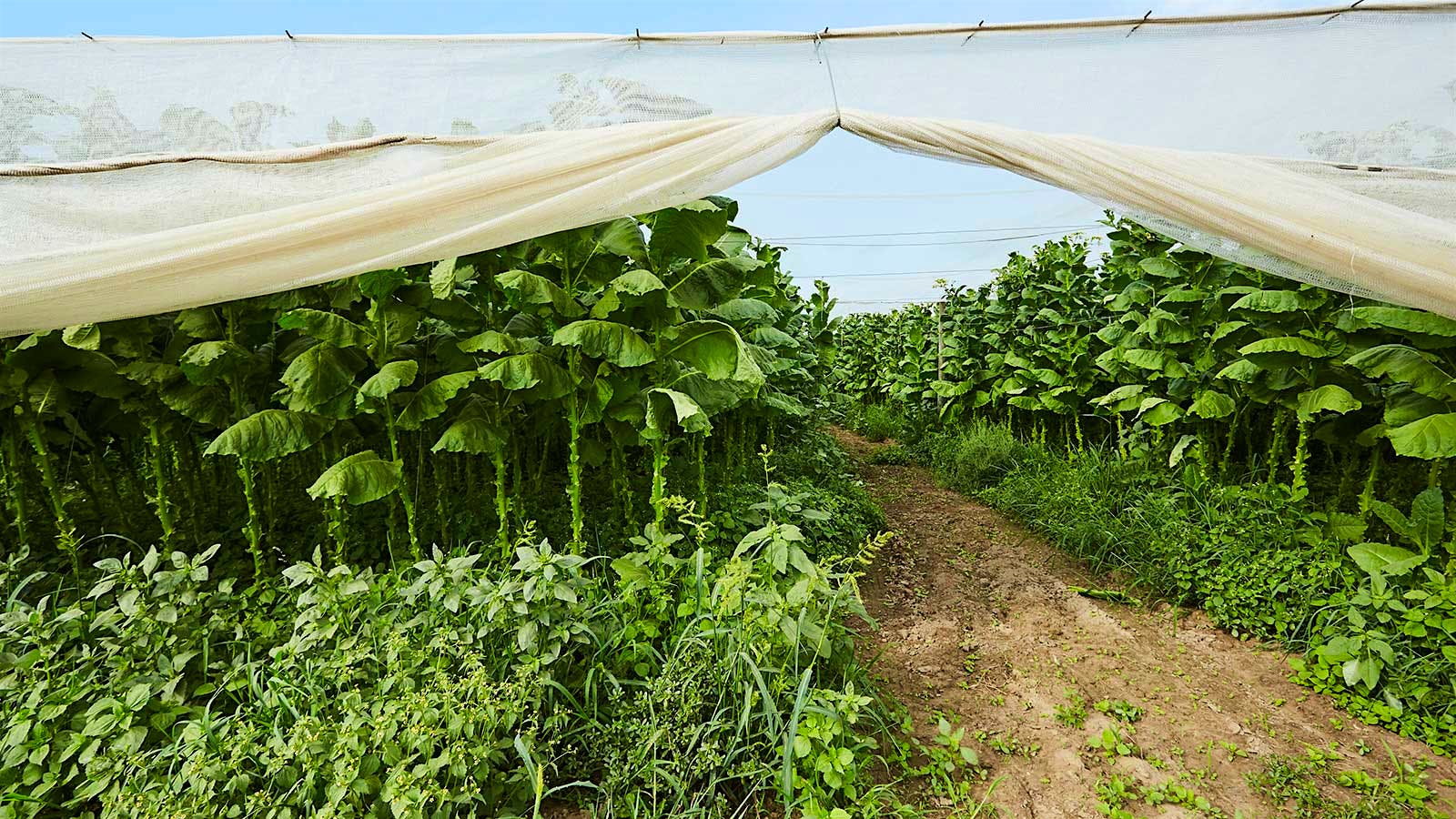 By contrast, Broadleaf is grown from a different seed type, under the open sun. The plants are shorter with much larger leaves, and those leaves are thicker, darker and coarser than Shade. When fully cured and fermented, they are rich, dark brown and found on maduro cigars.
"This year, the weather has been near perfect," says Stewart Arnold, owner of S. Arnold & Co. farms in Southwick, Massachusetts. Arnold, who is also president of Windsor Shade, says that, for the most part, the weather has been largely hot and humid, ideal conditions to grow full, healthy tobacco plants.
"I can always add water," says Arnold, a third-generation grower. "But it's impossible to take away."
Arnold is only growing about 15 acres of Shade this year, down from 36 acres two years ago. This is because the demand for traditional Shade tobacco grown in the Connecticut River Valley for premium cigars has been on the decline in recent years. Instead, many cigar manufacturers are turning towards Connecticut-seed "Shade" tobacco grown in Ecuador, which typically yields more consistent leaf and is less expensive.
Arnold's Broadleaf crop, though, is certainly in demand. Already he has a buyer lined up for the 40 acres that he is growing. While most of this will likely be designated for machine-made cigars, some of the Broadleaf could end up on the premium side.
His brother, Dwight, who owns a farm down the road, expressed much of the same sentiments as Stewart. Dwight is growing about 25 acres of Shade, and while it's not as big a crop as years past, he believes the quality is high. According to Dwight, much of what he's growing will eventually be wrapper.
Like his brother, Dwight is also growing the more in-demand Broadleaf. This year, he has about 40 acres that are ready to be harvested.
Brothers Ed and John Markowski, of Markowski Farms, are no strangers to Broadleaf. Their farms, which are located in Suffield, Connecticut, actually started out growing Broadleaf. It wasn't until 1989 that they started planting Shade "because it was in demand at the time," says Ed.
This year, the duo has dedicated about 250 acres of their fields to Broadleaf and about 60 acres to Shade. While they have yet to begin cultivating the Broadleaf, the Shade is being stitched and hung in the rafters of their curing barns right now.
There are distinct differences in how the two tobaccos are harvested. While Connecticut Shade leaves are delicately removed from the tall plants in different sections (or primings) one leaf at a time, the short, stocky Broadleaf is chopped at the base of the stalk with the entire plant intact. Shade leaves are then strung together and festooned on long lines or on short tobacco sticks called laths before being hung on the rafters of a curing barn. By comparison, the Broadleaf plant is hung upside down by its stalk in its entirety.
Still in mid-season, farmers will harvest the last of their Connecticut Shade tobacco around the middle of October. Broadleaf season extends an extra month into mid-November.