Cohiba Majestuoso 1966 Humidor Hits Global Markets
To commemorate Cohiba's birth year, only 1,966 humidors were made
Although it was introduced at the 2016 Habanos Festival for Cohiba's 50th anniversary, the Cohiba Majestuoso 1966 humidors have begun reaching markets around the world—and they're not cheap. Loaded with 20 Cohiba Majestuoso 1966 cigars, each humidor retails for at least $4,000.
"We started receiving the Majestuoso 1966 humidor last month, and it is now in our main markets," said Hisham Lofti, of Phoenicia Trading. "Upon the request of Habanos the retail price should be not less than $4,000." Phoenicia Trading is the exclusive Habanos distributor for the Middle East, parts of Europe and most of continental Africa, providing cigars for more than 40 countries. It is one of Habanos' largest customers.
In Mexico, two of these humidors have already sold. "They sold before they got in," said David Tourgeman, who runs the Casas del Habano shops in Cancún, Cozumel and Tijuana. He said the retail price was $4,600.
The cigars measure 5 7/8 inches by 58 ring gauge—one of the thickest commercial Cuban cigars ever created. Each Majestuoso bears a secondary band emblazoned with the official 50th anniversary logo. The year 1966 is when Cohiba was created. In further commemoration of Cohiba's birth year, only 1,966 humidors were made.
"I already received the Cohiba Majestuoso 1966 Humidor," said José Miguel Salvador, owner of the La Casa Del Habano in Chile. "It will retail at approximately $4,000 per humidor."
In England, however, cigar retailer Mitchell Orchant is holding on to his.
"I have one with a further humidor promised before the end of the year," Orchant told Cigar Aficionado. "Due to the ridiculously small allocation we are not selling them at this time. They are laid down in our Directors Reserve humidor for later sale."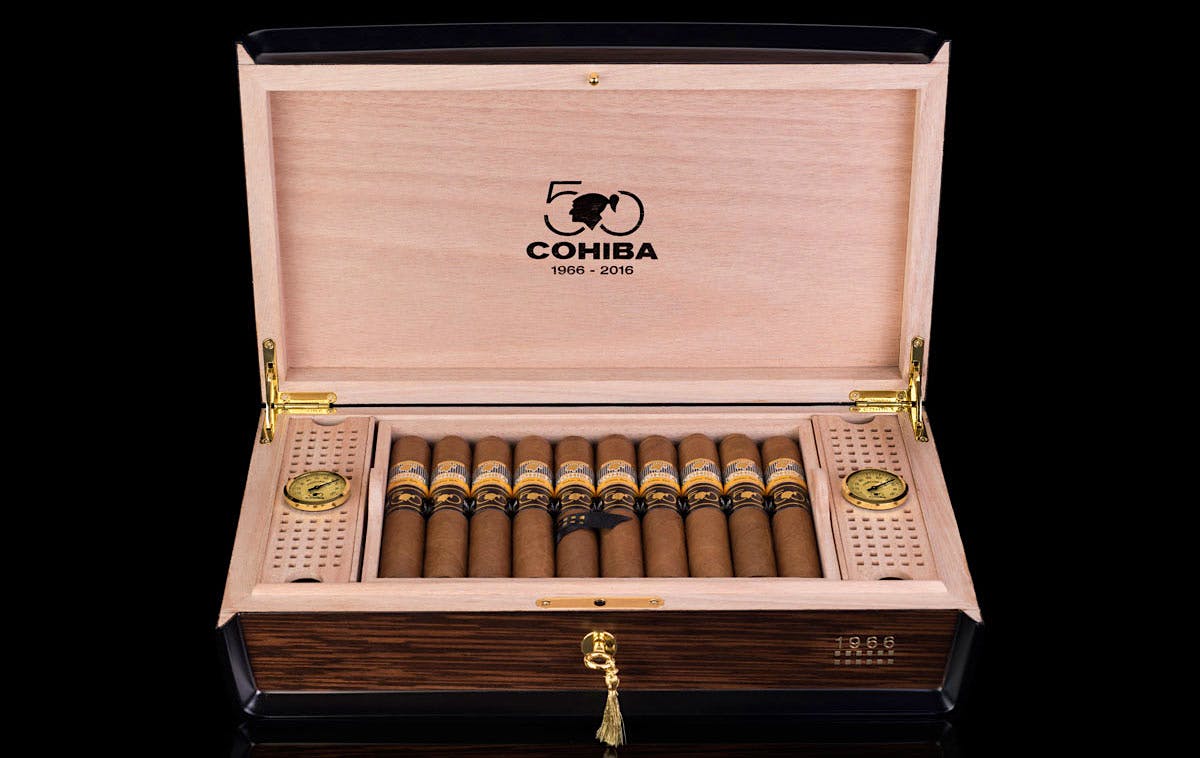 Orchant owns many stores throughout England, including a La Casa del Habano in Chester. As for when he decides to sell it and what he expects to charge in the future, Orchant didn't speculate.
It should be noted that this humidor is not the same release as the Cohiba 50 Aniversario. While both humidors celebrate the same anniversary, the Cohiba Majestuoso 1966 is actually the much cheaper of the two. 
This article first appeared in the November 21, 2017 issue of Cigar Insider.