Cigar Shopping In Havana
Behikes, Esplendidos and Lanceros Remain Elusive in Cuba
You can buy cigars virtually everywhere in Cuba, especially the capital of Havana. The city is brimming with cigar shops, many of them first class. Habanos S.A., the company that controls Cuba's cigar industry, sells so many cigars in its home country that it's one of the company's top-five countries in terms of sales volume. That's a lot of cigars.
I've been coming to Cuba since 1996, and on each and every visit I've gone shop to shop, finding out what's available, what's not, and keeping track of what the cigars cost here. Greg Mottola and I have visited nine shops so far, so we have a good idea of what's here and what's missing.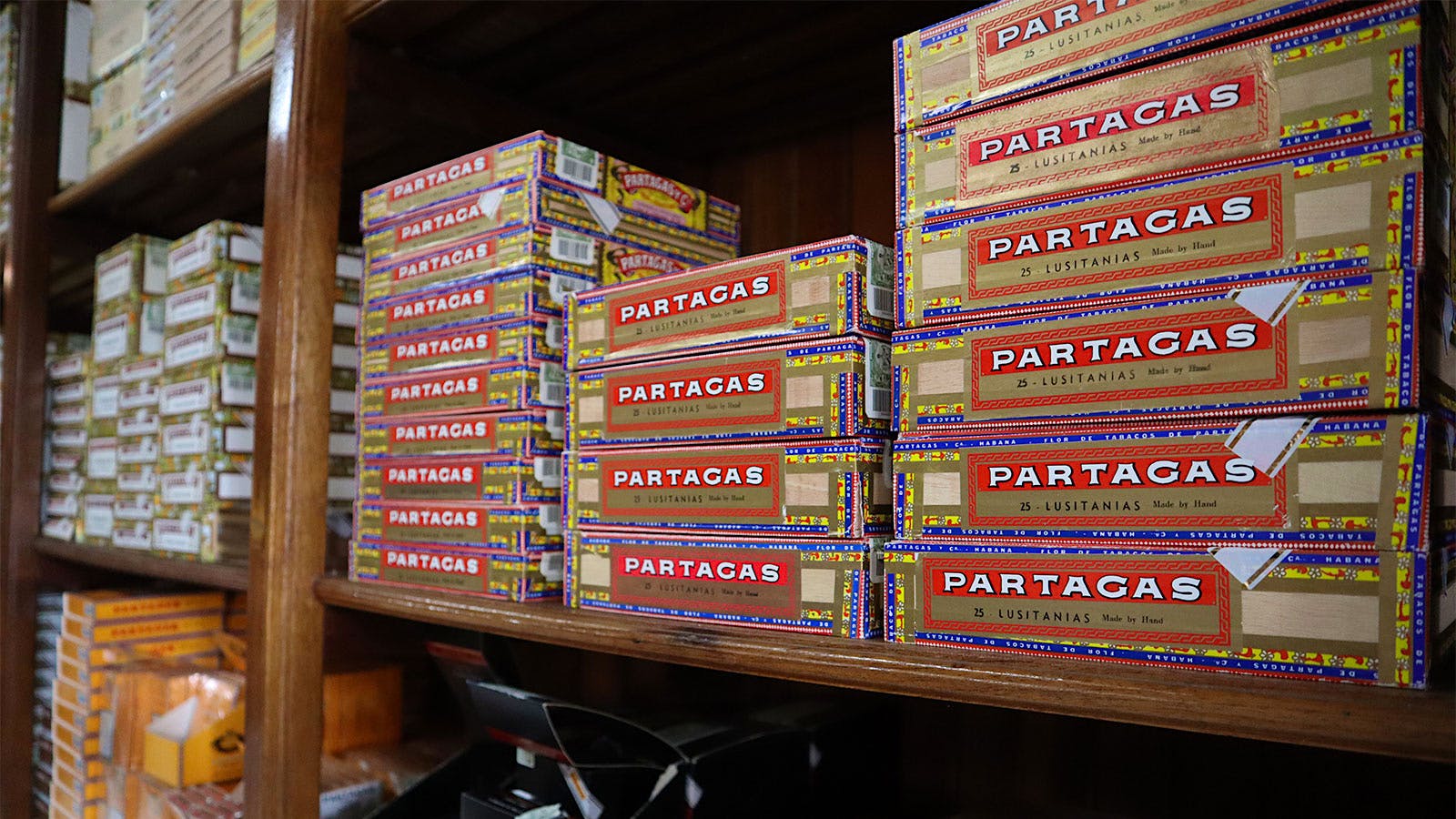 Let's start with the bad news. Cohiba Esplendidos and Siglo VIs remain extremely hard to find. We haven't seen a full box on a shelf anywhere. The only box of Esplendidos we saw was an open one at the Habana Libre, where the cigars were for sale as singles. This shortage of these Churchills has been going on since 2017.
The only Siglo VIs we found were singles, and most of them were in tubes. We did find Esplendidos in three packs in two places, the Meliá Habana and the Comodoro, where they sell for 23 CUCs per cigar.
Lanceros were unavailable, which means no Trinidad Fundadores, Montecristo Especial No. 1s or Cohiba Lanceros. I spoke to the manager at the Partagás store, who said some Fundadores had come in recently, but they immediately sold out. H. Upmann Sir Winstons are also missing, and these big smokes have been a hard find for years.
Also forget about Cohiba Behikes of any sort—they're just not here. The shortage has been pretty constant for the past four years. At last night's dinner, I spoke to a visitor who said he found some—from his cab driver. They were either stolen, or fake, and the latter is far more likely. Don't buy your cigars in a taxi.
Cabinets of 50 (a personal favorite) were in shorter supply than on previous visits. I saw some here and there (particularly at Club Habana) but not in the quantity I'm used to seeing.
Now the good news—prices here are essentially the lowest in the world, and the prices remain unchanged since 2015. That's significant, because unlike prices for hotel rooms, meals in restaurants, cab rides and just about everything else you can buy in Havana, cigar prices remain inexpensive. With 10 CUCs (which will cost you $11.50) you can buy a great cigar and still be handed some change.
Robustos are abundant. Partagás Serie D No. 4 (6.95 CUCs) are everywhere, and you can easily find Bolivar Royal Coronas and Hoyo de Monterrey Epicure No. 2s (each priced at 6.90 CUCs). Cohiba Robustos, while not as plentiful as the other short, fat smokes, are still fairly easy to find, although you won't find stacks of boxes in cigar shops. Recent versions of these cigars are excellent, Cigar Aficionado's No. 4 Cigar of the Year (95 points). They sell for a premium, 13.60 CUCs apiece, and remain one of the top sellers here. It's easy to find them in packs or singles, and if you dig around, you can find a box here or there.
Montecristo No. 2s (9.60 CUCs each) are everywhere, in all packaging formats, in every store—boxes of 25, boxes of 10, three-packs and singles. Lusitanias (11.27 CUCs) and Ramon Allones Gigantes (10.45 CUCs) are easy to find, and we've seen the odd box of Hoyo Doubles (11.40) and one or two boxes of Punch Double Coronas (10.90).
If you like smaller smokes (as I do), take your pick. Every shop has Cohiba Siglo I (6.90 CUCs), the ubiquitous Montecristo No. 4 (5.55 CUCs) and it's easy to find Partagás Shorts (4.05 CUCs). Smaller smokes tend to be ignored by the casual cigar shopper, so you can find old ones if you dig around, like I do. By flipping through a stack of Bolivar Coronas Juniors at the Habana Libre, I found a box that was four years old. We rated that cigar 93 points in the January/February 2019 Cigar Aficionado. At 101.25 CUCs for the box (4.05 per smoke) it's a ridiculous bargain.
If you're looking for some of Cuba's new releases and rarities, the pickings are sporadic. The one new smoke that is easy to find in most shops is the Punch La Isla Regional Edition for Cuba. We found stacks of them (they come in boxes of 10, and sell for 11.50 CUCs per cigar) in the Casas del Habano at Meliá Cohiba, Habana Libre and more. They're a bit young (most are stamped with late 2019 dates, but I've found a few as old as July 2019) but there's a lot of promise there, and I think they'll age well.
The Habana Libre—a great shop that I love—really shines for rarities in terms of singles. The shop had the new Montecristo Supremos Edición Limitada 2019 (14.90 CUCs), Montecristo 80s (16.10 CUCs) and even Romeo y Julieta Maravillas (a whopping 59.70 CUCs). The Supremos is a hot smoke in Cuba now; when a box comes into the Habana Libre, it doesn't last long.
The new shop at the Comodoro Hotel, which is not a Casa del Habano, is still worth a visit. We found some exciting items there, including the Maravillas, and a very elusive box of Cohiba Talismán (33.10 CUCs a stick). Throughout Cuba we've found abundant supplies of the superb and (relatively) new Quai d'Orsay No. 54, Cigar Aficionado's No. 11 cigar of 2018, which scored 93 points. The newer Montecristo Línea 1935 Dumas (11.20 CUCs) are everywhere, while the other sizes in the brand are tougher finds.
Remember—just because a cigar is new doesn't mean it's great. We found stacks of Romeo y Julieta Tacos EL 2018 in a few shops, but this is a smoke you should avoid. It's a cigar that sells for 12.20 CUCs, but we gave it a score of 84 points in a Cigar Insider blind tasting. You can do much better here in Cuba.
Most of the cigars are of fairly recent vintage, with plenty of late 2019 box codes. That said, the newer cigars I've smoked so far have been quite tasty, and our recent ratings for new production Cubans have been relatively high.
All this writing about cigars has made me yearn for one. I'm ready to head back out into the city and fire up.