Blend Ambition
The Scotch whisky that conquered the world—but lost its groove—is resurgent
Whisky appreciation made great leaps in past decades. Bourbon got some well-deserved props. Straight rye was reborn. Connoisseurs snagged trophy single malts. Craft distillers emerged and Asian entries appeared on store shelves. But one brown spirit—the one that first spanned the globe—lagged behind in enthusiasm: blended Scotch.
Look for that to change as blend makers are marketing older and finer examples, even applying aging techniques usually associated with single malts. From relatively low-cost brands like John Barr Reserve, with a recent makeover that includes a Sherry cask finish, to the highly limited The Last Drop, priced at a nosebleed $4,000, the once-sleepy segment is gaining traction. You'll do yourself a favor by leaving your malt arrogance at the saloon door and taking a second look at blended Scotch. 
Few spirits have a more venerable past. More than a century and a half ago, Scotch blends brought brand names and consistency to the sometimes-raw whisky world. Whisky alchemists with names like Dewar, Usher, Bell and Walker offered reliable and approachable drams, which they soon marketed the world over, gaining a popularity that single malts of the time couldn't have hoped to equal. In fact, blends still account for 90 percent of Scotch whisky sales.  A little understanding of the category reveals its impressive potential.
While a slew of terms from geographic regions to types of aging vessels can define Scotch whiskies, they all come from two basic types of mash: malts or grains. Malt whisky is made strictly from barley. Grain whisky contains such cereals as corn and wheat. When made in one distillery, they can be called single malt or single grain whiskies. Blending creates other categories. Blended malt whiskies are mixtures of malts made at different distilleries. (You may have heard them called pure or vatted malts, but the law no longer permits those terms.) Blended Scotch whiskies are melded from both malt and grain whisky. Malts add body to a blend. Grains, while milder, contribute ethereal notes and play an important role in bonding the component malts.
So, why the knock on blended Scotch? Some of that is due to misapprehension. Outside Scotland, blended whisky can contain neutral grain spirits—that is, liquor that is not aged. But, in Scotland grain whisky must be matured at least three years. Another dig on blends relies on the perception that greater expense necessarily renders better quality. A few factors make malts generally costlier. The high cost of barley increases the price of malts. Furthermore, malt whisky must be made in a pot still, one batch at a time. Column stills, used for grain whiskies, are operated continuously making them cheaper to run. They also render fewer impurities, meaning the whisky needn't be aged as long to mellow off notes. The result is that cheaper blends often contain 60 to 80 percent of the younger, lighter grain whisky, which is sometimes regarded as filler.
The logic behind malt snobbery starts to fail when you move into high-priced fare—particularly those blends with age statements. Aging is expensive. At a certain age malt and grain whisky approach parity in how much they cost to produce. Say you make a 25-year-old blend. By law, all the whisky in the blend, including the grain, must be 25 years or older. At that point grain whisky ceases to be so economical and as a result less may be used in favor of a more complex mixture of malts. 
Whatever its age, you shouldn't expect a precise formula. Not just because recipes are proprietary, but because they don't exist—exactly. The blender's art lies in targeting a specific taste profile, not recreating a recipe verbatim. The components are gathered from some number of the 100 or so distilleries operating in Scotland at any given time. But they don't create a constant flow of liquid. New ones open, some close or sell their wares elsewhere. And just like cigar tobacco, even the same malts may vary from batch to batch. Nailing the identical taste in every bottle is what made blends so popular in the 19th century. At a time when malts could be erratic, blenders cracked the consistency code.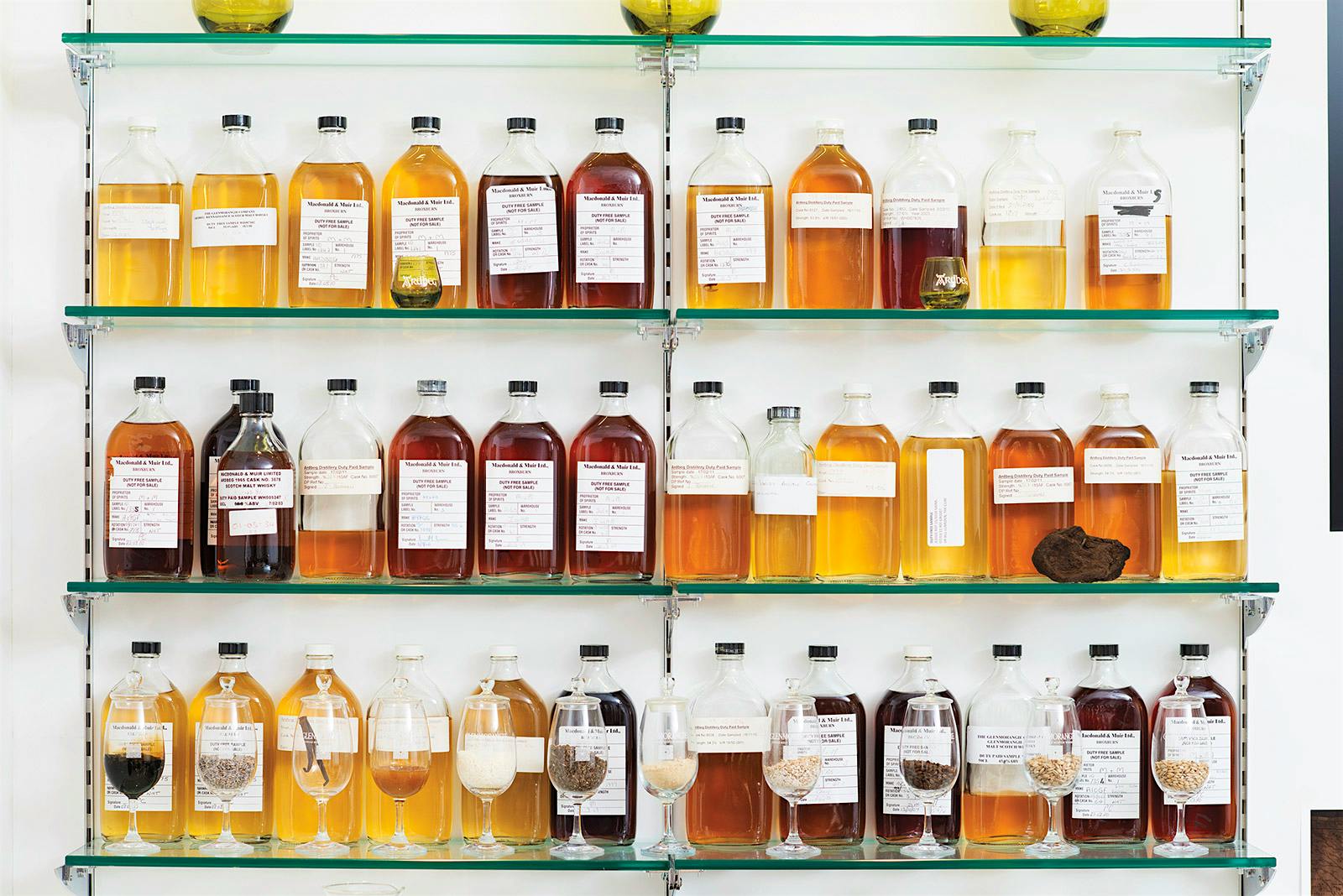 Photo/Martin Hunter
Components are not a complete secret, however. If a blender owns a malt distillery—or even a few—you can bet the blend is based on those whiskies. Dewar's built Aberfeldy in the Highlands in 1898 to ensure a steady supply of honey-like malt for its popular blend. Chivas Bros. owns the Speyside distillery Strathisla, so it's little surprise that its creamy and fruity sweetness is at the heart of Chivas Regal. Spirits giant Diageo owns a dozen Scotch distilleries as well as the Johnnie Walker blend. The soft and sweet Cardhu is at its core, but they also typically contain Islay's Caol Ila to deliver a distinct peat smoke.
 House styles—a smooth Speyside taste, say, or a distinct smokiness—differ from blend to blend, and sometimes you'll taste an obvious connection as you taste through a brands expression by price point. Competing schools of thought also dictate how each blender works. Some like to feature a certain malt by making it stand out. Others aim at a nuanced mix that doesn't speak loudly of any one component. Once the Scotch is blended it can either be bottled immediately or set aside for several months or even years in a marrying process.
Whatever the method, our tasting of nine blends showed that the category is brimming with possibilities. We paired each with two cigars: the mild-to-medium Padrón Dámaso No. 34 (87 points, $14.50) with its honey charms; and the fuller bodied Rocky Patel Vintage 1990 Churchill (91 points, $10.10) with notes of licorice, chocolate and cinnamon. We indicate our favorite partnership with each tasting note, but—the secret can be told—there were no losers. The whiskies range in price from $18 to $4,000 per bottle, showing the impressive possibilities of this eminently quaffable spirit. 

Blended Scotch And Cigars
Buchanan's Red Seal (80 proof, $165) The top-of-the-line Buchanan's Red Seal recalls a blend that was a favorite of Britain's Edward VII upon his ascension in 1901. Among its malts are rare examples from the Highland distillery Dalwhinnie. It is full of caramel, hard candy, toast and nuts, with light smoke and a touch of Stilton cheese. The blend drank best with the Padrón Dámaso, the almonds of which brought on toffee, while the cigar gained sweetness.
Chivas Regal 18 (80 proof, $70) The Chivas company is studded with age-statement blends, ranging from its 12-year-old to 25, and the company also makes a 21, a 38 and a 40 under the mark Royal Salute. Don't think of this as the adolescent expression, however. It chimes with caramel, toffee, vanilla, berry, chocolate and hazelnut. The Dámaso's nuttiness made it the best partner, coaxing out peat from the whisky. 
Compass Box Circus (98 proof, $250) Compass Box, known for its blended malts, created a three-ring circus with this blend of malts and grains. The components were allowed to marry for several years before bottling. The use of Sherry casks for aging confers the character of dried fruits, especially pear. Caramel and flowers are followed by tingly spices, smoky toast and an orange finish. It balanced well with the Rocky Patel, its sweetness playing off the cigar's earthiness.
Dewar's 25 (80 proof, $200) You may know Dewar's for its light and bright White Label, but the body is ramped up on its age-statement blends (12, 15, 18 and 25). The senior citizen in the bunch was double-aged, using casks from the company's Royal Brackla distillery. It enjoys the signature Dewar's honey smoothness, with roses, toffee, berries and a toasty finish. The Rocky Patel gives it tanginess, while the cigar gets a sweet cocoa note.
The Famous Grouse Smoky Black (80 proof, $27) The popularity of peaty Islay malts has led to a spate of specialty blends with names like Big Peat, Big Smoke and Smokey Joe. Johnnie Walker has its Double Black and this is The Famous Grouse iteration (formerly called Black Grouse). The added peat has a toast-and-marmalade effect on the bread, honey and caramel of the standard Grouse. The Rocky Patel marriage represents the anomaly where smoke on smoke makes a wonderful combination, begetting leather.
Grant's Reserve Blend (80 proof, $18) Our budget choice delivers loads of complexity with a healthy dose of Speyside malts (Glenfiddich, Balvenie, Kininvie) that come from distillers owned by the parent company William Grant & Sons. Given the components, its mild body with vanilla, caramel, flowers, cereal and pear is expected. The surprise is the understated peat. The Padrón Dámaso's smoothness burnished it, supplying almond and toast. 
John Barr Reserve Blend (80 proof, $25) This brand, with an unremarkable recent history, was revitalized when Richard Paterson, the gifted nose behind The Dalmore Cigar Malt and Shackleton blended malt, reimagined it by adding a Sherry-cask finish. Now it crows with butterscotch, dried fruit, toast, olive oil, hard candy and a distinct maltiness. It sang harmony with the Rocky Patel, creating a subtle jam note and a bit of leather.
Johnnie Walker Blue Label Ghost and Rare Port Ellen (87.6 proof, $350) This is the second edition of the limited Ghost and Rare collection. Based on Johnnie Walker Blue, the expressions add malt left over from mothballed distilleries. In this case, the Ghost is Islay's Port Ellen (now a malting facility, it will reopen as a distillery soon). Slightly less smoky than the standard (if that is the appropriate term for such a blend) Blue, its toffee leather, vanilla, orange and hazelnut pop a bit. The leather soars with the Rocky and adds a salty, maritime note.  
The Last Drop 1971 (94.4 proof, $4,000) For 10 years industry veterans James Espey and Tom Jago have been sourcing almost vanished stocks of spirits (mostly Scotch) and bottling them in highly limited editions. This blend debuted at 1,352 bottles. In a rare triple maturation, components originally aged in Bourbon barrels for 12 years were blended and put into Sherry butts in 1983 for nine more years, then returned to Bourbon barrels for 24 years. The result is exquisite with spice, vanilla, butterscotch, sawdust, orange marmalade, figs and smoke. The figs add girth to the Padrón Dámaso, which repays it with mulled spices.