Barclay-Rex Celebrating 110 Years in Business
Walking along Barclay Street in downtown Manhattan in the first decade of the twentieth century, a passerby would have come across the charming sight of a man sitting by the window of his pipe shop, skillfully carving a briar while under the watchful supervision of his Great Dane, Rex. This man's name was Vincent Nastri.
An immigrant from Salerno, Italy, Nastri opened his Barclay Street store in 1910 to primarily sell pipes and pipe tobacco. Rex was more than a mere family pet—he was a constant companion and became part of the name and face of the business. Unable to afford newspaper advertising, Nastri, in entrepreneurial spirit, clad Rex in a blanket with the name of the store prominently sewn into the fabric: Barclay-Rex. This sight turned more than a few heads as he walked the big animal around the neighborhood to help drum up business.
Fast-forward to 2020, and Barclay-Rex is now celebrating its 110th anniversary in business, making it the oldest operating cigar shop in New York City.
The original location is no more. In 1949, Barclay-Rex moved several blocks away to Maiden Lane. From there, Nastri expanded operations, introducing cigars to his shelves in the 1950s.
"It is nice to have the oldest shop in the city, especially in New York City, which is a big city. There's a lot of people here to support us and it is wonderful to have," says current owner Vincent Nastri III, grandson of the founder.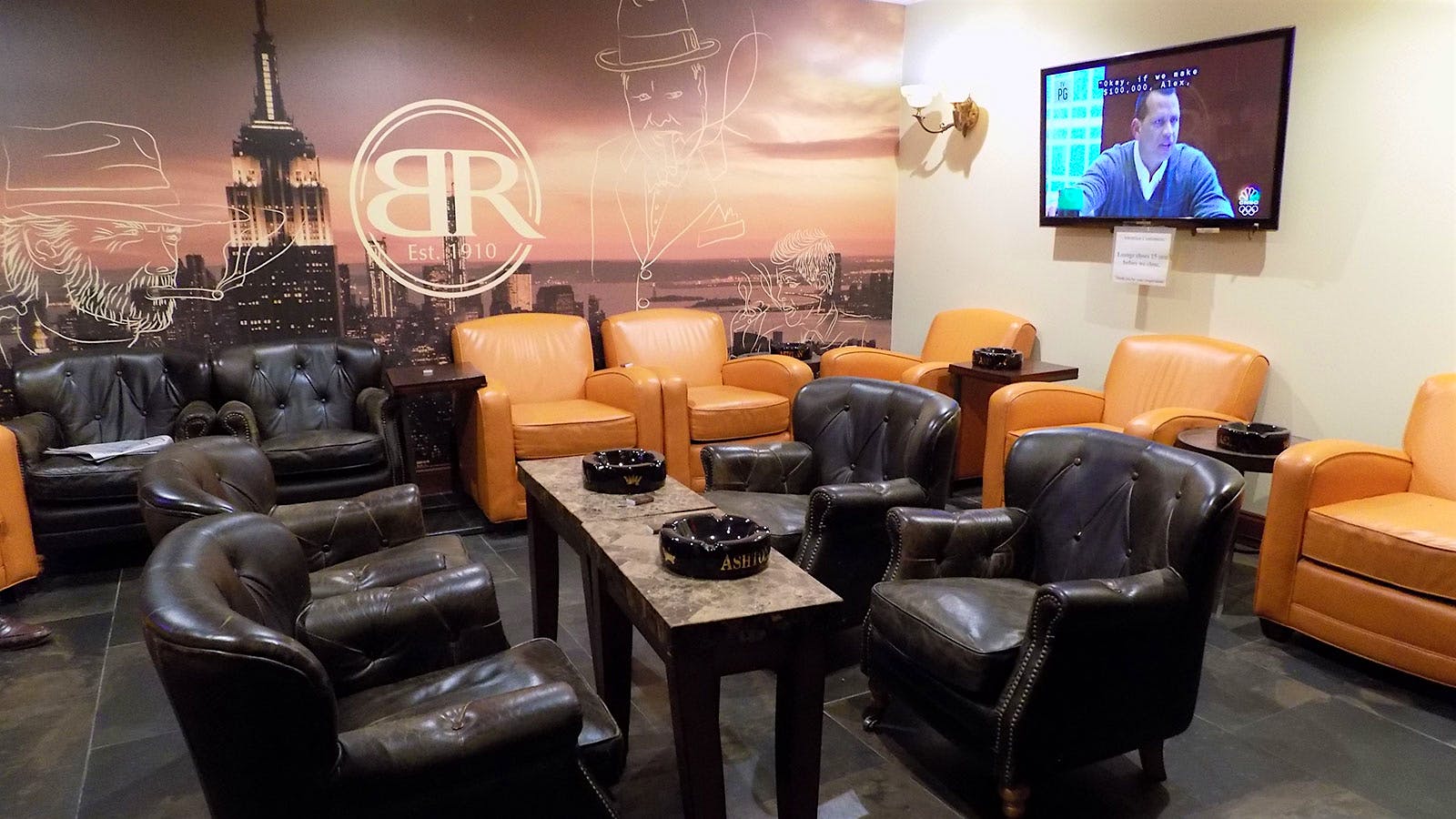 After joining the family business in the late 1960s, the young Nastri opened a new store on 42nd Street in 1986, opposite Grand Central Station. In 1996 and 1998, two more stores were added on Lexington Avenue and in the Winter Garden Atrium near the World Trade Center. Shortly after, the Maiden Lane store location was moved to nearby Broad Street. Today, all four of these locations are closed, with a single store remaining at 126 Pearl Street, which opened about three years ago.
When you walk into the new store, the Nastri legacy is still apparent. A large collection of antique pipes is on display, along with Barclay-Rex's own line of blended pipe tobaccos. Beyond the pipes is the walk-in humidor, containing not only many popular cigars, but also the house brand. In the 1980s, Barclay-Rex debuted its own Nicaraguan-made El Glorioso cigar line, which as of 2017 was renamed Yaxel Ortiz.
If you walk up the flight of stairs near the store's entrance, you'll find yourself at the Rex Club, a members-only cigar lounge on the second floor which opened two years ago. The space is filled with plush chairs, lockers for members and, most strikingly, a life-size statue of Rex, the Great Dane for whom the shop is named after. Rex keeps a vigilant eye on the club's humidors.
There's another cigar lounge on the lower-level of Barclay-Rex, a flight down from the main store. Comfortable and inviting, this space is open to the public.
Over its long history, Barclay-Rex hasn't just had changes of address to deal with, but changes in the market as well.
"When I first started, things were a lot different: different products, customers were different, rules and laws were different. Now you got to tip-toe through everything. You could smoke everywhere, but now you can't do that," Nastri says.
Nastri and his staff noted how cigars are getting shorter and thicker, with robustos and 60 ring gauges being especially popular. In terms of pipes, the store noted that young people are beginning to pick up pipe-smoking again.
Barclay-Rex plans to hold a special event this June at the store to commemorate the 110th anniversary. "Our goal is to keep the tradition going, the history going," says Vanessa Nastri, Vincent's daughter, who handles public relations and event planning for Barclay-Rex.
The world has changed dramatically since his grandfather first opened the shop's doors 110 years ago, but fortunately, there are some things that remain timeless: customer appreciation. Vincent III continues his grandfather's tradition, recognizing the generations of patrons that have crossed the threshold, no matter where the store was or which era in American history. "I just want to say thank you for supporting us for all these years."