Bar And Books: One Of NYC's Last Bastions Of Cigar Culture
Ten years ago, I wrote a story on cigar bars and other smoke-friendly establishments in New York City. A lot has changed in the Big Apple since that article went to print, and certainly not for the better. Some of my favorite cigar shops have closed; most of the smaller cigar lounges have been shuttered; the better independent tobacconists were bought out by corporations; and smoking bans have only gotten worse.
One tenacious businessman and restaurateur, however, has survived New York City's inhospitable smoking climate, and he's done a more-than-admirable job of keeping smoking culture alive in the city—not to mention civilized. I'm talking about Raju S. Mirchandani, the owner of Bar and Books, which is Mirchandani's discretely urbane take on the cigar lounge concept. He has two locations here in Manhattan, two more in Prague and one in Poland, all of which maintain what he refers to as an English Colonial style, replete with vintage, monkey print wallpaper and a world-class selection of Scotch.
To commemorate nearly three decades in this niche business, Mirchandani has come out with a memoir of sorts. It's a small book entitled On The Back Of A Napkin: Bar and Books, A Drunken Boat and A Whole Lot Of Munkey Business (yes, monkey is purposely misspelled). While it's impossible to fully chronicle three decades of pouring scotch and lighting cigars in only a few pages, the book is certainly an interesting collection of vignettes and photos.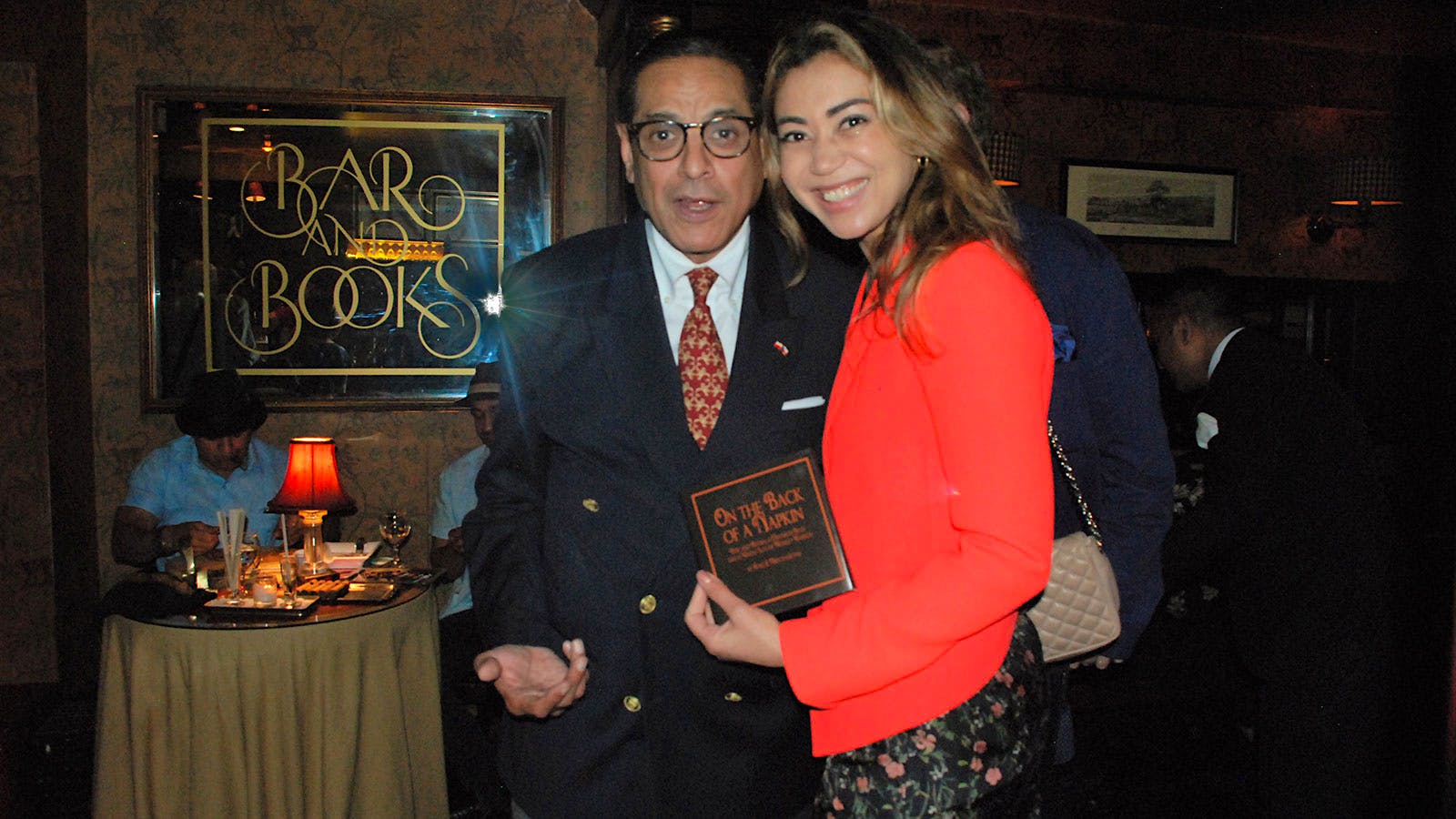 The book release party happened last week at Lexington Bar & Books, the more formal location of his two cigar bars in the city.
Currently, Mirchandani has the oldest cigar bar still operating in Manhattan. His first location, Hudson Bar and Books, opened in 1991 on Hudson Street, predating other Manhattan cigar-bar mainstays like Club Macanudo, the Carnegie Club, Soho Cigar Bar and the Grand Havana Room. Unlike so many cigar bars that subsequently popped up as a reaction to the cigar boom, Mirchandani dedicated Hudson Bar and Books to the art of cigar smoking right before the cigar craze of the early 90s—and before cigar bars were even really a thing.
Six presidents later, Bar and Books is still here, and more crucial now to the city's imperiled cigar scene than ever. Here in the five boroughs, legislation makes it nearly impossible to open up a new cigar lounge, let alone one that serves alcohol. Any cigar bar in NYC with a liquor license is only here because of a grandfather clause. If a grandfathered cigar bar like Bar and Books closes, another one won't take its place. It's gone for good, and that's by law.
Yet Mirchandani continues to serve the city's cigar enthusiasts with Hudson Bar and Books downtown in the West Village and Lexington Bar and Books on the Upper East Side. While both have a similar aesthetic and high standards of service, the different neighborhoods give the two cigar bars their own personality.
After signing a few copies of his new book, I asked Mirchandani if, after all these years, he has a message for the city. "Yes," he answered. "Keep smoking cigars. And don't let marijuana take over."