Alright, Alright, Alright
It's hard not to smile when you're Matthew McConaughey, who has an Oscar, a new Bourbon and three films heading to theaters this year
To the outside observer, Matthew McConaughey's career underwent a serious course correction seven years ago. It was 2011, and they called it the "McConaissance." It was a much-vaunted, media-invented comeback narrative crafted around the actor, who had spent the 2000s seemingly adrift in a sea of light but successful romantic comedies, popcorn films that didn't match the promise he had shown in his earlier years. 
But with a return to drama in hits such as The Lincoln Lawyer, Bernie and Killer Joe, McConaughey reclaimed his leading-man luster, culminating in the acclaim for his performances in Mud and The Paperboy. Even as the drums were beating about his haunting work as a fire-eyed, driven lawmaker in the HBO series "True Detective," he was winning an Oscar, the ultimate comeback accessory, for his unforgettable starring performance in 2013's Dallas Buyers Club.
That's from the outside, looking in. 
McConaughey is sitting on a makeshift stage in the outdoor beer garden of Contigo, an Austin, Texas, restaurant, on a sunny April afternoon. He sports a three-day beard and the tanned look of someone who spends a lot of time outdoors with his kids. For McConaughey, that comeback story feels like a stretch. If you ask him, he'll tell you he never went away.
"That whole thing was much less of a 180 for myself than people seemed to think," McConaughey says, relaxing in a low-back armchair. "There was this narrative of 'then' and 'now.' But for those previous few years, I never worked harder than I had. I didn't get a new acting coach or take a new class. I just said, 'Fuck the bucks—I'm going for the experience' in the things I was choosing. And really, part of what worked for me is that I had fewer expectations about my career at that point. I quit trying to project how something would be received and decided to just be an actor for hire again. So I shut down my production company and my music company and simplified the things on my proverbial desk. I love being an actor and going as deep as you can in a role, to really commit to the craft. I put my head down and went after roles that scared me."
The 48-year-old McConaughey has a full head of wavy walnut-brown hair with glints of gold. Tall and lean, wearing a gray workshirt and a pair of jeans over square-toed boots, he's got ramrod posture and an easy smile. The milestone of 50 approaches, but McConaughey is unconcerned: "I'm not a numbers guy," he says. "I figure I'm in the eighth fairway and I'm hitting my second shot, with 18 holes in this particular fairy tale."
"He gets more and more interesting the older he gets," says director Yann Demange, who cast McConaughey in White Boy Rick, which will arrive in theaters in September. "In the past eight years, he's been extremely brave in his choices. He had a whole previous career—and then he pressed 'Stop' and went, 'Fuck that.' He talked to me about consciously wanting to try something different."
As he talks, McConaughey is waiting to speak at an event before a group of Texas liquor distributors, to help launch Wild Turkey Longbranch, a new blend of Bourbon the actor helped to create. 
More than just a celebrity spokesman, McConaughey is the creative director for Wild Turkey, a position he's held since 2016. Initially approached by the brand to be its famous face, McConaughey countered with his vision of how to introduce the label to a generation of millennials who were just discovering the possibilities of Bourbon. He wrote and directed a pair of short films for the brand, and collaborated with master distiller Eddie Russell in a two-year process to create Longbranch, which hit the American market in May.
"They came to me about four years ago because they were interested in me being the face of the brand," McConaughey says. "I wasn't sure about that, but I kept sharing ideas with them about where the brand was going. I finally spent a couple of days in Kentucky with them and I was intrigued by this iconic family story—because, really, it's an iconic American family tradition and Bourbon is an American invention. I was keen on introducing it to a younger generation, to show that Bourbon isn't just for 60-year-old guys sitting on their back porch as the sun goes down, looking back on their day."
McConaughey hasn't had much time for sitting on the back porch of late. Along with launching the new brand, McConaughey shot three films in the past year, all of which will come out later in 2018: White Boy Rick, a drama based on a true story; Serenity, a thriller opposite Anne Hathaway; and the raucous comedy, The Beach Bum.
McConaughey finds himself most drawn to roles that "give me butterflies, that scare me right away." Since winning his Oscar, he has taken on roles in films with blockbuster budgets (The Dark Tower, Interstellar), but has shied away from the kind of glossy star vehicles that dominated his resume in the first decade of this century. That's to take nothing away from the success of films like How to Lose a Guy in 10 Days. "I still get residual checks from that movie," says comedian Robert Klein, who played McConaughey's boss in the 2003 film.
In going back to his independent roots on films such as Mud and Dallas Buyers Club, McConaughey reconnected with the energy and excitement that drew him to the process of making movies in the first place.
"You work faster and move quickly," he says happily. "There's no sitting around while they set up a shot for two or three hours. When I was making Killer Joe with William Friedkin, he did everything in one take. One take! Now there are two ways to take that. You can freeze up and think, 'What am I gonna do?' Or you just relax and use that as freedom, instead of fear."
The pressure on Dallas Buyers Club was similar: "When we were doing screenings of the film and talking afterward, I'd always get a gasp from the audience when I told them we shot it for $4.9 million in 25 days."
McConaughey won the Oscar playing an unlikely—but real-life—HIV activist. When Texan Ron Woodroof is diagnosed with HIV in the mid-1980s, he creates a network to smuggle in treatments used outside of the United States. He sues the FDA and ultimately gets legal access to the drugs that would stretch his life expectancy by seven years. 
McConaughey was coming off Magic Mike, in which he played a male stripper, and radically changed his physique to play the gaunt Woodroof. "I got in great physical shape for Magic Mike. Then I started losing weight and not working out. I did that through the filming of Mud, and, in five months, I lost 47 pounds for Dallas Buyers Club."
He knew the script was a good one "but I didn't foresee the work translating on the level that it did. I mean, you can look at Dallas Buyers Club and think, well, done right, this could be a 'fall release.' But really, I'd say, let's just call it a good drama. What I like about drama is that you don't have to act as much. They're closer to you. You just have to ask, 'What is the reality here? How can I tell the truth about this human behavior?' Drama gives an actor license to go as high or as low as he wants. The ceiling—and the basement—are more personal in a drama."
A veteran of more than two decades in Hollywood, McConaughey navigated the sometimes tricky currents of Oscar campaign season, he says, because the movie and performance spoke for themselves.
"I watched the finished film and thought, 'I'd shake hands with that,' " he says. "When I watch myself onscreen, if I see myself too much, I think, 'What's McConaughey doing up there?' But with this one, after the first scene, I was with Ron Woodroof. I thought the performance was true. 
"I didn't have to bullshit or come up with an angle because I believed we had the goods. I never felt like I had to sell you on why you should like it. People connected to it on a personal level—and told us personal stories: 'My nephew had HIV and he went through this.' That's when art translates, when you know it's resonated with someone's life."
Winning the Oscar for that role meant "higher confidence and better choices in scripts," McConaughey says. "It's given me a larger, more qualitative platform. Making movies is still my favorite part of this. I like making them way better than watching them. It's the magic, the 'Oh, what this could be' of it, that turns me on."
That was certainly the case with "True Detective," the critically acclaimed HBO series. McConaughey costarred with Woody Harrelson in the 2014 debut season (the second season, which aired in 2015, featured an entirely different cast and storyline) and both nabbed Emmy nominations for best actor in a drama series. The moody, unnerving tale of a murder investigation in rural Louisiana hit McConaughey as hard as it did the rest of the viewing public.
"That was like shooting a movie with a 450-page script—I never knew how they were going to edit it to tell the story," he says. "So I was watching it every Sunday, one episode at a time, the same as everybody else. I was as excited as anybody else to put the kids to bed and watch the latest episode every Sunday night. I was having the same water-cooler talk on Monday morning. I'm glad I got to watch it that way; I was wowed like everybody else."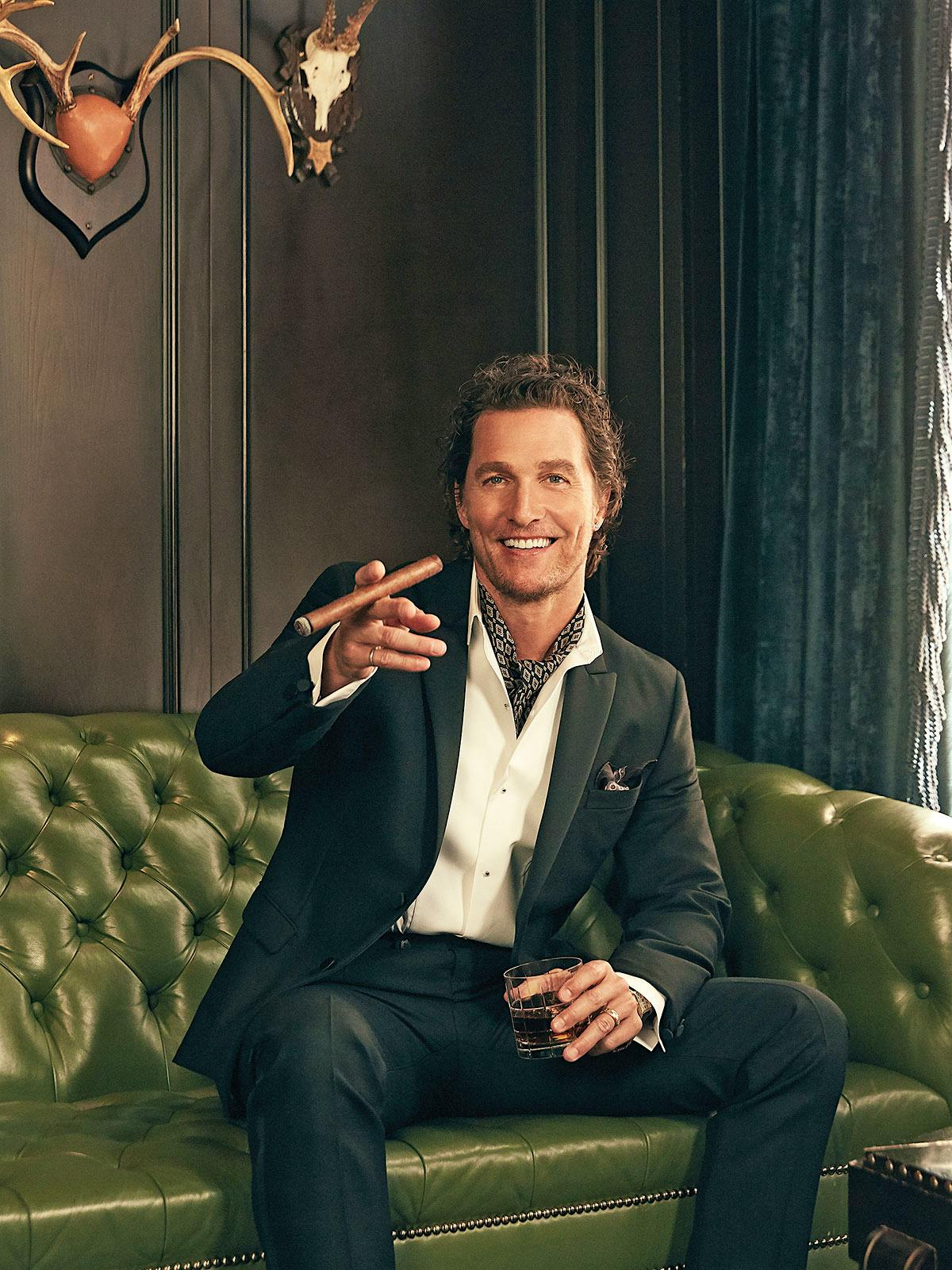 The list of high-profile directors he's worked with is impressive, from Steven Spielberg (Amistad), to Ron Howard (edTV), Steven Soderbergh (Magic Mike) and Christopher Nolan (Interstellar.) He even worked with Martin Scorsese on The Wolf of Wall Street, in a brief but memorable appearance as a chanting, chest-thumping, coke sniffing boss who sits down to lunch and asks his waiter to bring him and his new hire Leonardo DiCaprio rounds of dry Martinis until one of them passes out. 
"Marty has an incredible sense of humor—and he loves music," says McConaughey. "So we were communicating in almost musical terms. It wasn't even English."
Speaking in musical terms comes naturally to McConaughey. Whether discussing rhythm, tone or taste, he's likely to reach for a piece of musical vocabulary to express how he feels. Asked about the intersection of Bourbon and cigars, for example, McConaughey says, "They're two bass lines—and bass is my favorite instrument. It's this earthy, sophisticated, very outdoorsy combination: Bourbon and a cigar."
These days, McConaughey tends to enjoy most of his cigars while he's on the golf course. He likes a medium-sized Romeo y Julieta, but found himself smoking larger, maduro-wrapped cigars for the upcoming The Beach Bum, mirroring the film's director, Harmony Korine.
"I would partake of his—and I wound up smoking them onscreen," McConaughey says. "I got a real taste for them when we were filming in Miami."
The last time he spoke to Cigar Aficionado (McConaughey was on the cover in April 2011), he mentioned liking the idea of holding on to a cigar to let it mature in a humidor. "I love the lineage of that, the patience to say, 'Ah, this will mature.' " 
Time, he says now, figures heavily into his enjoyment of good cigars, which he typically does while sipping Bourbon or Port: "There's a ritual about smoking a cigar that slows my clock down. I'm a busy guy—so I like the chance to slow that clock down."
Part of that effort includes moving his family to Austin, the Texas state capital and home to his alma mater, the University of Texas, about 160 miles from his hometown of Uvalde. With its thriving economy, burgeoning tech sector and Sun Belt climate, Austin is the 11th-largest city in America and one of the fastest-growing, with both strivers and retirees causing the population to mushroom.
To McConaughey, the big city still has the soul of a village. The tricky part, he says, will be for it to maintain that sensibility even through current and future growing pains.
"We've got to remain tapped into a culture that's very soulful," he says. "When you get quick growth, you've got to be resilient to retain that culture. This city's sort of going through its adolescence with this fast growth. But you've got to maintain the values of the village in a growing metropolis. I believe this place can hold on. I don't want to be saying, 'Oh, I remember when it was great.' If we're growing, we have to grow for the better. I think that's where we're headed. I have too many friends who are taking about half the salary they could make somewhere else just to stay here."
He and wife Camila Alves McConaughey have two sons, nine, and five, and a daughter, eight. Making Austin his base means he's "taking time with my kids and my wife, giving myself time to follow those 3 a.m. ideas," he says. "I'm writing more, fundraising for my foundation (the Just Keep Livin Foundation, which funds after-school programs), getting to know my town again."
When McConaughey last graced Cigar Aficionado's cover, he and Alves had two children but had yet to tie the knot. At that point, McConaughey said, "Marriage—it's not something we feel we need to be complete. It doesn't mean we won't do it." The pair married in June 2012. So what changed?
"I mean, the clock was ticking—I was about to be 40 and my plan was to be married and have kids by that age," he says. "But I didn't want to play the game of starting to feel anxious because, with too much anxiety, you can't find a mate. And then you make a hasty decision. I knew men who had made hasty decisions and women who had done the same thing. But at that point, I wasn't hunting. And then this amazing woman walked across my field of vision and I thought, Who is that? And it was Camila."
Fatherhood has been a discovery. Kids "are who they are, right from the start," he says. "You can shepherd them, nudge them into position to be themselves. But each month they're more who they are than ever." His children have yet to see his face onscreen, for they've only been allowed to see two of their dad's movies, the animated films for which he provided character voices: 2016's Kubo and the Two Strings and Sing. The rest of the filmography will have to wait.  
Back at the Bourbon event in Austin, McConaughey is walking around, mingling comfortably with several dozen liquor distributors. He and Eddie Russell have concluded a presentation explaining the origin of Wild Turkey Longbranch. The pair chatted about the process of refining the blend, how they hit on the idea of adding mesquite charcoal to give a Texas twang to the distinctive Kentucky whiskey, and what particular time it was when McConaughey called Russell with great enthusiasm, to wake him up after tasting what became the ultimate blend.
"I think I called him at 2 a.m.," McConaughey starts, to which the laconic Russell puts it, "It was more like 4."
Russell also notes that the actor had considerable influence on the blend's bottle design. The discrete label takes up less than a third of the Longbranch bottle's distinctive geometric front and features both McConaughey's and Russell's signatures, above raised-glass lettering.
"I didn't want a big-ass label," McConaughey says. "And I wanted it to have shoulders and hips—like a great car or a beautiful woman."
After the presentation, McConaughey works the crowd, just another Texan with an appreciation for strong brown liquor, although one with whom everyone in attendance wants their picture taken.
"I dealt with him quite a lot during the process and it was a fun ride for me," Russell says. "I was surprised at how down-to-earth he is. You think about how a big movie star will be but he was just a big family man. And that's what it's about for us at Wild Turkey. 
"He's a real authentic guy. He took his own path, which is something Jimmy (Russell, Eddie's 83-year-old father, still a Wild Turkey master distiller) always did. It's a big company, but it's still a very family-type business."
McConaughey's distinctive voice and phrasing made his ads for Lincoln automobiles stand out, as they do with the films he's created for Wild Turkey. And he recently added another brand to the lineup. 
"I just signed an endorsement deal with Carl's Jr. because I love beef," he says with a smile. "So I've got Carl's Jr., Lincoln and Wild Turkey Longbranch: beef, Bourbon and cars," he says, referring to the long American heritage that unites the three products. "They're three things I really like," he says. 
McConaughey walks through life with the sort of ease that comes with being comfortable in your own skin. Notes Demange, "He's grounded, as a family man with three kids. Most good actors have the comfort—but some of that can be arrogance. Matthew still wants to learn and grow. He's still open to having experiences. He can still discover—and, as a result, we discover different sides of him."
That comfort includes a sense of self-awareness—as well as a distinct ability to articulate his introspection into his own motivation and drive.
"I work everyday to do my best to know who the heck I am," he says. "I'm not going to walk out the door and try to be anybody else. I'm not one of those guys where you're going to uncover some Pandora's box of who I really was. That's what 'just keep livin' means. I've got the right to be me and, as a citizen of the world, to live my life. That was inherent to me long before I was famous. I'm still living my life and am going to be myself. I owe that to myself—and to my family and my father and my lineage.
"I'm not saying that as a pride thing. But it's a right I pay a lot of respect to. You've got to watch in life who's wagging who—is the dog wagging the tail or the tail wagging the dog? I've noticed the tail wagging me from time to time and I have to say, Hold on—I want to be the one doing the wagging." 
Contributing editor Marshall Fine is critic-in-residence at The Picture House Regional Film Center in Pelham, NY.