A Visit To Mombacho Cigars
It's not everyday you get the chance to tour the inside of a Spanish colonial mansion, let alone one that has been renovated into a working cigar factory. But I did just that when I visited Mombacho Cigars S.A. in Granada during the first leg of last week's Puro Sabor Festival del Tabaco, Nicaragua's cigar festival.
Many factories dazzle visiting cigar enthusiasts with their scale, but Mombacho Cigars impresses with its quaintness. Instead of rolling cigars in a large, hangar-style building, Mombacho's home is literally a home. Or at least it was when famed Italian architect and sculptor Mario Favilli, who designed and built it in 1925, lived there with his family.
Case de Mario Favilli, as it's known, is officially recognized as a historical landmark as a stunning example of Spanish colonial architecture in a city replete with buildings of that school. Painted a brilliant marigold yellow, the asymmetrical structure features an abundance of intricately detailed staircases and pilasters, a gorgeous al fresco courtyard, original wrought-iron work and Spanish tiles that were painstakingly handmade right in the city. (Favilli actually helped start the city's bustling tile industry, too.) And since it was the first building in Granada to be erected using reinforced concrete, it has survived a slew of natural disasters.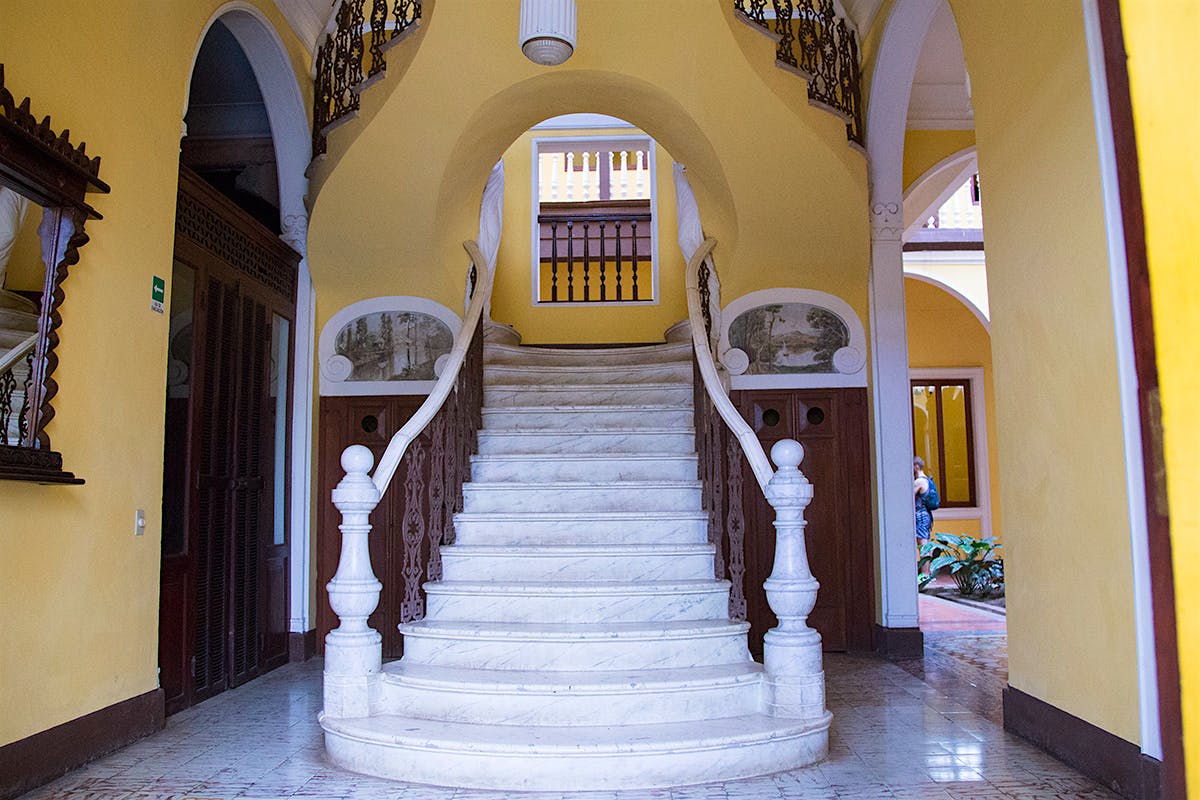 "Ninety-plus years is very old here, given the earthquakes and such," said Claudio Sgroi, blender and president of Mombacho Cigars S.A.
Claudio had just finished conducting a seminar in which tour-goers got the chance to smoke a deconstructed Liga Maestro (like all Mombacho brands, it's a Nicaraguan puro). Participants lit up three cigars, each a component of the final Liga Maestro blend: brawny ligero from the Jalapa Valley, sweet seco cultivated in Condega, and sweet/salty viso also from Jalapa.
He wears a T-shirt with the slogan "Happy people make happy cigars," faded blue jeans and grey Adidas Superstars with green stripes ("I'm a bit of maniac about my Superstars. Since I was five-years-old I wear only these, all custom.") Claudio looks comfortable in the humidity, but occasionally tips his ballcap to wipe the sweat away.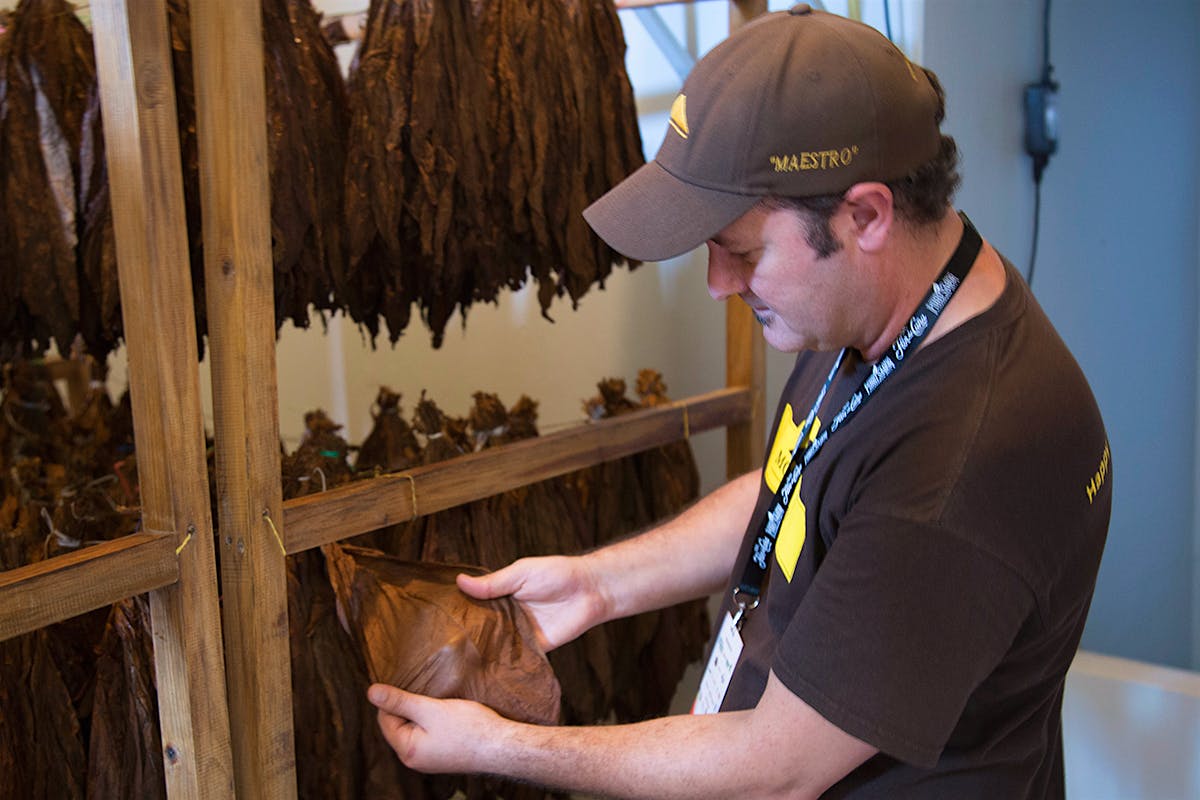 Mombacho bought the building in 2014 and immediately began converting it into a cigar factory. Since Granada is much more humid than Estelí, where the bulk of Nicaraguan cigars are rolled, he has to rely on air conditioners to keep the work areas at the proper humidity levels for tobacco.
The first floor includes a rolling gallery where six pairs (a roller and a buncher) churn out, on average, about 275 cigars each per day. To finish tobacco, Claudio will sweat leaves for about 18 hours inside a mulling room with walls covered in a special paint that resists molding. ("My sauna room," he calls it.) After this step, he'll dry the tobacco for another 18 hours or so, and then it's ready to roll.
He also has an aging room for rolled cigars that's lined with macho wood, a type of Spanish cedar that he says is a bit more neutral in aroma than Spanish cedar typically found in humidors. Some of the cigars in the aging room were rolled in 2014, and there's even a stack of boxes that go back to 2007, before the factory even opened.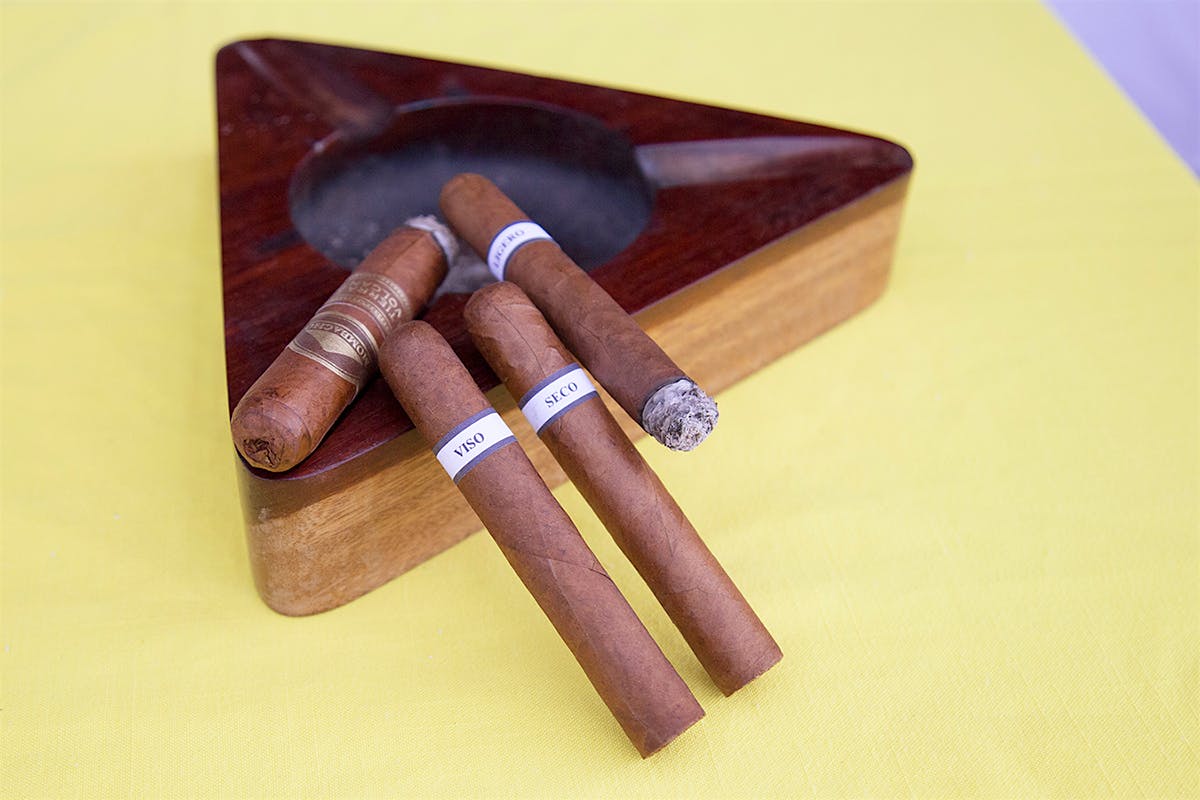 According to Claudio, the first floor took about three months to prepare for cigar rolling. At that time, he only had eight employees, but due to rapid growth, it now employs about 30.
Currently, Claudio is working on carving out a loft space in the building for tobacco storage. He plans to humidify the area at about 70 percent so that he has a larger supply of tobacco on hand. Additionally, he plans to add a lounge on the top of the building ("the fourth floor"). One of highest points in the city, the lounge will have a perfect view of the nearby Mombacho volcano.
During my time there, many visitors who didn't appear to be cigar smokers at all were walking around, gawking at the architecture. Claudio says this is normal, adding that his factory is one of the most popular tourists attractions in the city.
Like I said, Mombacho does many of the same things other cigar factories do, only on a much smaller scale. One may even use the dreaded b-word (boutique) to describe the operation. Or is "artisanal" the sexier marketing term nowadays?
archived comments
"Great blog. Seems this place is the El Laguito of Nicaragua—big yellow mansion turned cigar factory." —January 31, 2017 09:28 AM