A Q&A With Humidor Maker Daniel Marshall
If there is a humidor-maker to the stars, it's probably Daniel Marshall. Self-taught with a talent for wood-working, the 58-year-old has been crafting humidors out of California for nearly four decades and does not take the word "craft" lightly. But he's been equally attentive to both the quality of his products and the image of his brand as a luxury good. His celebrity clientele, penchant for exotic woods and respect among cigar connoisseurs has made him one of the top names in humidor production. Managing editor Greg Mottola talked to Marshall and discussed the challenges of making a humidor functional, beautiful and, at the same time, affordable.
MOTTOLA: Let's get right down to it Danny, you're one of the top names in desktop humidors and I don't think anybody knowledgeable is going to argue that. But luxury goods are expensive and it's sometimes tough to get people to part with their money. How do you convince cigar lovers that your humidors are better than the cheap stuff made in China?
MARSHALL: One word: Trust.
Q: Trust in what? The name? The reputation?
A: Trust that the humidor will stand the test of time. Trust that we use the best woods, best materials available and best workmanship. That their precious cigars will be taken care of in a Daniel Marshal humidor, age properly and become worth more in value and pleasure over time. 
Q: There are some people who don't think a humidor at any price is worth the investment. What do you say to someone who insists that a Tupperware full of Humidipaks is as good as anything?
A: I would love them to take this challenge. Blind taste a fine cigar that has been in a plastic container for two months and blind test a fine cigar that has been in a Daniel Marshall humidor for two months. This way they can taste the difference. 
Q: Someone would have to have access to one of your humidors to do that, wouldn't they?
A: What we offer to your readers now is this: Get two of the same brand and size cigars purchased at the same time and send us one of those cigars. We will then age it in one of our humidors for two months. We will pay the postage for the cigar to be sent from your reader to us. After two months, we will send the cigar back and they can then remove the cigar from their plastic box, do the taste test and see for themselves. 
Q: You mean like taking the Pepsi Challenge?
A: If they like the taste of the one that was aged in my humidor, we will offer them a special Daniel Marshall Campfire Club price on a humidor. We are big believers in box aging and know what happens to a cigar when time is added to it on top of resting and aging in a Daniel Marshall humidor.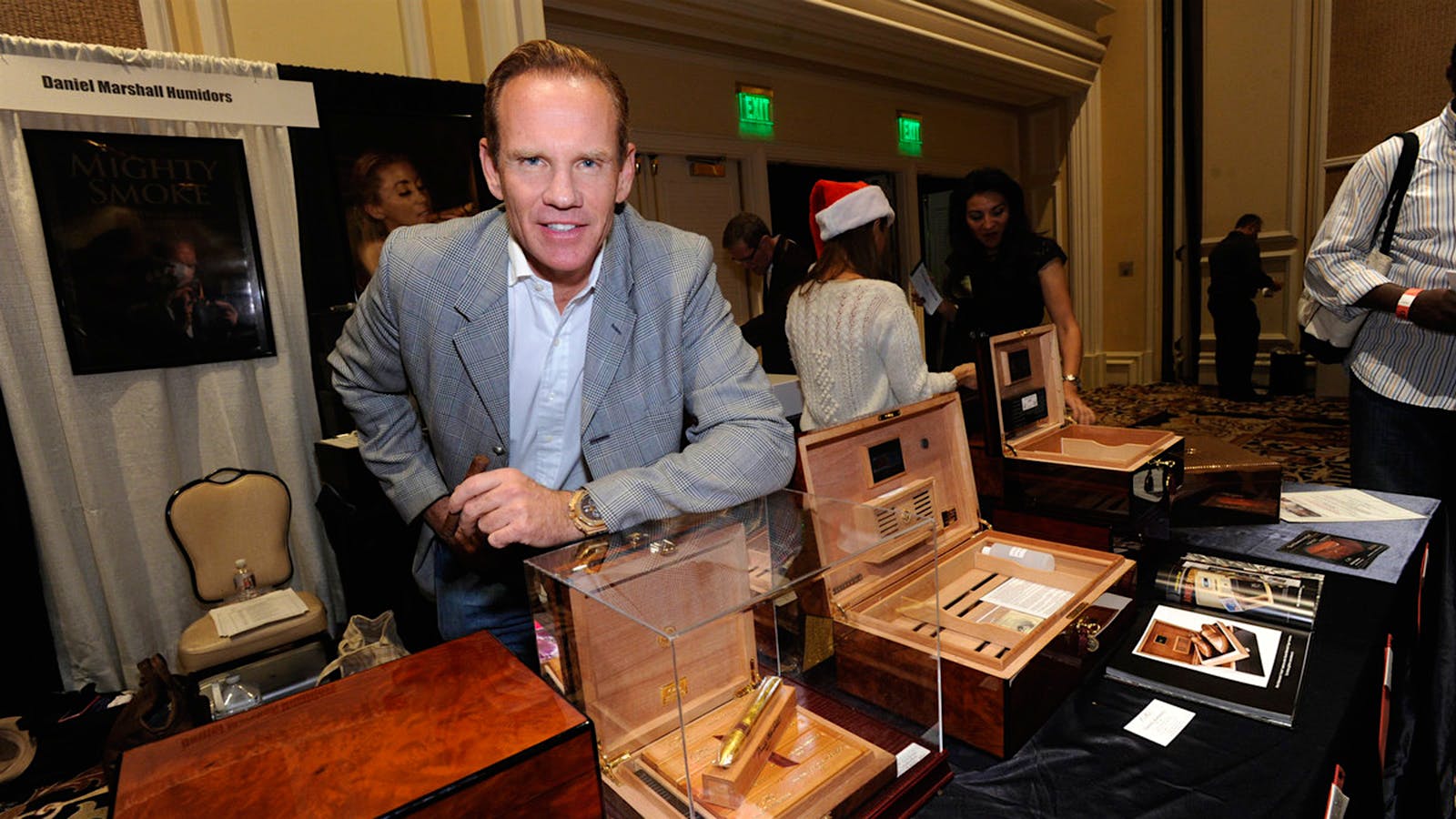 Q: Your humidors are all constructed of a cedar base, right?
A: Correct. Spanish Brazilian cedar. This is the one and only best cedar to use. We get the widest, oil-free or sap-free cedar.
Q: But it's the rare-wood finishes that really make the box stand out. I imagine the quality of your materials is crucial.
A: Materials are everything. Chefs cannot make food that is beyond food without the best materials.
Q: Is it difficult to source the materials? 
A: Yes, however as with everything in life, it's who you know and how long you know them. We pay top price for all our raw materials, and insist on only the best. The suppliers are proud to work with us. They know who we are. 
Q: You have stated in the past that affordability was very important, but aren't the best materials expensive by nature? How can you use top materials yet keep it affordable?
A: By maintaining a team that loves what they do and keeping our margins as tight to the bone as possible. No one wants to overpay for a brand. We have been told we should raise our pricing significantly and I have refused. I want our humidors to be approachable as anyone who invests in one of our humidors knows that it will last lifetimes and that they can trust it to perform decade in and decade out. Highest value at a fair price is a hallmark of our brand.
Q: What's the price range of your humidors, from the cheapest to the most expensive one you've ever produced? 
A: A $45 leather cigar case that the Gianni Versace factory in Milano made for us to a 14 kt gold humidor that we sold for $500,000. 
Q: What about something in between?
A: Our Precious Wood collection. It's our top-selling collection. The bestsellers range in the 100 to 165 cigar capacity sizes. 
Q: How much do they cost? 
A: $495 to $995.
Q: That's seems pretty reasonable considering the quality and rarity of your boxes. As a top name in this arena, naturally, you are compared to Elie Bleu. What do you think about the comparison?
A: I have deep respect and honor for all of the brands that have persisted throughout the decades. Elie Bleu, Michel Perrenoud, Davidoff I consider good colleagues and friends. I believe we all bring to the collector something different.
Q: They have the advantage of being made in Europe, the world's cradle of luxury goods, but you have the advantage of being made in the U.S.A. 
A: Yes, in Santa Ana, California.
Q: At your own factory?
A: Yes. We moved there [from the first factory] 25 years ago.
Q: Were you a carpenter by trade before entering this business?
A: No. A self-taught dreamer. If I could see it in my mind, I could carve, cut and create it in wood. I had no formal training or trade school. Just books with a spirit of quest for quality and creating the best I could imagine. 
Q: Tell me about the first cigar accessory you ever made.
A: I made it as a gift for my girlfriend's grandfather, Mr. Joseph D. Bain, in 1982. It was a unique design carved out of teak wood that held three of his favorite cigars.
Q: That's a creative way to score points with your girlfriend. 
A: It was a thank-you gift for always being interested and inspirational in my dream to build a sailboat and sail around the world. I was building a Westsail 32. I bought the hull and deck and had to complete the interior and melt 7,000 pounds of lead for the ballast in the keel. 
Q: Then, clearly, you had some skill in woodworking. How did you transition that into a humidor business?
A: Mr. Joe Bain saw my future, or potential future, as all visionaries can see. When he looked at the cigar case I made him, he said to me: "This is really nice. Dunhill would buy it." 
Q: That's an encouraging vote of confidence. I guess you took it to heart.
A: I listened to him and he was right. Dunhill did buy the three-cigar case and asked me if I could make humidors. I responded to the buyer: "Of course I can make humidors! What's a humidor?" [Laughs]
Q: Weren't you a cigar smoker?
A: No, I had no idea what a cigar was, much less a humidor. But he did not miss a beat and brought me a French-made Dunhill humidor to replicate. 
Q: So, Dunhill was your first official customer?
A: Yes, Alfred Dunhill of London. 
Q: Were you working out of your home at that point?
A: My garage, yes. We set up the factory after I received a $250,000 purchase order from Alfred Dunhill to make their humidors for the USA. The first factory was in Costa Mesa.
Q: Who else was making high-end humidors in the '80s? The market must have been pretty small. 
A: Tiny. There were only two in the world. Michel Perrenoud of Switzerland and Elie Bleu of Paris. Alain Berda was the original owner when I began. Prior to Cigar Aficionado, there was only Dunhill and Nat Sherman offering higher-quality humidors [for sale at retail].
Q: The cigar market in general was pretty dead in the '80s. When did things really pick up for you?
A: We were always busy with creating jewelry boxes, complete desk set collections, clocks, chests for Dunhill, Tiffany, Hermés, but the humidor division of our company took off when Marvin Shanken started Cigar Aficionado and the famous Big Smoke events. 
Q: Well, the magazine came out in 1992. Big Smokes started in '95, so that would be Boom time.
A: Once the magazine was published, we were able to build our brand name, and I'm confident everyone in the cigar world will tell you the same thing.
Q: Yes, I've heard that a lot. But exhibitors at Big Smokes give away cigars. You weren't giving away humidors, were you?
A: No. Big Smokes allowed us to meet and connect with the readers. Prior to the magazine I did mostly private labels. 
Q: Let's get back to the nuts and bolts of humidors. How difficult is it to make a humidor that functions properly and consistently?
A: There are over 100 individual steps the humidor must live through and many more quality standards that have to be met by the time a Daniel Marshall humidor comes off the final QC table. Any one of those steps is critical to make a proper humidor. We love what we do, so we don't know "difficult." But it's challenging due to weather changes, humidity swings, veneer suppliers spraying the veneer with a chemical that will make the wood flat. Our trademark "1000 Coat" finish will not adhere to any veneer that has been treated this way. So, yes, there are challenges. However, we keep pushing and keep reminding all our raw wood suppliers to never forget that we demand the best.  
Q: There's conflicting advice out there about seasoning your humidor. Some say to actually dab the humidor walls with a wet sponge. Does one need to season a Daniel Marshall humidor before it maintains steady RH? 
A: Never wipe a Daniel Marshall down with water and no need for any seasoning or to buy any seasoning kits sold by other companies. Save your money for cigars. We spend a lot of time sanding the cedar super smooth. Wiping with water lifts the grain of the wood, making it rough, defeating the purpose of our labor. Our time-tested humidification system supplies ample humidity from day one. 
Q: What type of humidification system is that? 
A: We have two humidification systems. One tried-and-true system of distilled water that provides and allows humidity to be adjusted to suit the taste of the cigar collector. The other is a disposable humidity stabilizer for those collectors who want more carefree maintenance. Place in the stabilizer in the same sliding wood cover that houses the original model humidifier and you are good for 60 days until they have to be replaced. 
Q: How about analog hygrometers vs. digital? 
A: Analog has much more error. As far as the digital hygrometers, they are accurate within 10 percent which is OK, as we recommend to use them only as a reference point. Note what it reads when your cigar feels, draws and tastes the way you want it and that's the sweet spot range you can target. 
Q: Do you have a personal favorite humidor that you've made or make? 
A: It would be the humidor that has the most wow factor and that raises the most money for vital international causes. Some of my personal favorites would be those that I made in collaboration with [Arnold] Schwarzenegger over the past 26 years. [Schwarzenegger] and I are working on two very historic and revolutionary humidors right now that we are confident will be huge successes at auction. 
Q: How is the market for humidors in this era of Covid? 
A: The market is up. Your readers have learned how valuable a proper humidor is, not only to protect and preserve but to enhance the flavors and taste profile of the cigars they've learned to age.