8 Things To Know About Counterfeit Cuban Cigars
Counterfeit Cuban cigars are a persistent and annoying problem for cigar lovers. Save your money (and your palates) by following these eight key tips to avoid getting burned by a fake.
There Are No Cheap Cohibas
There are only expensive Cohibas, and very expensive Cohibas. Even in Cuba, where prices are the lowest in the world, a Cohiba Esplendido retails for around $25. A Behike 56, if you can find them, sells for more than $30. In Canada, a big Behike sells for north of $100. If you find a bargain Cohiba, it's a fake Cohiba. 
Authentic Edición Limitadas from 2017.
A Lesson In Limitadas
Edición Limitadas are prized by collectors, and counterfeiters do some of their biggest business by putting fake secondary bands on Cohibas and Montecristos. But they don't always get the dates right. Counterfeiters will put an Edición Limitada band on a Cohiba every year, even though Cohiba only makes an occasional appearance as an EL. Know which dates are on which brands to protect yourself. 
No—That Guy Doesn't Have A Cousin Who Works In The Factory.
The oldest cigar scam in the book is the person you meet on the street who claims to have an insider in a factory getting him the real stuff for a fraction of the retail price. Avoid. You're likely to be buying a fake.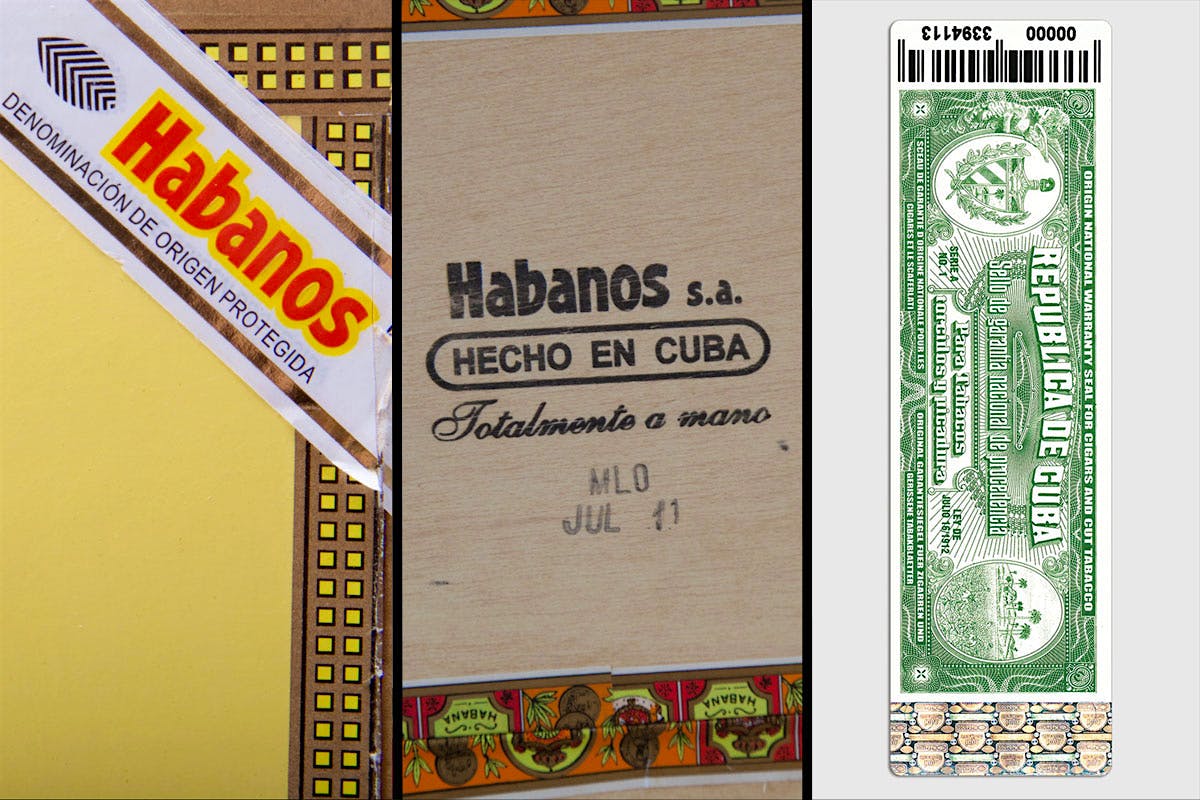 From left: the Habanos label, the stamp on the bottom of the box and the Cuba guarantee seal. Note the barcode, which can be used to verify the authenticity of your Cuban cigars.
Labels Go On The Box, Not In The Box
A lot of counterfeit cigars we've seen lately have the appropriate labels, but not on the box. They're all inside for you to stick on yourself. Habanos takes stickers, labels and seals very seriously—this isn't a do-it-yourself process. Stay away from this very lazy counterfeit. 
Pass On Glass
We've said it for years, but people still buy them, and that means they're getting burned. There are no glass-top (or clear plastic) boxes that contain genuine Cuban cigars. Habanos S.A. does not produce anything with a clear lid. We've seen fakes like this in the Caribbean, Mexico and elsewhere, sold under such creative names as Cohiba Crystal and others. Glass-top boxes are always going to be counterfeit. 
A counterfeit box of Cohiba Behike, left, looks similar to the real thing, right, but there are several telltale signs that can help Cuban cigar buyers confirm the authenticity of their next purchase.
Beware The Bogus Behike
Cohiba Behikes are a prime target for counterfeiters, given their sky-high prices and exclusivity. The first thing to look for is a box of 10—Behikes aren't packed in boxes of 25. Ever. Another thing to look out for is the placement of the labels. Counterfeiters tend to put the seals directly onto the black lacquer, glossy surface of the Behike box; Habanos will never do that. Official labels and seals appear on the box's outer, black cardboard protective shell. And the true band has two elaborate holograms. A proper band isn't a certain sign of a real cigar, but mistakes in the band guarantee you have a fake. 

A fake barber-pole Cohiba.
Avoid The Barber Pole
Barber-pole cigars, made with intertwined wrappers of different colors, are items from the non-Cuban cigar world. Real Cuban cigars don't come with barber-pole wrappers. 
Trust, But Verify
Think you might have a fake? Habanos puts a barcode on every box of Cuban cigars (see barcode photo above). It's located on the edge of the Cuban guarantee seal. You can use the code to verify the box's authenticity via Habanos.com. You can either scan the barcode with your smartphone, or type in the numbers manually. If the description doesn't match the cigars you have, then your product is inauthentic.