2019 Big Smoke Sunday Seminars: Tasting Away in Tequilaville
Did you know that all Tequila is mezcal, but not all mezcal is Tequila? If you attended the Tasting Away in Tequilaville seminar on Sunday at the 2019 Big Smoke Las Vegas you would have learned this fact—and much more about fine agave spirits.
You also would have learned that Tequila and mezcal are both having a bit of a moment, as sales have surged in recent years. This was pointed out by both Cigar Aficionado senior features editor Jack Bettridge and senior contributing editor Gordon Mott, who co-hosted the final event for the smoke-filled weekend cigar celebration.
The duo was joined onstage by two brand ambassadors, Alan Ruesga-Pelayo of Cazadores and Allison Contreras of Ilegal (pronounced ill-ee-GAHL) Mezcal. Spirits giant Bacardi owns Cazadores and has a minority stake in Ilegal.
Cigar enthusiasts looking to pair their smoke typically look to brown spirits such as Bourbon or Scotch. However, as Mott pointed out, Tequila and mezcal can also be fine partners for premium, handmade cigars.
To put this theory to the test, the brand ambassadors supplied the room of 550 smokers with pours of four different types of Tequila and mezcal: Tequila Cazadores Añejo, Tequila Cazadores Extra Añejo, Ilegal Reposado and Ilegal Añejo.
But what's a cigar pairing without cigars? Tabacalera USA thankfully gave each audience member two fine cigars: the H. Upmann Connecticut by Grupo de Maestros Toro (87 points) and the Monte by Montecristo AJ Fernandez Robusto (90 points). 
Rafael Nodal, head of product capability for Tabacalera USA, took to the stage to briefly give a rundown of the cigars the crowd would be smoking. 
The first cigar of the seminar was the milder of the two, an H. Upmann Connecticut, which measures 6 inches by 50 ring gauge, and is made in the Dominican Republic. The smoke is covered in a golden-brown, Connecticut-seed wrapper from Ecuador, with a binder from the Dominican Republic and filler tobaccos from Nicaragua and Dominican Republic. The cigar has an intriguing design element, a small circle of dark, maduro wrapper at the very top of the cigar, which contrasts with the otherwise light cigar wrapper.
The second, stronger smoke was the Monte by Montecristo, which measures 4 1/4 inches by 54. Its wrapper leaf also hails from Ecuador, but it's a much darker variety, grown from Habano wrapper. The rest of its blend is made up of filler tobaccos from Nicaragua and the Dominican Republic, but the cigar is rolled in Nicaragua and is made with a Nicaraguan binder.
While the audience eagerly awaited diving into their drinks, Mott explained that while Tequila and mezcal are both agave-based spirits, Tequila is distilled only from Weber blue agave. Mezcal, on the other hand, can be produced using any of the 28 varieties of blue agave.
"Some plants take 25 to 30 years to mature before they can be collected for distillation," said Mott. "And all the spirits we are drinking today are made from 100 percent blue agave. Anything else uses other types of sugars." 
According to Ruesga-Pelayo, Tequila Cazadores Añejo rests for a year inside new American oak barrels, which give the spirit a lovely gold color. This resting period also adds barrel notes such as vanilla, cinnamon and a citrus fruit finish. The Extra Añejo, said Ruesga-Pelayo, matures inside a new American oak barrel for a period of three years. This can be seen as the spirit has a deeper gold color, with more pronounced barrel notes, including roasted apples and nutmeg.
The two mezcals, Contreras said, also use American oak barrels to age, but a bit differently. The Reposado is housed inside a medium-charred barrel for only about four months. This means that the mezcal's signature smoky flavor is a bit more pronounced, but still offers notes of caramelized pears, butterscotch and clove. The Ilegal Añejo, though, spends about 13 months in barrels that once were filled with Bourbon. This gives the spirit a much more rounded profile, offering maple, dark chocolate and clove along with the signature mezcal notes.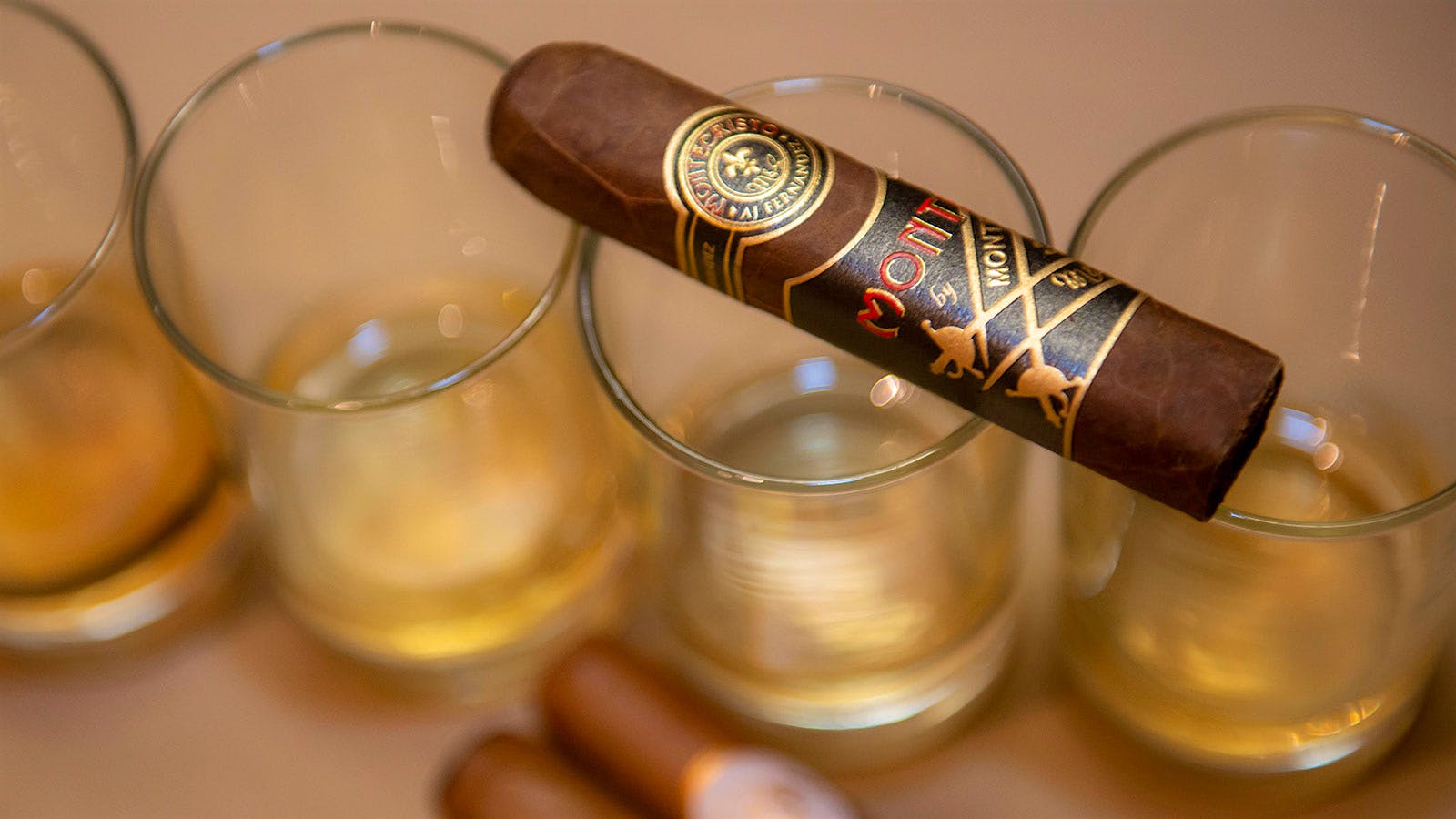 As the crowd listened, they smoked the H. Upmann Connecticut and paired it with each of the four spirits in front of them. Many agreed that the smoke paired best with the Ilegal Añejo.
As the seminar went on, the crowd was invited to light up the Monte by Montecristo. Again, they paired the smoke with each of the four pours. By show of hands, many thought that this cigar paired best with the Tequila Cazadores Extra Añejo, as it teased out a bit more chocolate and caramel from the cigar.
While the seminar officially ended at 12:30 p.m., many attendees didn't want to leave. And so the panel fielded questions from the audience until, finally, people began to slowly file out of the room. The 24th Las Vegas Big Smoke was officially over.
Save The Date
The next Big Smoke takes place in Hollywood, Florida, April 3-4, 2020, with Big Smoke meets WhiskyFest, an event combining the best of cigars and whisky. 
The Big Smoke Las Vegas returns to the Mirage November 20-22, 2020.
Big Smoke Evenings
2019 Big Smoke Las Vegas Evenings
Saturday Seminars
Sunday Seminars
Roll Your Own Cigar with Ventura Cigars