2018 Big Smoke Las Vegas: Cigar Lover's Breakfast
For most Americans, breakfast is a fairly safe and basic affair—eggs, toast, pancakes, juice perhaps. But at a Big Smoke, breakfast is so much more. Here, you're taken out of your ham-and-eggs comfort zone and introduced to new approaches to the most important meal of the day, especially if you're in for a morning and afternoon of cigar smoking.
Big Smoke breakfasts are one part cooking seminar, one part cooking show and one part meal. This year, it was lead by chef Nicole Brisson, who has an impressive resume with the B&B Hospitality Group. After serving as executive chef for CarneVino restaurant in Las Vegas, she was appointed culinary director of B&B's Las Vegas operations. 
Today, Brisson serves as executive chef for Eataly Las Vegas, but for the Big Smoke Breakfast, she didn't go Italian. Instead, she turned to Cuba. And in addition to her cooking expertise, she smokes cigars, so Brisson fully understands that one needs a weighty meal before a day of marathon cigar smoking. At this point, she can now be considered a veteran guest chef for the Big Smoke Breakfast.
"I think this is my sixth year," she said to the hungry crowd. "Every year I try to do a theme. We're making a Cuban-style hash." 
As cameras projected her cooking station onto large screens, Big Smoke attendees were served a breakfast hash of pulled-pork and mashed plantains topped with two poached eggs that oozed unctuously over the hash once you pierced them. Like a good cigar, the dish hit both sweet and salty notes, both brought together by the perfectly poached eggs. 
"The pork has been braised for hours and it's very aromatic and supple," Brisson said as she sautéed the plantains with the pulled pork during the cooking demo.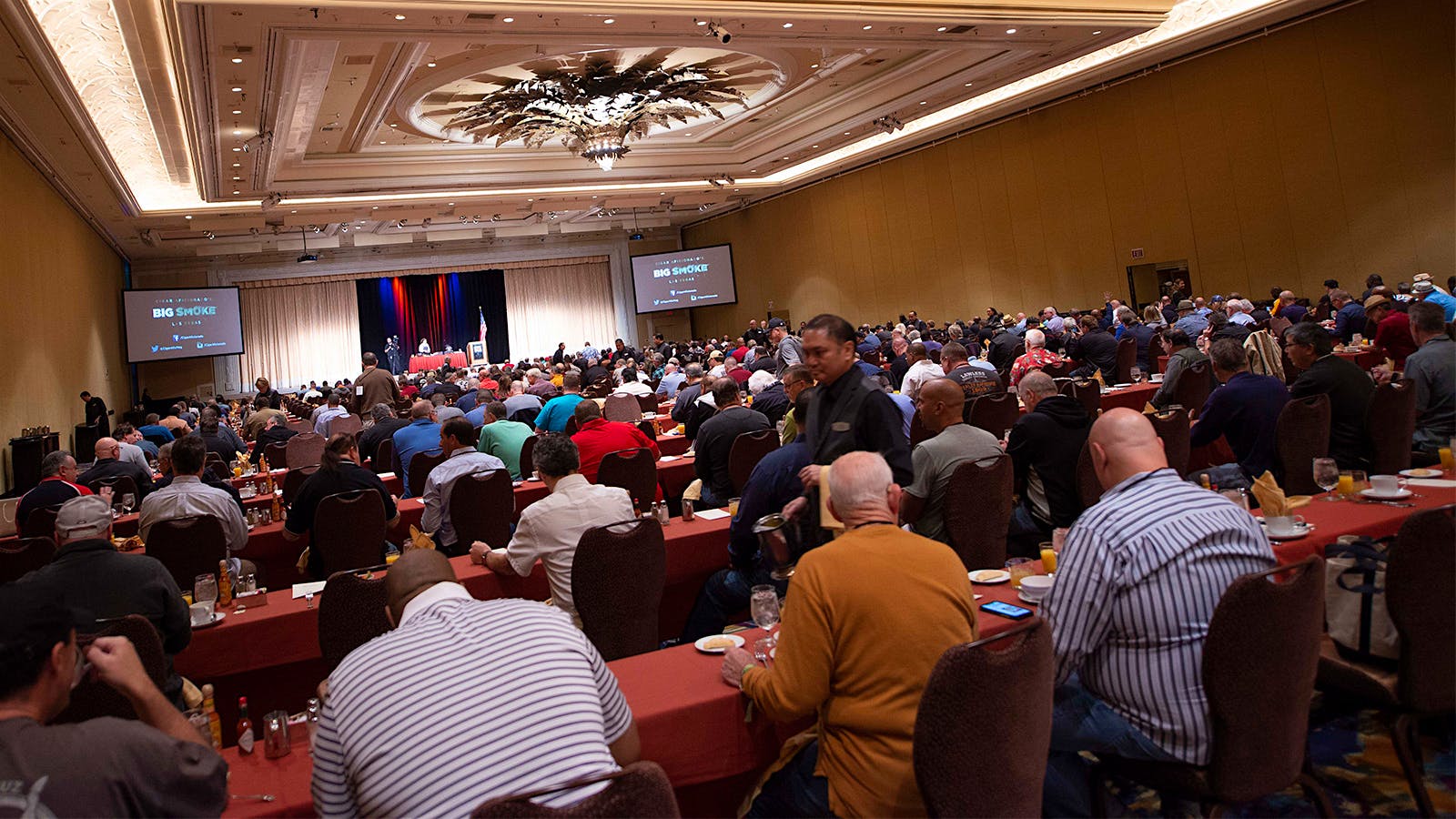 To punch up breakfast a bit, all dishes were served with a cocktail—the Dewar's 12 Penicillin, made with Dewar's 12 blended Scotch, honey-ginger syrup, and a misting of peaty Scotch sprayed on top just to add a bit of smokiness. The drink has become somewhat of a modern classic, especially for cigar smokers, and its sweet-and-sour tangy notes were the perfect complement to Brisson's sweet-and-salty hash. 
There was, of course an after-breakfast cigar—the Gilberto Oliva Reserva Blanc Toro, a mild but flavorful Nicaraguan cigar covered in Ecuador Connecticut wrapper. While cigar fans couldn't smoke during the meal and cooking demo, they were able to light up in  the smoke-friendly ballroom nearby after the meal was over, but not before Chef Brisson took questions on cooking technique. 
The audience took their last sips of their cocktails, finished their last bits of the Cuban hash and prepared for the mass exodus down the hall where cigars, and a lesson in cigar-rolling, awaited them. 
Cuban breakfast recipe
By Chef Nicole Brisson, Eataly Las Vegas
Ripe plantain
Green plantain
1/4 red bell pepper 
1/4 yellow onion, diced 
1 garlic clove, minced
Half a lime, for juice
3 oz. cooked pulled pork
1 tablespoon extra virgin olive oil
salt and pepper to taste
1 large egg
1 avocado, sliced
2 oz salsa (for garnish)
2 plantain chips (for garnish)
Cut ripe plantain in half lengthwise and remove skin. Boil in water for five minutes. Drain and mash with a whisk.
Dice half of a green plantain and soak in water for five minutes. Drain and fry the diced green plantain. Drain onto paper towel.
Roast red pepper on open flame or grill until skin is charred black. Put pepper in bowl, cover with plastic wrap and let sit five minutes. Peel skin off of charred red pepper and dice.
Put olive oil into pan. Saute onions and garlic until translucent. Add the pulled pork. Add the green plantain and ripe mashed plantain to the saute pan. Add the roasted red peppers. Squeeze fresh lime juice onto the hash and season with salt and pepper.
Saute until everything is warmed through and the mashed plantain gets slightly brown
Poach (or fry) egg and place on top of hash. Plate with fresh avocado slices, garnish with salsa and plantain chips.
Save The Date
The Big Smoke Returns to Las Vegas November 15-17, 2019
Don't Miss The Big Smoke Florida, March 23, 2019 in Hollywood, Florida (Buy Tickets Now)
Click here for more information on the 2019 Big Smokes.
Big Smoke Evenings
2018 Big Smoke Las Vegas Evenings
Saturday Seminars
Talking Cuban Cigars With Fernando Domínguez
Sunday Seminars