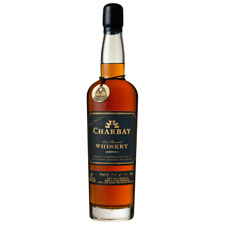 Charbay Hop Flavored Whiskey Release III Barrels 8-15, 17 & 18
Charbay's Beer and Whiskey Connection
Step number one in creating a whisk(e)y—whether you're in Scotland, Ireland, Canada, Kentucky or even California—is to make beer. The distilling, aging and blending techniques that happen further along may be promoted over that phase by some makers, but the fact remains it is common to all.
And Marko Karakasevic, a master distiller at Charbay Winery & Distillery, has chosen to feature the primary techniques in his fall line up.
The Ukiah, California-based distiller calls out the brewing background in each of three whiskeys labeled as "hop flavored." The collection includes spirits made from a pilsner, an India pale ale and a stout. Each prominently features the flavor of hops.
Charbay is among this country's oldest small distilleries, having been established in 1983, when the 12th generation distiller Miles Karakasevic continued a family tradition that stretches back to the 18th century on the Balkan peninsula. Charbay's first spirits were brandies. Now the Karakasevic family makes vodkas, rum, Tequila, Port-style wine, liqueurs, aperitifs and grappa, as well as whiskey and brandy.
The younger Karakasevic chose a favorite stout from Bear Republic Brewery, in northern California, for its complexity to make the Charbary S Whiskey. (Five malts and many hops go into the brew.)
His pick for a whiskey, dubbed R5, was Racer 5 IPA (hence the name), made by the same brewery. He lauds its "upfront and aromatic" hoppy flavors. Both whiskeys were twice distilled in alembic stills in 2011 and aged in aged in French oak.
The Whiskey Release III was made from a pilsner and is the third part of a continuing release from a batch of 22 barrels distilled in 1999. The 10 barrels for this release were aged for six years in American new white oak, charred to #3 gator skin, and then transferred to neutral cooperage for eight years. It was bottled at barrel proof.
(Cigar pairings on last page)
Charbay S Hop Flavored Whiskey Lot: S 211A (99 proof, or 49.5 percent alcohol by volume; aged 29 months; $140 a 750-milliliter bottle)
APPEARANCE: Deep straw color. Very slow, medium-width legs.
You must be logged in to post a comment.
Log In If You're Already Registered At Cigar Aficionado Online