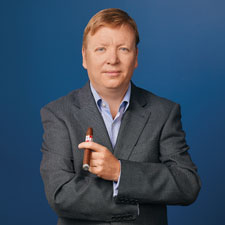 Javier Estades with one of his company's newest creations, the Romeo by Romeo y Julieta Piramide, Cigar Aficionado's No. 3 cigar of 2012.
A Conversation With Javier Estades
General Manager/Premium Cigars U.S.A., Altadis U.S.A.
Javier Estades sits in a conference room surrounded by stacks of cigar boxes for the brands he controls in the United States. Since arriving two years ago to take the job at the U.S. subsidiary of the world's largest hand-rolled cigar company, Altadis S.A., Estades has overseen a transformation of those brands, redesigning the packaging, reformulating some of the tobacco blends and implementing modern informational marketing and sales tools.
But you won't hear him using the word "I" very often; his comments and observations revolve around the team at Altadis U.S.A. Inc. His responses to questions are laced with today's common buzzwords in the corporate world—empowerment, innovation—and he is quick to attribute all the changes to the team that he helped install and has been working with since he took the top job.
For an executive steeped in the consumer goods market in Spain, the move to America  in 2011 was a bit daunting. He stepped into a job with one of the behemoths in the U.S. cigar market, and with some of the most revered and well-known brands in the United States: Montecristo, Romeo y Julieta and H. Upmann. While the country was beginning to show some signs of coming out of the recession, the economy was still not in great shape, and the assault on tobacco was never greater. And, there was a concern that the consumer was moving away from the kinds of cigars the company had always made.
With Tabacalera de Garcia Ltd., the company's manufacturing facility in La Romana, Dominican Republic, and the La Flor de Copan factory in Honduras churning out 40 million to 50 million cigars a year, the main goal was to keep those factories humming and keeping demand high for the company's cigars. Estades not only accepted the challenge, but now seems comfortable in his role, and excited about the direction Altadis U.S.A. is headed.
Estades sat down recently with Gordon Mott, the executive editor of Cigar Aficionado, in Altadis U.S.A.'s headquarters in Fort Lauderdale, Florida.
Mott: You run one of the biggest premium cigar companies in America, but very few people know you and where you came from. Can you tell us about your background?
Estades: I have had the privilege of working in this industry for the last 10 years. Before that, my background was in fast-moving consumer goods companies. I started as marketing manager at Altadis in Spain in what we call the popular [priced] brands, or machine-made cigars. I got several promotions and I became responsible for the commercial operations of all mass-market and premium cigars in Spain. After Imperial Tobacco acquired Altadis, and before coming to the U.S., I was responsible for the premium cigar operations in Spain as well as some responsibilities for the Cuban machine-made brands internationally. For the last two and a half years, I have been responsible for the premium cigars in the U.S.
Q: When you were offered the job here in America, what was your first reaction?
A: I thought it was a great opportunity. The U.S. market is the largest premium cigar market in the world. I would also say it's the most competitive one. Having the opportunity to come here, and to work with the team, it was professionally a real opportunity for me. So I was very happy for the opportunity.
Q: For many foreign executives, their understanding of the size and scope of this market hasn't always matched the reality of just how big and complicated a market it is. Have there been any surprises for you?
A:  I've learned that the consumer in the U.S. is a bit different than we have in Europe. The consumer here is very knowledgeable. I mean they've got quite a lot of experience in terms of the premium cigars. And they're also very demanding. They want two basic things: outstanding cigars and a very competitive price. And that is key. That's something that's very different here from European markets like Spain.
Q: Has that realization of the U.S. market influenced your strategy choices?
A: One of the first things that I did when I got this position was to understand the consumer. We have invested quite a lot over the past two years in doing consumer research because we really wanted to understand what were the drivers, to engage the consumer. We discovered that the three most important things are quality and taste profile, a good draw and price. That information really has been valuable, not only to me, but I would say for the team as well. We are using that information to try to identify opportunities in the market, always having the consumer in our mind.
Q: Altadis U.S.A. has made some obvious changes in its brands, some of which had to start before you had that information in hand. But you've hit some home runs already, and you must have begun to change the process immediately. What was the first step?
A: The first step was to revisit our brands. We have 68 brands including line extensions in our portfolio, and it is just too difficult to invest in everything. We knew that Romeo y Julieta and Montecristo, which are two of the most recognizable brands in America, would be a key to our success. It was clear that we needed to come up with a winning strategy and in order to do that we needed to prioritize, to make calls, to make choices. Because of our assets we have an extensive portfolio, but we needed to identify those brands that in our opinion have the highest potential. So that is one of the things we did.
Comments
1 comment(s)
Marne Jurgemeyer — Fort Morgan, CO, USA, — August 22, 2013 10:15pm ET
---
You must be logged in to post a comment.
Log In If You're Already Registered At Cigar Aficionado Online