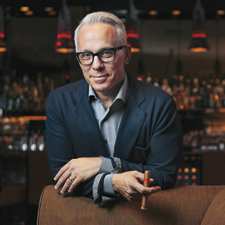 Chef Zakarian has very specific ideas about how a restaurant should be run, and he instructs his staff to not harass diners with unnecessary information.
The No-Guilt Life
Chef Geoffrey Zakarian uses lessons learned from Le Cirque to "Iron Chef," and tops them off with a cigar
It's a warm weekday lunch hour, as chef and restaurateur Geoffrey Zakarian finishes his meal. Nattily dressed in sport coat and black jeans, he's sitting at a corner table near the door of the tastefully appointed dining room of the Lambs Club in midtown Manhattan, one of the two restaurants he runs in New York.
The food has been outstanding: flavorful, imaginative, decorative—each dish topping the last. But, as he sips coffee, nodding to and greeting familiar patrons on their way out, Zakarian is more interested in talking about the dining experience that hasn't occurred.
As he points out, the wait staff has been solicitous and efficient—but not obtrusive or familiar. None of them has introduced themselves; once the food was served, no one circled back to monitor our satisfaction: "I hate that," Zakarian says. Which launches him on one of the tenets of table service at a Geoffrey Zakarian restaurant. "It's not important to hound the customer," Zakarian says dismissively. "There's no reason for a waiter to say 'Enjoy' or anything else. And I hate waiters who interrupt a table to ask how things are. If things aren't good, you'll tell him. I believe that people in a restaurant don't want to know you personally. It's not important. If you're interested in the server's name, you'll ask. If my waiter is good, I'll notice his name."
What is important, of course, is the rest of the experience: the food, naturally, but also the ambiance and the service, the sense that the diner has chosen a specific destination and is receiving singular treatment in exchange.
Zakarian is part of a wave of chef-restaurateurs who have risen during the foodie craze that has grown to mammoth proportions since The Official Foodie Handbook was published in 1984. It's a wave that has included the spawning, growth and institutionalization of the Food Network and other television channels and shows devoted to cooking, restaurants and food in general.
Zakarian has ridden that wave, as a chef with increasing celebrity, thanks both to his cooking and his business acumen, not to mention his TV-ready personality. Though he got his start in the fine-dining kitchen of Le Cirque when the Manhattan restaurant was at its peak in the 1980s, Zakarian recognizes that the concept of "fine dining"—with the formality of white tablecloths and liveried waitstaff—has given way to something slightly less daunting to the growing pool of foodies. Zakarian refers to it as "finer dining," a kind of casual fine dining a notch below the stiff atmosphere and regimented courses that "fine dining" implies.
"Finer dining has probably displaced a lot of fine-dining restaurants because of the cost," he says. "There are a lot more finer-dining restaurants. There are so many more choices now at every strata that you can find something delicious. You can go to a humble bistro or sushi bar and get great food.
"TV has made people more aware of food, and that's led to the democratization of fine-dining establishments. You may not go to Per Se, but you can go to the Lambs Club. Food Network has opened that world. What TV does is show you food as a seductive industry. But there would be no TV for me if there were no restaurants. They feed off each other.  My job is making sure that the restaurants have stable quality; if I do that, I'm good. My entire day is devoted to running my restaurants. I'm in the restaurant most evenings. Nothing happens to the exclusion of something else."
It's a synergy that's in full swing: the rise in foodie consciousness leading to TV and other media which serve that craving. That, in turn, raises awareness among the mass audience and points them in the direction of restaurants like Zakarian's. "People watch the TV and think, I want that dish, I want to try that restaurant," he says. "A rising tide lifts all boats and the Food Network has done that. TV brings in customers we've never seen before. There's a level of sophistication that people have never experienced, and they want to try it. Or maybe they just want to watch. That's OK too. Everything in life is aspirational. It's opened a whole new perception. Everything we do is to create the experience.
"It's a very social business. If you like food in restaurants, you're a social person. And now it's beamed into your house all day long. A lot of times, people who come in here after seeing me on TV, it's the first fancy restaurant they've tried. And that's a high honor. There's nothing more intimate than me cooking food and you putting it in your mouth."
Comments
2 comment(s)
danle ptitpede — March 14, 2013 3:10pm ET
---
Taylor Franklin — March 16, 2013 12:08am ET
---
You must be logged in to post a comment.
Log In If You're Already Registered At Cigar Aficionado Online