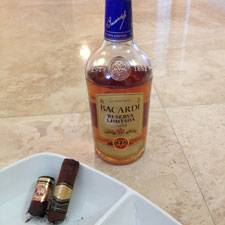 We paired the Reserva Limitada with two cigars: the La Flor Dominicana Oro No. 6 and an Arturo Fuente Chateau Fuente Sun Grown Robusto.
A Sweet Cigar Pairing with Bacardi's Reserva Limited Rum
Ever had Bacardi Reserva Limitada Founder's Blend? The answer is likely "no."
There was a time when you needed a connection to the Bacardi family to sample their rum of this caliber. And even when they made it available to the general public, you still had to go to their distillery in Puerto Rico to buy any. But in the last two years the company has made Bacardi Reserva Limitada available within the United States, albeit in a very—hence the name—limited quantity.
If you get the chance to try it, do it. The extra-aged rum, originally produced as a personal blend for the Bacardi family, is an exceptional dram—complex and chomping at the bit to be enjoyed with a cigar.
The Founder's Blend was originally produced by the current Maestro de Ron (master of rum) Luis Planas to honor Facundo Bacardi Masso, who started Bacardi in 1862. In 2003, the blend of rums aged in lightly charred American white oak barrels was first released to celebrate the inauguration of the Bacardi Visitors Centre at the Bacardi distillery in Catano, Puerto Rico, which was the only location at which it was available. In 2010 the company decided to share with the rest of us, but in very limited numbers (1,000 six-bottle cases).
Now, the precious liquid that comes in cork-sealed numbered bottles has become more widely available, although the bottles are no longer hand-numbered and the oldest age rum in the bottle has been shortened from 16 years to 12. Not to worry, the experience remains a rollercoaster of sweet sensations.
While it is something of a splurge in the rum world at $119 (compare to the excellent Bacardi at about $25), if you're a real rum hound, you're in for a treat.
(More tasting notes and cigar pairings on next page)
Bacardi Reserva Limitada Founder's Blend, Bottle No. 65,972 (80 proof, or 40 percent alcohol by volume, $119)
APPEARANCE: Deep amber to copper color. Grudgingly gives up its medium width legs.
NOSE: A complex aroma that first shows cinnamon, then turns sultry with heady honey, vanilla, caramel and a slight clove note. The finale is redolent of Armagnac.
PALATE: All kinds of sweetness rush out to meet the tip of the tongue: honey, molasses, maple syrup and cane sugar. As it spreads out over the palate it dries slightly, revealing a panorama of caramel, vanilla, cashews, toast and saffron. A complex mouthful that is nevertheless ardently sweet.
FINISH: All the flavors of the palate linger on in the finish and become somehow richer until at the very end Christmas spices arrive for a slow dance with the roof of the mouth.
CIGAR PAIRING: La Flor Dominicana Oro No. 6 ($12.50, not yet rated)

A rich woody cigar, with some charcoal and hints of meat and eucalyptus, it benefits from the pairing. As the cedar flavor accentuates, the wood becomes richer and the flavor of dried nuts appears. The rum also benefits as the cigar draws out tannins making the rich quaff even more complex.

Arturo Fuente Chateau Fuente Sun Grown Robusto ($4.55, Look for our rating in upcoming December 2012 issue)

Starts out as a tangy smoke and warms to with coffee-bean character, cardamom and black cherry. The Reserva Limitada draws out rich wood and nuts from the cigar, as well as giving it a savory quality and smoothing its edges. The cigar returns the favor by giving the sugary rum a kick that results in a spicy pop.
Comments
4 comment(s)
Kim Brown — October 5, 2012 6:38pm ET
---
ashton465@yahoo.com — October 9, 2012 10:23am ET
---
Alejandro Benes — Newbury Park, CA, USA, — October 9, 2012 5:12pm ET
---
JACK BETTRIDGE — NEW YORK, NY, UNITED STATES, — October 10, 2012 12:03pm ET
---
You must be logged in to post a comment.
Log In If You're Already Registered At Cigar Aficionado Online