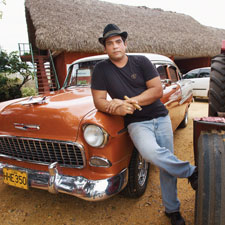 Hirochi Robaina, the new master of Cuchillas de Barbacoa, puts his stamp on the tobacco farm, but always remembers the lessons of his renowned grandfather.
The Grandson Also Rises
Hirochi Robaina, grandson of the late Alejandro Robaina, is a young Cuban farmer on a mission
A year ago on the first evening of autumn, Hirochi Robaina pulled a chair to the corner of the porch of his tobacco farm, Cuchillas de Barbacoa, and sat down to feel the wind blow. He'd performed this ritual on the same day, year after year, with his grandfather Alejandro, the legendary tobacco grower of San Luis in the Cuban province of Pinar del Río. Only this year he waited alone. His grandfather had died the April before at 91, but the practice had to go on, not for sentimental reasons, but because this old family trick is better than The Weather Channel at predicting the threat of hurricanes to his young crops.
"On September 21, at midnight, you have to see how the wind blows. If the wind blows from the northeast, it will assure you will have a good year. If the wind is blowing from the south, you have to be careful,"  says Robaina. "This year, the wind blew straight from the north. This was a good sign."
That bit of local wisdom, passed down from two generations above, meant the difference between a bumper crop and mediocrity. It told him it was safe to start the seed beds and put the plants in the ground by October 20, earlier than any one else in the region. It was a bold move, a risk none of his neighbors were willing to take. Hurricane season doesn't end until late November and the farm is located less than 10 miles from the southern shore of Cuba, whence the storms often strike. But the gamble paid off, and Hirochi's yield was superb.
The dirt road leading to the best-known tobacco farm in San Luis, Cuba, is just as dusty as ever. The weather-beaten, steep-peaked, gray tobacco curing barn that stands sentry by the entrance still has the bright red paint on its roof that reads: Finca El Pinar Alejandro Robaina, but things have changed. This is no longer the old master's farm. The jefe of this land is now Alejandro's grandson Hirochi, all of 35 years old.
The younger Robaina has prepared for this role for nearly half his life, yet his task will be no easy feat. Hirochi is charged with following in the footsteps of a legend. When Alejandro Robaina, he of the sun-wizened face and straw cowboy hat, died, he was the best-known tobacco farmer who had ever lived. Regarded as one of the most talented men ever to coax tobacco from the earth, Robaina was the very face of Cuban cigars, his smiling, wrinkled visage immortalized on the brand Vegas Robaina. Hirochi worked at his side for 14 years here on the farm in Cuba's westernmost province. Cuba is known for great cigar tobacco.
The very best comes from two towns, San Luis and San Juan y Martinez, and for years Alejandro Robaina consistently grew the best in the area, pulling crop after crop of stunning wrapper leaf from the beautiful ground.
Cuchillas de Barbacoa is a remarkable farm, with a mix of old and new curing barns (including some with modern calfriasas, which cure tobacco with hot blown air rather than the power of nature alone), a well powered by a gasoline engine and a comfortable open-air dining space with a thatched roof and rocking chairs for people to gather and smoke. But now it was time for him to handle the farm on his own.
When Cigar Aficionado visited Hirochi Robaina in May, a few days before his birthday, he had finished harvesting the 2010/2011 crop, his first crop without the aid of his grandfather.
Years ago when he would greet visitors, Hirochi didn't look the part of the farmer. Fond of sleeveless T-shirts that showed off his bulging biceps and sporty, dark sunglasses, he looked more ready for a Miami nightclub than a Cuban tobacco field. Today, the weight of responsibility and a few years of age have mellowed his appearance. His arms are covered, his eyes visible to the world, his head covered by a cowboy-style hat.
Hirochi is a serious man who knows he's been charged with a serious mission. And he has no small amount of pride that this crop, his crop, is superb. "This should be the best harvest for the past 15 years," he says while smoking a cigar, one that is rolled here at the farm for him and his family, as well as for special guests. He has dark eyes and darker hair, and a powerful build that suggests he was tough to beat when he competed at judo as a younger man. He speaks in Spanish at first, talking through a translator, then shifts to English, for which he needlessly apologizes, as he speaks the language very well.
Comments
2 comment(s)
Rafael Vaghetti — Porto Alegre, RS, Brasil, — June 23, 2012 8:17am ET
---
David Savona — June 25, 2012 9:36am ET
---
You must be logged in to post a comment.
Log In If You're Already Registered At Cigar Aficionado Online