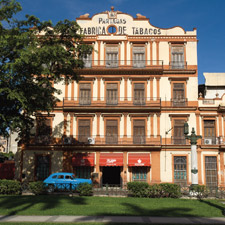 Partagás, the most famous cigar factory in Cuba, is a weathered but gorgeous landmark with distinctive architecture that was built in 1845.
Havana's Cigar Factories
Touring a Cuban cigar factory is a journey back in time
You walk through the wide doorway with the tropical heat following you inside, and step onto a cracked marble floor, wondering just how many shoes have walked this weathered path before you.
The clamor of workers going about their business reaches your ears and grows in volume with every step: A shout in rapid-fire Cuban Spanish, a call to an amigo, a friendly laugh, the hearty baritone of a golden-throated lector reading the daily news.
Busts of José Martí stand atop pedestals and photographs of Fidel Castro and Che Guevara cover the walls. This is a Cuban cigar factory, a living, breathing thing that comes to life each workday.
Then it hits you—the smell of unlit cigar tobacco, earthy and pungent and remarkably intoxicating. It pulls you closer to the factory's heart, a siren song that can't be ignored, and you walk into the massive galera, the main rolling room of the fabrica. There before you are scores of workers, each making cigars entirely by hand. It's an unrushed, antique and artisinal process, one that has not changed in any major way for hundreds of years.
Havana is the birthplace of premium cigars, and the city is dotted with cigar factories of all shapes and sizes. Most tourists believe only the Partágas Factory is open to visitors, but three in Havana welcome tourists: the Romeo y Julieta Factory (which has been transformed into the temporary home of H. Upmann), La Corona and Partagás.
Production here is unlike almost every place else. Cuban cigarmakers, unlike their counterparts in most of the non-Cuban cigar world, make the entire cigar themselves. Most cigar factories in the Dominican Republic, Honduras and Nicaragua split the process between roller and buncher. (And many have males doing the bunching and females rolling.)
Cuban cigar factories also eschew Temsco, or Lieberman bunching devices, leather and steel pads that help the buncher craft the filler and binder together. Also in Cuba you typically see a cigarmaker, or torcedore, use two binder leaves rather than one large one.
While Cuba was the first to make cigars, Havana cigar factories have learned some new tricks from their counterparts in the Caribbean and Central America. Draw testing machines are now in every Cuban cigar factory, which makes for better cigars, and has greatly reduced the draw problems that plagued Cuban cigars in the late 1990s. Cigar production has also slowed considerably, and is far from the crazy days that came as a reaction to the cigar boom.
Here is a look at the factories you can tour, and what makes each one special. The government fixes the tour prices, and visiting any one costs 10 cuc (about $11.50). Note that Cuba is in the midst of refurbishing some of its factories. The iconic Partágas Factory was supposed to be closed in the spring, but as this issue went to press it was still open.
Check with your hotel about any changes before heading out for a tour. For those willing to spend a day out in Pinar del Río, there's another factory you can see.
Comments
1 comment(s)
ROBERT BENNETT — HONOLULU , HI, USA, — July 31, 2012 2:51am ET
---
You must be logged in to post a comment.
Log In If You're Already Registered At Cigar Aficionado Online