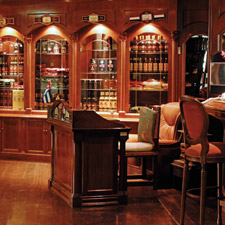 The Casa del Habano at the Meliá Habana Hotel has it all: great cigars, comfortable seating, a well-stocked bar and a friendly and knowledgable staff.
Havana Cigar Shops
The biggest city in Cuba has a superb collection of cigar stores that sell handmade, premium cigars
The woman in the yellow suit is standing by the cash register, smoking a Cohiba Siglo VI. It's a massive cigar, and it chugs smoke like an age-old locomotive struggling up a mountain. She smiles at you as you walk inside the Casa del Habano, all glass and dark wood. Leather couches beckon you to sit and stay awhile.
At a tidy bar in the corner a man in a black vest and bow tie nods hello as he wipes clean the counter in front of him. You say a quick "buenos dias" as you pass them and step inside the large walk-in humidor. The door shuts with a loud creak behind you.
Inside, it's just you and the cigars, Cuban cigars, all of them stacked in neat piles. Your mind spins with possibilities—what to buy? You look at the myriad sizes, the colorful boxes, turning them over to inspect the dates stamped beneath, seeking out something special, then select your smoke and take it to one of those comfortable chairs. As you put flame to the robusto you've just clipped, the woman in the yellow suit hands you a hot cup of Cuban coffee to go with your smoke. You take a puff, and for the next hour, all is right with the world.
No trip to Cuba is complete without buying at least one Cuban cigar, and now is a great time to buy. The cigar shops in Cuba have impressive inventories, today's Cuban cigars are smoking extremely well, and the Cuban cigar industry has added shops and improved others in Havana. Cuba's capital city is arguably the finest place on the planet to shop for Cuban cigars, with nine Casa del Habanos in the city and more on the way.
Prices here are among the lowest in the world. Set by the government, they are almost always identical from shop to shop. You can get a single cigar for only a few dollars, such as the diminutive Montecristo No. 5, which sells for 3.60 cuc (about $4.25, including exchange fees), or splurge on a large Cohiba Esplendido, which sells for 17.95 cuc ($21.50). The vast majority of Cuban cigars retail for less than 10 cuc apiece, so for less than $300 you can
acquire most boxes of 25.
Montecristo No. 2s are among the prizes found at Cuba's best cigar shops.
To help you get the most out of your time in Havana, we surveyed all of the city's nine Casa del Habano cigar shops and three other stores to provide you with the most comprehensive shopping guide to Cuba's capital city we've ever published. The Casa del Habanos are distinctive, each required to stock most of Cuba's cigar brands, have at least 60 square meters of space, walk-in humidors, a cigar roller, seats for smokers, a small bar area and humidified lockers where you can store your cigars in style for aging and to smoke on future visits. The stores that stand at the forefront of our write-ups provide something special for the smoker, ideally superior professional service and an unrivaled selection of cigars from which to choose.
Still, don't dismiss a store simply because it's not a Casa del Habano—we found at least one store in Havana that is worth a visit despite not being part of the Casa chain.
Editors' picks
La Casa del Habano
5th and 16 Av. 5 y Calle 16, Miramar
Long regarded as one of Cuba's finest cigar stores, the Casa del Habano on the corner of 5th Avenue and 16th Street in Cuba's serene and opulent Miramar section of Havana, is simply one of the world's premier cigar shopping—and smoking—experiences. This is a shop prized by collectors, with an experienced and courteous staff, a long history of selling fine cigars, a vast array of rooms and even cigar-friendly dining areas where you can puff on what you purchase.
The shop is run by Osmany Rios, who has been here for more than 10 years, and Carlos Robaina (the son of legendary Cuban tobacco farmer Alejandro Robaina), who has worked here for the past four. The duo knows fine cigars well and can steer a buyer in the right direction. On a May visit, an open box on display in a small cabinet to the right of the cash register was marked "No Se Pierda," Spanish for "Do Not Miss." It was a box of Hoyo de Monterrey le Hoyo des Dieux from 1999, not a great vintage, but who could resist a 12-year-old cigar priced at a mere $7? It was a mild, tasty smoke that was perfectly suitable for the morning.
Comments
9 comment(s)
Simon Cathcart — February 24, 2012 12:00pm ET
---
Bruno Gallucci — Ottawa, Ontario, Canada, — February 25, 2012 5:52pm ET
---
Damian Bancroft — Georgetown, Cayman Islands, — February 29, 2012 2:04pm ET
---
Keith Tramer — Stoughton, Saskatchewan, Canada, — March 13, 2012 5:09pm ET
---
Roy Jeglum — April 18, 2012 12:56am ET
---
Andre Du toit — South Africa , — June 7, 2012 7:02am ET
---
Zdravko Brkic — Belgrade, Serbia, Serbia, — July 31, 2012 5:10pm ET
---
CHRISTOPHER BRIND'AMOUR — STE-CATHERINE, QC, CANADA, — August 21, 2012 4:28pm ET
---
James Poland Jr — Branchland , West Virginia, United States, — September 22, 2012 6:50pm ET
---
You must be logged in to post a comment.
Log In If You're Already Registered At Cigar Aficionado Online