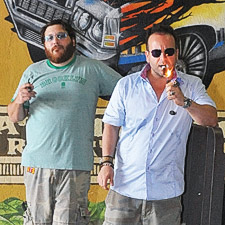 Jonathan Drew, left, and Marvin Samel, cofounders of Drew Estate Cigar Company.
Being Drew Estate
Jonathan Drew, Marvin Samel and Drew Estate make cigars their own way
Take one look at Jonathan Drew and you'd never think he was the head of a cigar company. With his blue- or tangerine-tinted eyeglasses, ever-present flood-level pants, sandals and New York accent, one would sooner place him as a hipster artist or poet than a guy who makes his living overseeing the production of tens of millions of cigars per year. With his new, thick, wild beard to go along with his colorful style of dress, the man behind Acid, Liga Privada and Chateau Real cigars bears more than a passing resemblance to artist Julian Schnabel or actor Joaquin Phoenix.
But 40-year-old Drew, who cofounded Drew Estate 15 years ago with his fraternity brother Marvin Samel, has done more than just put a new, artistic twist on the world of making premium cigars, he's earned the respect of traditional cigarmakers and some of the biggest cigar retailers in the word.
"I think Jonathan is brilliant," says Jeff Borysiewicz, the owner and founder of mega-cigar retailer Corona Cigar Co. of Orlando, Florida. Michael Argenti of Berger & Argenti Cigars calls Jon "one of the smartest guys in the business." José Orlando Padrón, the dean of Nicaraguan cigarmaking and the polar opposite of Drew, affectionately calls him "El Gringo Loco."
Samel, 39, is eccentric in his own right. Although he eschews the über-casual look favored by Drew, he's typically found in a suit jacket, shirt collar open wide, perhaps some French cuffs folded back to reveal a striking, over-the-top pattern, dark hair gelled and brushed back and up. "Marvin has a great work ethic," says Borysiewicz. "They're very different—and a good combination."
La Gran Fabrica Drew Estate, the Nicaraguan headquarters of Drew and Samel's company mirrors the artistic vision of both men, with pillars, terra cotta rooftops, balconies, arches, guest rooms, art throughout all of the facilities—even the loading dock. This 96,000-square-foot operation is one of the world's bigger cigar factories. Designed Spanish Grenada style on a rise overlooking tobacco fields, it makes about 68,000 cigars a day, 16 million a year, according to the people who run it. That would make this company the second largest producer of cigars in Nicaragua. Most of the cigars are nontraditional smokes, infused with botanicals, coffee or other flavorings, and many of them are small, but every one is crafted by hand.
Formerly made in a section of the original Tabacalera Perdomo, Drew Estate later took over the entire factory when Perdomo moved to larger quarters. In July 2007, Drew Estate consolidated, moving production from some nine smaller facilities into the impressive La Gran Fabrica Drew Estate. Steve Saka, the president of the company and the main businessman in the group, calls the factory "an extension of Jon's personality."
Drew acknowledges that he built the $7 million factory larger and grander than he needed. "I built the factory so big because it [only] cost me an extra $1 million to make it humongous," he says. The extra cash was spent on extras that make it one part hotel as well as fabrica.
A tour is testament to the money spent, and shows many things that simply don't exist in other factories. Even the cleanest, best maintained cigar factories are sturdy buildings with wooden tables, perhaps a nice paint job, maybe some pleasant woodwork. Drew Estate looks like a playground. "You notice a lot of things in this factory that you don't see in other factories," says Drew in an understatement during a tour. He is wearing a green Brooklyn T-shirt that matches the color of his sneakers. In his hand is a freshly lit and very fat Liga Privada, the wrapper is dark, toothy and gleaming with oils.
Drew points out the details that make Drew Estate different, starting with the art that is all over the walls, much of it replicas of old stamps. All of it was done in house. The lights are not your typical fluorescent tubes. "I'm a stickler on lighting," Drew says. The loading dock, perhaps the least likely spot in any factory anywhere in the world to be cherried out, has a mural of a high-rise custom auto known as a Donk. Saka seems to sweat the often-expensive artistic eccentricities of his boss. "We have the fanciest loading dock in all of Central America," he says.
The mural in the loading dock is only the second-largest mural at La Gran Fabrica Drew Estate. The biggest one, some 50 feet high, shows a tableau of cigar rolling, tobacco growing, even a dove with a banner of peace in its beak. It's eye grabbing. The same artists created the décor inside, and are the power behind the in-house art studio known as Subculture, blasting out artwork of all sorts. (A recent promotion for the cigar industry tradeshow involved decorated sneakers that were given to cigar shops that placed sizeable orders. The shoes were a huge hit.) Other cigar companies receive visitors—Drew Estate hosts what it calls the"Cigar Safari." And this cigar factory is almost certainly the only one that includes a swimming pool.
Comments
10 comment(s)
Robert Martin — Flushing, New York, Queens, — September 30, 2011 6:41pm ET
---
Lloyd Mira-Fuentes — December 28, 2011 8:27am ET
---
Raymond Alva — Riverside, CA, USA, — January 4, 2012 4:36am ET
---
jwterry1962@yahoo.com — February 25, 2012 2:24am ET
---
jwterry1962@yahoo.com — February 25, 2012 2:25am ET
---
JONATHAN DREW — NEW YORK, NY, UNITED STATES, — May 9, 2012 8:23pm ET
---
Habiger75 — June 5, 2012 12:39am ET
---
john a. wright jr. — gloucester, ma, us, — July 22, 2012 12:22pm ET
---
James Poland Jr — Branchland , West Virginia, United States, — September 22, 2012 8:11pm ET
---
Erik Molnar — Yakima, WA, USA, — December 29, 2013 3:13pm ET
---
You must be logged in to post a comment.
Log In If You're Already Registered At Cigar Aficionado Online