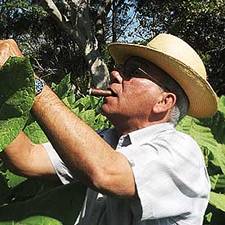 Photo by Richard Leonardi
José "Pepin" Garcia recently opened a new cigar factory in Nicaragua.
Pepin's New Look
America's hottest cigarmaker, José "Pepin" Garcia, has a grand new factory in Nicaragua.
The building is huge and bright, quite out of place on the Pan American highway in Estelí, Nicaragua, where construction tends to be modest, dusty and far more drab. With its high, cream-colored walls, oversized arched windows and prominent entry porch complete with a red terra-cotta roof, one might mistake it for a Spanish mission, but it's one of Nicaragua's newest and grandest cigar factories. Inside, José "Pepin" Garcia, perhaps the hottest name in the cigar business, has found his new home: My Father Cigars.
Garcia's business has changed dramatically in a very short time. Three years ago (when he was last profiled, in the December 2007 Cigar Aficionado), he was making cigars with but a dozen rollers in a tiny Miami factory the size of a New York City apartment and had recently expanded into a modest Nicaraguan factory with about 80 workers. In Estelí, he focused primarily on making cigars under contract for a variety of clients around the United States. Then the cigars were becoming some of the hottest in America, but there were only so many: he was making fewer than 15,000 a day, shy of four million cigars annually. In his new facility, he makes ever more cigars, including not only well-known contract brands such as Tatuaje Havana VI and San Cristobal, but star brands all his own, most notably My Father. With more than 200 cigarmakers, production has soared to some 35,000 cigars daily, in the neighborhood of eight million cigars a year.
My Father Cigars is the cigar factory arm of the Garcia Family Industrial Park, a seven-acre complex in Estelí. Visitors entering the factory are greeted by a wall of photos of Garcia and his family that include a black-and-white shot taken in Cuba when Pepin (pronounced Peh-PEEN) was a younger man. In the photo he's broad chested, wide shouldered, snapped in the midst of a rolling contest against another cigarmaker. Standing in front of the photo, Garcia happily points to the piles of well-rolled double coronas, or prominentes, that sit before him. His stacks far outstrip his competition's. Today, at age 60, Pepin is well-tanned, his hair thinner and mostly gray, a bit of a paunch where there was none before, but he is still in robust shape. The pleasure in his eyes is evident as he describes his earlier prowess at the rolling table.
Garcia was already a great roller in Cuba before setting out to make his own cigars, but the creation of My Father Cigars is clearly his grandest achievement. "Having a large and elaborate factory in Nicaragua allows us, first of all, to be able to have a bigger production, more organization, capacity. Since this factory follows the process from A to Z we have now the possibility to grow our own tobacco leaves. We have more control of what we want to create. It is definitely our dream come true," says Garcia, through an interpreter. "It means quality for us. We are taking care of everything, from the beginning, in the farms, the pre-industry, the production and even the final process. It means everything for us."
It's an utter transformation from his previous operation, where tobacco was jammed into cramped quarters in Miami and every single item (and person) seemed on top of the other. Nicaragua has become the home base for the Garcias. Most of the tobacco the company uses is processed here. Even with hundreds of people working, the factory seems half empty, and that's intentional. There is room to add rollers in the rolling gallery, room for more tobacco in the warehouse, room for more cigars in the aging room. There is plenty of room to expand. Room to breathe.
Here the Garcias make cigars for themselves (My Father and the Tabacos Baez brands) as well for other clients, including brand owner Pete Johnson (Tatuaje Havana VI, La Riqueza, Ambos Mundos), Ashton Distributors Inc. (San Cristobal, La Aroma de Cuba Edición Especial) and United Tobacco (Murcielago and 601). Ashton, Garcia's biggest client, became so pleased with his work that it recently gave him production of La Aroma de Cuba, a brand that had been made in Honduras since 2002 by Altadis U.S.A. Inc. Garcia changed the blend, replacing the Honduran wrapper with dark, Connecticut broadleaf and adding Nicaraguan components on the inside. The reblended cigar departed the gate with a 93-point rating in Cigar Aficionado.
The succession of high scores from Garcia-made cigars in Cigar Aficionado and Cigar Insider blind tastings has not slowed since he moved to Nicaragua. In fact, the results have grown even more impressive. He's had at least one cigar in all six of Cigar Aficionado's Top 25 listings, including four in the most recent list, which included his best showing ever with the No. 3 ranking of his My Father No. 1.
The My Father brand was actually created by Pepin's son, Jaime, a 39-year-old with a haircut like a marine and dark, sleepy eyes. Jaime has become Pepin's right hand, and an accomplished blender in his own right. He worked on the My Father blend in secret, trying to hide the project from his father. Jaime swore the factory to silence and started working on the blend in private. Then someone slipped up and Pepin found out about what Jaime was doing. Pepin asked his son for three of the new cigars, took them home and puffed them, enjoying them immensely. It was then that Jaime told his father he intended to name the cigar brand "My Father."
The cigar became a cornerstone for the Garcias and later the Nicaraguan cigar company was named for it. (They originally called the factory Tabacalera Cubana, changed the name to Tabacalera Garcia S.A., but that was too close to Altadis's Tabacalera de Garcia Ltd.)
On a tour of the My Father facility, the Garcia father-and-son team is joined by Pepin's daughter Janny as well as Johnson, the heavily tattooed owner of the Tatuaje cigar brand.
Comments
1 comment(s)
Ed Burke — Hawthorne, NJ, USA, — June 19, 2011 9:38pm ET
---
You must be logged in to post a comment.
Log In If You're Already Registered At Cigar Aficionado Online