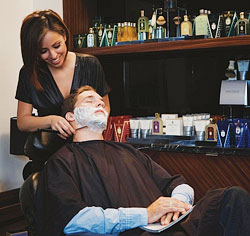 The barbershop inside Kim Vo Salon, located in the Mirage.
Vegas Trip: Celebrating 50 in Sin City, page two
Posted: October 26, 2009
(continued from page 1)
DAY TWO
Sleeping in would have been a good move on Friday morning, but we have an 8:30 tee time at the Wynn Golf and Country Club. Slumber is not an option. Glen and Steve are avid golfers (their play is "better than average," I am frequently told). I, on the other hand, am rusty at best and pitiful at worse. I haven't played in more than a dozen years, and, even back then my swing was extremely inconsistent. At least the clubhouse's walk-in cigar humidor—stocked with offerings from Fuente, Ashton, and Dunhill—makes me feel right at home.