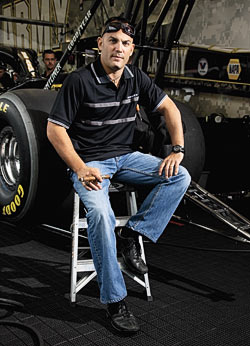 Photo by Kevin Zacher
Tony Schumacher: World's Fastest Man
Drag racer Tony Schumacher runs on nitromethane, but slows down for a cigar.
(continued from page 3)
Can a man who has lived the highs of Tony Schumacher content himself by selling battery chargers? According to his father, that will be a difficult transition. "To step away from what he's doing and step off into the business will not be that easy." But according to Schumacher, "I'll be selling battery chargers, but I'll also be talking about the miracles we pulled off, about the incredible accomplishments of this team." Don't think his love of speed will let up. Often at home, Schumacher loves going for a ride in his black Corvette. Naturally it's a convertible, the better to unwind with a cigar.
The 2009 campaign wrapped up on Sunday, November 15, and was extremely close. Schumacher came in to Pomona just two points ahead of his greatest rival, Larry Dixon, who in the last year had hired away most of Schumacher's pit crew from under him. Just the day before, Dixon had set the all-time national speed record of 321.58 mph. All signs pointed to a Schumacher-Dixon final. But an unexpected upset for Dixon in the semis caused him to hand Schumacher the title, $500,000 and his sixth straight and seventh overall championship—a trophy "The Sarge" dedicated to the victims of the recent tragedy at Fort Hood. Sunday's victory celebration, which saw Schumacher lighting up an OpusX, stretched into Monday morning and continued to Monday night's awards banquet in Los Angeles.
But then again, Schumacher has always known how to make the most of his time. When the U.S. Army was considering sponsoring a race car driver, Schumacher knew what he had to do. Whipping out an electric razor, Schumacher shaved his head, boarded a plane, came to the meeting with the potential sponsor and said, "Don't ever say I won't do anything for this team."
A two-hour meeting rapidly turned into a fast-paced celebration of a new partnership. As he has his entire life, Tony Schumacher took time at breakneck speed.
Joel Drucker is the author of the book, Jimmy Connors Saved My Life.
You must be logged in to post a comment.
Log In If You're Already Registered At Cigar Aficionado Online