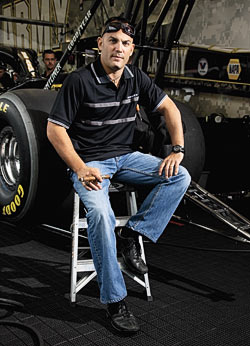 Photo by Kevin Zacher
Tony Schumacher: World's Fastest Man
Drag racer Tony Schumacher runs on nitromethane, but slows down for a cigar.
(continued from page 2)
"Now that was a message," he says.
The fit between the U.S. Army and Schumacher couldn't be better. At each race, the U.S. Army hosts events for local high-school students. When Schumacher takes the stage, the old Army slogan "Be All That You Can Be" morphs into something along the lines of "at least attempt to be all you can be."
It's a message close to Schumacher's heart. Growing up in the Chicago suburb of Park Ridge, Illinois, Schumacher loved sports, fishing and most of all, hanging out in the garage taking cars apart and putting them back together. His father, Don, ran Schumacher Electric, a highly-successful automotive battery recharging business. Asked to recall what kind of child Tony was, Don pauses for five seconds, then says, "Oooohhh. Tony was a handful. He was a challenge, a very, very busy, fast-moving young man who was always doing stuff and getting into things."
If Tony was not necessarily a troublemaker, he concedes his focus was minimal, figuring with the family business always awaiting him there was little need to push himself. Says Schumacher, "Every day I'd ask myself, 'What day am I going to try?' And every day would come and I wouldn't do a thing about it. I talk about this in my speeches. I tell kids that life goes pretty fast, and all of a sudden they're 35 and they never tried hard. I wish I'd have performed way better in school. The lesson is that when you perform well early on in life, it really carries. I was lucky to pull myself out of a tailspin and escape mediocrity."
Don had also been a racer, quitting in the early '70s, a time when auto racers were gaining speed but had yet to create a great many safety procedures. "You look at that time and you see a lot of guys were dying," says Schumacher. "But even though my dad was no longer racing, he had these friends who'd come by. I'd sit in awe. I just loved working with cars. And in time I got my chance to race."
His debut came in 1996, in Indianapolis no less. Seven days after receiving his competition license, Schumacher was the last qualifier to get into the MAC Tools U.S. Nationals race. His opponent was set to be No. 1 Blaine Johnson, but Johnson was killed in an accident just prior to that run during a qualifying race. Schumacher went on to finish second in that competition losing to Cory McClenethan. Later that week, he opened a fortune cookie and read words from premier clutch shooter Larry Bird, that became a personal mantra: "In the closing seconds of the game, I always wanted the ball in my hands for the last shot."
It was around this time when Schumacher began to smoke cigars. His grandfather had first given him a Pierogi when he was 20 years old. Soon enough, Schumacher headed to the local Walgreen's to buy a box of five cigars whose names he can't even remember, forcing himself to relax while smoking one.
But not for another decade did cigars really begin to make a major impact on Schumacher's life. Coincidentally, 2006 was also the most remarkable time of his racing career. Far back in the points standings mid-way through the year, Schumacher rattled off four wins in seven races, but still looked out of contention when he arrived in Pomona to close out the season. Then, in the final leg of the final race, Schumacher set a national elapsed time record to claim the title, an effort quickly dubbed "The Run."
As Cara says, "That's what Tony lives for. He needs that edge. He loves that adrenaline. If he didn't have racing, he'd be bored. So when he's at home, he's either got to get with the calendar with what we're doing as a family, get back to the racetrack or go outside to his 'Man Shack.'"
Whether it's Cara calling it the "Man Shack" or Tony dubbing it the "Doghouse," it's a self-contained gazebo he's built outside his Chicago home, a place with no TV or stereo but where Tony will often have a friend over, smoke a cigar, reflect on what has happened and consider what's to come. He admits that after spending an average of 230 days a year away from home, "I've only got a few more years of this in me. I always said that when my kids get old enough to start playing baseball it will be time for me to put my ego aside, make time for them and get into the family business."
You must be logged in to post a comment.
Log In If You're Already Registered At Cigar Aficionado Online