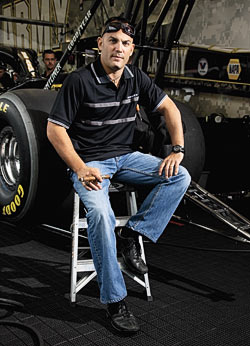 Photo by Kevin Zacher
Tony Schumacher: World's Fastest Man
Drag racer Tony Schumacher runs on nitromethane, but slows down for a cigar.
Not even four seconds. That's the duration of Tony Schumacher's competition. Burst off the mark like a jackrabbit, fly down the thousand-foot raceway at nearly 320 miles per hour, cross the finish line in one piece and feel what Schumacher calls "the complete adrenaline rush, as if every time it was the World Series, the bottom of the ninth, two out with the bases loaded and you've got to step up and deliver."
Welcome to the world of the National Hot Rod Association (NHRA), where Schumacher's the leading top-fuel drag racer, the equivalent of the heavyweight division champion.
Speed and competition make the 40-year-old Schumacher willing to repeatedly strap himself into a car and engage in a sports event where a paramedic enters the playing field and a helicopter sits at the end of the track should it be necessary to fly a driver to the hospital. Here's Schumacher sharing the joke that isn't a joke: "You're paying me for the one time my car is broken in half." The memories of what happened in Memphis on October 7, 2000, are crystal clear. That was the day Schumacher flipped his car, broke his left leg in seven places, dislocated six fingers—and was racing 10 days later. As Schumacher's wife, Cara, says, "That was wild. Pretty scary."
But risk pales when matched against Schumacher's passion. On a crisp Friday afternoon in November at the Auto Club Raceway at Pomona (a track located one hour east of Los Angeles), Schumacher is there for the Top Fuel Championship—the last race of the season. His compact 5 foot 8 inch body is coiled, primed for three days of racing as he hopes to finish out atop the point standings for the sixth year in a row. Though Schumacher won't be racing until nearly 4:00 p.m., he's been on the grounds since 8:30 in the morning.
During these race days, there are talks with Schumacher's pit crew, time with his family, and hours of interaction with the public. With an omnipresent black Sharpie, Schumacher will sign more than 1,500 autographs a day, scribbling his signature on hats, T-shirts, magazine covers, posters, scraps of paper, hot dog wrappers, photographs and anything else fans bring to this daylong tailgate party punctuated by four-second, deafening bursts of screaming engines and off-the-charts speed.
During his down time, there are speeches—he gives 200 a year, enjoying talks with everyone from CEOs to students to garbage collectors. Of the latter he notes, "The irony is that we're both professional drivers. The only difference is that I'm reminded of danger every minute. They're not, and that can lead to something awful simply in the line of doing a good job."
Now Schumacher makes his way toward the large hospitality tent of his sponsor, the U.S. Army. As one fan after another approaches—sign, take a photo, recollect a past race—Schumacher is living up to his nickname, "The Sarge." His eye contact is nonstop, uniquely compelling given that his left eye is brown and his right eye is light green. "I've always loved being around cars, always loved this life," he says.
Soon Schumacher reaches the tent but instead of dashing inside, he lingers outside the ropes, signing, posing, signing, posing. After hanging outside the tent with fans for 15 minutes, Shumacher heads toward the tent's buffet with a parting wave, kindly shouting out, "I got to eat, guys."
Waiting his turn in line, Schumacher grabs a paper plate, offers another to the person behind him, asks the server for a piece of chicken and begins to sing the opening lines of James Taylor's "Fire and Rain": "Just yesterday morning/they let me know you were gone."
As sponsor guests approach and ask for his signature, Schumacher's shift from knife and fork to Sharpie is seamless. Pointing to the fans milling through the suite and on the grounds, Schumacher says, "It's all for them. I owe them the best possible effort, all the time. It's my job."
You must be logged in to post a comment.
Log In If You're Already Registered At Cigar Aficionado Online