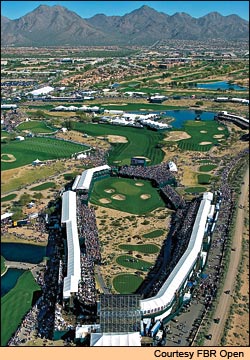 There is nothing like the 16th hole anywhere in professional golf. This year, the grandstands were extended to completely surround the par-3 hole, which plays shorter than its 162 yards.
The PGA Tour's Party Central
The February stop in Scottsdale, known today as the FBR Open, is simply the most raucous, outrageous, unruly four-day golf competition anywhere
(continued from page 1)
In 1997, Holliman's two sons were carrying the scoring placard for Tiger Woods's group. Woods made a hole in one at the 16th that year, setting off what might have been the single loudest noise bomb in the history of the game; even Tiger's celebration is the stuff of highlight reels today. Spectators showed their appreciation for the feat by throwing beer bottles and cans onto the 16th's tee box much the way hockey fans toss caps to applaud a hat trick. That caused the Thunderbirds to change the way they served beer, going to plastic cups. The move had a twofold purpose: to avoid injury to players and other spectators, and to limit how much beer a spectator could transport at one time.
"With the cans you could stuff them in your pockets and maybe carry a six-pack with you," says Lewkowitz. "It's a little messy to stuff a cup of beer in your pocket."
The 16th hole usually plays shorter than its 162-yard length, but no hole with the possible exception of the par-3 17th at the TPC Sawgrass, with its infamous island green, plays with a player's mind as much, though at Scottsdale the reasons have little to do with the shot values of the hole.
"It's an 8-iron," says Rocco Mediate, Tiger Woods's foil at the 2008 U.S. Open and his conqueror at the 1999 Phoenix Open. "Seriously, that's all it is, an 8-iron. But if you let [the crowd] get to you, they will. I interact with them. I give them shit, they give me shit. I wish we had something like this every week. I love it.
"We are entertainment. That's what we are doing. So when you have something like the 16th, it's about entertaining people and in turn about ticket revenue and raising money for the sponsors and the charities. It's all good." In 1999, the year that fans famously helped Woods by rolling a large rock out of his line of play after he hit a drive into a waste area on the par-5 13th, Mediate had the last laugh. "On 16 I hit it 30 feet past and putted that eight feet past. This guy hollers, 'You're choking!' Tiger's going to take you down,'" Mediate said. "I knocked it in and just pointed at him. That's the way it is there."
That group of former ASU students take the lead, calling out for players to acknowledge them. "Tip your hat, tip your hat," they call to Woody Austin. "Don't have to worry about water here," they yell, mindful of the fact that Austin fell into a water hazard during the 2007 Presidents Cup matches in Montreal.
"The people on 16 want you to acknowledge them," says player Chris DiMarco. "If you acknowledge them, tip your cap or wave or do a high-five along the stands, they will tend to be on your side. If you ignore them, they can really get on you."
It wasn't always this way at the 16th. Gary McCord, who commentates on the hole for CBS broadcasts of the event and lives nearby, remembers that it was just another par 3 when the tournament moved to the course in 1987. Then a beer tent popped up. "It was in the middle of nowhere," says McCord. "Then in the early '90s, I noticed some young kids from ASU coming out here. College students, outdoors, beer. The right combination. There was a TGIF tent behind the green and a mound about 60 feet away. Kids, beer, mound, that's all they needed. They weren't saying to themselves, 'Gee, 16 is a great hole.' It was a beer tent, a mound and sunshine."
"McCord is the perfect person to be in charge of the asylum," says his CBS cohort, David Feherty. "He's the perfect lunatic."
You must be logged in to post a comment.
Log In If You're Already Registered At Cigar Aficionado Online