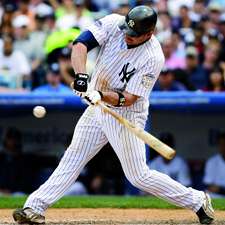 Rich Kane/Icon SMI/Corbis
The Giambi Tales
His seven-year Yankees tenure has been marked by scandal, physical afflications and unfulfilled expectations. Now Jason Giambi, the wild-eyed but eminently likable renegade, hopes for one last hurrah in the Bronx.
(continued from page 7)
In a spare clubhouse at Yankee Stadium, before a standing-room-only media gathering, Giambi sat in a black shirt and dark-striped suit, like some kid forced to stay past school hours. In folding chairs next to him were Torre, Yankees general manager Brian Cashman and Giambi's agent, Arn Tellem; Kristian was out of the spotlight, off to the side and in a dark corner.
For 40 minutes, Giambi twiddled his thumbs, crossed and uncrossed his legs, fiddled with his cuffs, fidgeted to no end in his seat. He said he was sorry a handful of times, apologized not once, not twice, but three times, and eventually said: "I'm not a bad person. I'm a man . . . and that's why I'm sitting here today."
But despite the prodding of question after pointed question, Giambi never said what he was apologizing for, never once uttered the word "steroids," and never offered a smidgen of detail.
The media reacted with a collective rolling of the eyes, felt hoodwinked and almost universally blasted him for producing a contemporary version of Being and Nothingness.
"I figured they would," Giambi would tell me much later. "I'm still glad I did it. It was a circus already and I wanted to get that first part out of the way before I got to spring training. I didn't want my problems to become a distraction to my teammates."
Says Kristian: "Jason was trying to move forward and [the media] jumped on him [for not saying the word]. They would really have to be under a rock if they didn't know what he was apologizing for. If you listened to his voice, you could tell he felt bad. That's my frustration, that no one acknowledged his honesty. I'd like to think that someday he'll be embraced for that."
By mid-May of that season, Giambi plummeted into the valley of his professional life. He was batting just .195, with a piddling three homers and six runs batted in.
The Yankees, unsuccessful at finding a loophole to make Giambi's contract null and void, came up with another way to make him disappear: they—being Torre and Cashman within the closed doors of the manager's office—asked him to take a mental breather in the minors to get his head together.
"They asked me how I felt," he says, "and I said I felt my swing was coming around, that I don't think I'm that far away, and that I wasn't depressed or worried about it.
"I'm not going to the minors," Giambi, with a right of refusal, told them flatly. "If I need to be anywhere, it's here."
You must be logged in to post a comment.
Log In If You're Already Registered At Cigar Aficionado Online