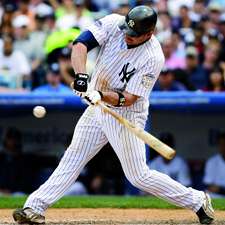 Rich Kane/Icon SMI/Corbis
The Giambi Tales
His seven-year Yankees tenure has been marked by scandal, physical afflications and unfulfilled expectations. Now Jason Giambi, the wild-eyed but eminently likable renegade, hopes for one last hurrah in the Bronx.
(continued from page 6)
It reached the point where, rather than springing out of bed in the morning, Giambi would prop himself up on the edge for a good long while, planting his feet until he felt strong enough to make a move, until convinced that when he rose, the room wouldn't conspire against him and spin around like crazy.
He was growing paler by the day, losing weight by the week and becoming more and more a wan shell of his former happy-go-lucky self.
Former Yankees reliever Tanyon Sturtze, who roomed with Giambi during this period, once told me: "There would be times Jason would come into the living room while I was watching TV and just plop on the couch and sit there like a zombie. Not saying a word. Not able to carry on a conversation. That's not like Jason."
In a desperate attempt to keep the weight on, he force-fed himself spoons of oatmeal and at least twice a day gulped down huge glasses of turbo-charged protein shakes. But nothing worked. The weight continued to come off. He sweated constantly. And the nausea progressed to vomiting.
Eventually, his vision became so blurry at times that he didn't trust himself to drive to and from the ballpark, instead asking his wife or Sturtze to do it. One game at Fenway, as he stood on second base, he felt as if he was going to pass out. Another day, in a private meeting with Joe Torre in the manager's office, Giambi told Torre he could barely sit up in the chair. "I wasn't scared about dying," Giambi says now. "Because there were days I felt so miserable I wished I would die."
He finally went to a doctor in June. Then to another doctor and another. He took tests for HIV and cancer and mononucleosis and hepatitis and various parasites. Nobody had an answer. Finally, within a space of a month, he was hit with a double whammy of a diagnosis: first, in late June, he was told he was suffering from an intestinal parasite (which his wife also had), then, in late July, he was informed that he had a benign tumor growing on his pituitary gland.
He didn't play another game the rest of the season and ended up with numbers that made him look cooked right to the bone, if not the victim of his overindulgent life: a .208 batting average, 12 homers and 40 runs batted in. Four months later, on a plane from Vegas to New York City, Kristian tried everything she could to soothe her husband, who was decidedly skittish about doing this apology thing.
"Jason, you're not the only public figure that's ever had a problem," she said. "I know it's not going to be an easy road from here, but at least after you do this, you can live with yourself."
She says now: "He didn't know what to do—you can't help but have apprehension when you're ready to step into a room full of aggression—but he knew he had to do something."
It was a Thursday afternoon, just before the start of spring training for the 2005 season and two months after the San Francisco Chronicle had reported that Giambi admitted before a federal grand jury that he used steroids for three seasons, including two as a Yankee. Everybody, from the fans to the media to sports talk radio, was calling for his head; the Yankees were even exploring ways to get out of his contract—and save themselves a still-owed $82 mil.
You must be logged in to post a comment.
Log In If You're Already Registered At Cigar Aficionado Online