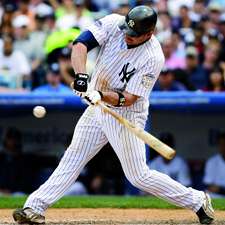 Rich Kane/Icon SMI/Corbis
The Giambi Tales
His seven-year Yankees tenure has been marked by scandal, physical afflications and unfulfilled expectations. Now Jason Giambi, the wild-eyed but eminently likable renegade, hopes for one last hurrah in the Bronx.
(continued from page 2)
One gorgeous, breezy night in the Bronx, after a round of batting practice in which, as usual, Giambi swatted one baseball after the other into the right-field stands as if the wall were only yards away, shrinking the place's dimensions as few can, he and I chat in a secluded nook within the dank, shadowy lower corridors of Yankee Stadium, far enough beyond the team's clubhouse to have some rare privacy.
His massive arms are folded across his massive chest, his bat leans between his legs, and, as always, even through the worst of times, he assumes the look of a Smiley Face come to life.
The reason for this clandestine Woodward-and-Deep-Throat moment: I've asked to see his tattoos up close and personal, the huge pair of stark, eerie-looking ones that spread over his round mounds of shoulders and stretch down those gorged-vein biceps that look as if someone stuffed softballs into them.
At the beginning of Giambi's tenure in Yankeeland, these tattoos were such a taboo that Steinbrenner, during his unannounced visits to the clubhouse, would constantly, with a burning gaze and belching bellow, order him to pull down his sleeves or put on a shirt.
"Jason!" the Boss would suddenly boom. "Cover those things up, for crissakes!" So much for Steinbrenner's gentle words to him, given within a bear hug, on Giambi's first day of spring training as a Yankee: "Be yourself." Yeah, right. True to his blithe nature, Giambi never once fought with the Boss but complied with his soft, dimpled smile, just as he had agreeably lopped off several inches of his long, tousled hair, just as he had first shaved his goatee, then dialed back his five o'clock shadow to somewhere around noon, just as he had contractually agreed to cut out all the death-wish stuff—which meant, among other things, leaving four custom-made motorcycles back in California to do nothing but collect dust.
"There was tension at the start," Giambi concedes. "But I really think the Boss eventually became cool with who I was."
Nevertheless, for eight months a year, from February to October, for the last seven years, the Yankees have owned him, body and soul, if not neutered him the way they sucked all the Idiot Caveman routine out of Johnny Damon's once-glorious persona. Giambi has needed to summon up all his willpower to tamp down that wild-eyed spirit that's dying to wiggle to the surface. The tattoos were the one thing that nobody could take away from him, and every now and then, whenever sensing the need, he admits to lifting up his sleeves to sneak a peek, if not for a spark of inspiration, then to merely remind him of a part of who he is at his core, albeit temporarily sublimated.
He got the first tattoo, the one along his left arm, when he was 25 and playing for the A's. He had it done after a day game, in a single session, sitting in a chair for seven straight hours, six of which he swears he was fast asleep. "It wasn't painful at all," he says. "It felt like when you move your arm back and forth over a flame."
The design is drawn in plain black ink: a melting skull within a bursting sun. "I wanted to be different," he says, "and I thought it looked cool." The meaning: "It's my out-of-control tattoo. Live life, taste death." And he giggles a giggle that settles somewhere between playful and ghoulish.
He then picks up his right sleeve and reveals on his biceps an open-mouthed dragon, again in black ink, with seven small skulls scattered around it, including one in the middle of a pointed tail. This was done a couple of years after the first, when he was still in Oakland. "It represents intelligence, power and wisdom," he says, suddenly staring at the tattoo and stroking it with the tips of his fingers. "This way," he says, "I have both sides of me, because even though I'm a nice guy I still have . . ."
You must be logged in to post a comment.
Log In If You're Already Registered At Cigar Aficionado Online