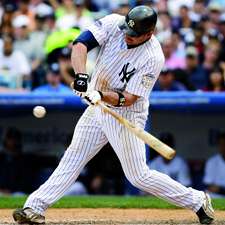 Rich Kane/Icon SMI/Corbis
The Giambi Tales
His seven-year Yankees tenure has been marked by scandal, physical afflications and unfulfilled expectations. Now Jason Giambi, the wild-eyed but eminently likable renegade, hopes for one last hurrah in the Bronx.
(continued from page 1)
It will sever seven years of such insanely bad luck, on both sides, that you wonder who broke that mirror at the start of all this: the Yankees haven't won a single championship ring the whole time, instead shell-shocked by a devastating string of postseason flops and chokes and upsets. At the same time, Giambi has degenerated from that gushing volcano of a talent that exploded in Oakland into someone hopelessly immersed in the muck of bizarre afflictions, constant pulls and strains and sprains that hobbled him to the disabled list, and being one of the central characters in one of the darkest episodes in baseball history.
THE SCANDAL
Barry Bonds. Roger Clemens. Jose Canseco. Mark McGwire. Rafael Palmiero. Sammy Sosa. And Jason Giambi.
These, for many, fairly or not, are the faces of steroids. They meld into a bloated mass of freakishly muscled flesh that represents an era in baseball that skewed the numbers and screwed the record book for all eternity. They are emblems of a time when rampant cheating ruled the day and moral conscience was nowhere to be found, faded into an addictive haze of swirling dollar signs and blinding self-interests. It is a picture completed with the unseemliness of juiced-up syringes and magic balms and candy-colored pills.
A culture gone wild.
Whatever Bonds and McGwire are doing, get me some of that.
No matter what Giambi says or does from here, whether or not he continues to apologize for his own stake in this mess, he will likely never shake the taint of it for as long as he lives and probably long after that. In the end, he couldn't avoid the truth because his leaked December 2003 federal grand-jury admission revealed that between 2001 and 2003 he indulged in various performance-enhancing substances—injecting human growth hormone into his stomach and testosterone into his buttocks, swallowing what he thinks was the female fertility drug Cloimid, and putting drops of the steroid called "the clear" under his tongue and rubbing "the cream" onto his body. It has made him like a modern-day Shoeless Joe Jackson—and, to some, as sympathetic a character as that gambling-tainted player from the early part of professional baseball history. Unlike the boorish Bonds, Giambi never smirked his way through a flaxseed defense. Unlike the flinty-eyed Clemens, he never glared into a crowd and angrily proclaimed his innocence, while offering unbelievable alibis and inconsistent time lines. Unlike the ballsy Palmiero, he never wagged a finger of denial smack in our face, before almost instantly getting caught with a flunked test. Unlike the relentless publicity-hound Canseco, he never ratted out his teammates, former or otherwise. And unlike Sosa and McGwire, Giambi's friend and mentor, he never acted as if he couldn't remember the past or that the past simply wasn't worth remembering.
Whether you feel it was because he was threatened, cajoled, backed against a legal wall or otherwise, Giambi, aside from one glitch of fabrication, has seemed to try to do the right thing, even if there were awkward moments when he found himself fumbling for the right words. He fessed up to his anabolic transgressions in the BALCO case. He was the first player to formally apologize for his sins (despite never using the word "steroids"). He was the first active player known to talk with the Mitchell Investigation, and last year had the guts to tell USA Today that not only was he "wrong for doing that stuff" but "what we should have done a long time ago was stand up—players, ownership, everybody—and said: 'We made a mistake.' " He added that "we should have apologized back then and made sure we had a rule in place and gone forward. . . . But it was a topic that everybody wanted to avoid."
For a while, this was even Giambi himself, who denied up and down in 2004 that he had ever used steroids, as well as making sure never to blurt out the dreaded s-word in public. He claims now that these evasions were based on strict orders given to him by his legal handlers, who were apparently nervous about the ramifications in the then-pending BALCO trial.
"Now [that BALCO is] over, I could say the word a thousand times and it doesn't matter," Giambi says, adding: "I did the best I could possibly do, and when the right time comes, I'll talk all about it." But he won't do it for a buck or in a tell-all book, won't take down anybody else along with him. "After I retire," he says, "I'd like to go around to schools and lecture kids about it."
You must be logged in to post a comment.
Log In If You're Already Registered At Cigar Aficionado Online