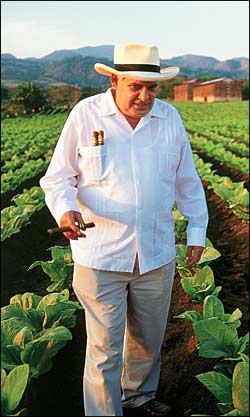 Patriarch Alberto Turrent got a humble start in the family business, driving tobacco trucks.
Te-Amo's Alberto and Alejandro Turrent
The father-son team that runs Mexico's largest cigar-tobacco operation and makes the famous Te-Amo brand discusses the family's 110-year history of growing in that country.
(continued from page 1)
Q: So that's how your company got that seed?
Alberto Turrent: Yes.
Q: That's a pretty good deal! When did the first Turrents grow tobacco?
Alberto Turrent: 1880. My great-grandfather.
Q: And was it cigar tobacco?
Alberto Turrent: Always. We never grew other tobacco, except, I think, during the Second World War. At that time, there was some domestic market, and they sold the fillers for Dutch cigarettes. Back then, the tax on tobacco was more important in value than gold and silver. There was a monopoly, a Spanish monopoly. In Mexico City, they had a cigar and cigarette factory, with 10,000 employees. Of course, everything was made by hand. And there was a big area for dark tobacco.
Q: Tell us about the origins of the Te-Amo cigar brand.
Alberto Turrent: That was created in 1966.
Q: Was that a big hit from the beginning?
Alejandro Turrent: No, the beginning was kind of a disaster.
Alberto Turrent: They packed two million cigars —they couldn't sell.
Q: Who was selling them?
Alberto Turrent: Te-Amo [was a separate partnership that] had a warehouse in New Jersey. [At] the beginning it was in Miami—it didn't work. They had two partners, and one of the partners moved from Miami to New York. The best sales [for Te-Amo] were in the New York area....[The New York partner] died, and we bought the company in 1972.
Q: So Te-Amo starts being sold in the New York area, and it had a lot of appeal to people.
Alberto Turrent: At one point we had 170 stores around the New York City area selling the cigars.
Q: It was always a New York cigar, right?
Alberto Turrent: Mostly a New York cigar. In the '70s, about 60 percent of our sales [of the Te-Amo brand] came from New York.
Q: How much did they cost then?
Alberto Turrent: Eighty cents.
Q: It was a different world for cigars then. Alejandro, when did you get into the business?
Alejandro Turrent: I [officially] got into the business around 1998. I was 25.
You must be logged in to post a comment.
Log In If You're Already Registered At Cigar Aficionado Online