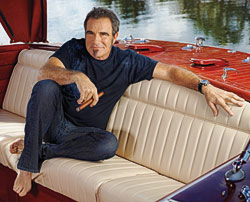 Being the drummer for the rock band Bon Jovi is a high-energy job with a long, demanding schedule. Tico Torres savors his downtime with a big cigar on his boat, docked at the end of his backyard in Jupiter, Florida.
Rock Steady
Bon Jovi drummer Tico Torres is known for pounding the skins with fervor, but at home he relaxes with fine art, golf and great cigars.
(continued from page 2)
"I wanted to be in the jazz band but I was told that first I had to be in the marching band," he recalls. "And to be in the marching band, I had to cut my hair. I said, 'No way.' So I didn't get an education in music—in high school. But I was out there doing, as opposed to studying. I was hands-on, doing what had to be done. Those were the days when you could be in three, four, five bands at one time and work with all of them because there were 10 clubs in the same square mile of New York."
He supported himself and his mother, working after school as an upholsterer or as a roofer: "I always had one rule: I treated every other job as a hobby and music as my real job," he says. "If I had a job roofing, it was a hobby that could get me from Point A to Point B."
Torres played jazz as well as rock, jamming with older musicians, including such legends as Miles Davis, Al DiMeola and Joe Pass. "I was always the young guy who was learning, learning, learning from the older guys," he says. "I went to Elvin Jones for lessons and he said, 'Just come and watch me.' So I used to sit next to him at the Village Vanguard and watch him and hand him cigarettes and drinks. If you asked someone, they'd tell you, 'Tico is not the most technical guy in town, but he's got feeling.'"
Torres was a well-regarded session and road drummer when he was introduced to Jon Bon Jovi. He was unsure about joining—the band sounded raw and Bon Jovi was nine years his junior.
"All the guys in the band still lived at home with their parents," Torres recalls with a laugh. "I had my own home and was married to my first wife. I'd been recording for years. I'd just come off nine months on the road with Franke and the Knockouts. Ritchie Blackmore and Ozzy Osbourne were calling me, looking for a road drummer. I took a chance. They weren't the best-sounding group, but I could tell that this kid [Bon Jovi] was a star."
Bon Jovi says, "At the time, his reputation was part Animal from The Muppets, part Hell's Angel, part poet, lover and friend to many. Let's just say he made a big impression on and off the stage."
That was 1983. In 2010, Torres says, he still gets the same thrill when he gets on stage with Bon Jovi that he did in the beginning.
"I'm 16 every time I play," he says. "It's a weird mental thing. The exuberance of youth is still there. And with age, I appreciate it more. This band will cease when we're having no fun. That's a pact we made. It's not a life sentence."
Though Torres says he can still just "go out and play," the physical demands of performing have taken their toll. During Bon Jovi's Lost Highway Tour, which ran from October 2007 to July 2008, Torres suffered three herniated discs in his back: "I played with a harness on," he recalls. "I'd get acupuncture before and after each show and ice constantly. It wasn't fun—but we didn't cancel a single show."
In 1992, the hard hits caught up to Torres. Bon Jovi had to cancel a gig in Australia as the effects of repetitive-stress injury (a cause of carpal-tunnel syndrome) made it impossible for him to hold his drumsticks.
You must be logged in to post a comment.
Log In If You're Already Registered At Cigar Aficionado Online