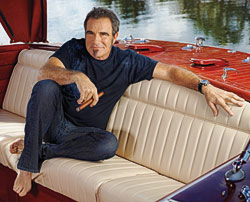 Being the drummer for the rock band Bon Jovi is a high-energy job with a long, demanding schedule. Tico Torres savors his downtime with a big cigar on his boat, docked at the end of his backyard in Jupiter, Florida.
Rock Steady
Bon Jovi drummer Tico Torres is known for pounding the skins with fervor, but at home he relaxes with fine art, golf and great cigars.
(continued from page 1)
He's befriended several professional golfers and played rounds with many of the greats, including Tiger Woods. Asked if it was humbling to go tee-to-green with Woods, Torres doesn't miss a beat: "But he can't play drums."
Woods is one of the golfers Torres wants to include in a collection he's been working on since 1996: bronze casts of the golf grip of many of the sport's greats.
"I thought, you see 3-D views of a lot of parts of golf, but never of the hands," says Torres, an accomplished painter and sculptor. "So I started doing casts of major winners' hands. I did Jack Nicklaus, Arnold Palmer, Ernie Els, Gary Player—a bunch of them. I donated them to the St. Andrews Museum, with the provision that people could touch them. That was my gift to golf."
As he played a relaxed 18 holes, Torres was a couple weeks away from returning to the road with Bon Jovi. The Circle Tour, named after the group's latest release, kicked off in Hawaii on February 11 and will eventually span the world before ending in summer 2011. That schedule would take its toll on any performer, but drummers take a particularly hard pounding, moving arms and legs almost nonstop for an entire show, which lasts two-and-a-half to three hours. To prepare for the physical rigors, Torres begins working out several weeks ahead of time, exercising on a Stairmaster and strengthening his core.
"It's about getting your heart and your lungs ready," he says. "Mainly, it's about getting my wind up. Doing a show is like boxing—your heart rate goes up and down. It takes a couple of weeks to feel like I'm in command physically."
On stage, Torres attacks his drums with ferocity from start to finish. One particularly noteworthy fan, Queen Elizabeth II, spoke up after Bon Jovi played in Liverpool. "Your arms must be so tired," she said with admiration, then quizzed Torres on his stamina and workout regimen. "That was special to me," Torres says.
"There's no one better behind the kit," says Jon Bon Jovi, via an e-mail interview. "He does things, without the use of technology, that would take a drummer and a percussionist to pull off live. And there's no one more loyal and loving than Tico."
Torres's fierce attack initially brought him to Bon Jovi's attention: "I saw Tico for the first time in 1978 when he was the drummer for a local band called Lord Gunner," he says. "He was the best and hardest-hitting drummer on the scene. When [former Bon Jovi bassist] Alec Such told me he knew him and would approach him to play in the band, I was floored. Getting him was a major coup."
Hector Samuel Juan "Tico" Torres started playing drums professionally when he was 14—without ever having played before. "I always had rhythm," Torres says, relaxing in the living room of his expansive Jupiter home, with a backyard that ends in a boat dock on an inlet that connects to the Intercoastal Waterway. "But I started playing by accident. I was hanging with some friends who had a band, who were supposed to play a club. Their drummer walked out to have a smoke or something and someone said, 'You're on.' So they grabbed me. I had half a drumstick and pliers, but I played all night. And I kept playing with them."
Born in New York to parents of Cuban extraction, Torres moved to New Jersey at seven, living with his mother after his father abandoned the family. His musical skills are self-taught, though he attempted to sign up for band in high school.
You must be logged in to post a comment.
Log In If You're Already Registered At Cigar Aficionado Online