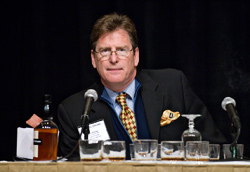 Senior features editor Jack Bettridge led the audience through a tasting of five wonderful bourbons.
Part Three: Las Vegas Big Smoke Sunday Seminars
Bourbon Rules!
David Savona
Posted: November 19, 2009
(continued from page 1)
The final bourbon, the Evan Williams Single Barrel Vintage 2000, had taken ten summers to create, but was brand new to the market. "They come out with a new product every year," said Bettridge. "We're probably the first people in the country to be tasting this." It paired well with the smoke.
As the audience lit up the second cigar, Tim Ozgener spoke about it, the C.A.O. La Traviata Divino. The robusto sized smoke is made in Nicaragua from a blend of Ecuadoran, Cameroon, Dominican and Nicaraguan tobaccos, and has a bargain price of just $4.95.
The hearty cigar didn't go well with the Maker's Mark, but proved a fine match with Woodford Reserve and Eagle Rare. The Evan Williams proved to be the most welcoming of the libations, paring well with both the C.A.O. La Traviata and the Toraño.
Taking a sip of bourbon, Ozgener joked about Bettridge's dedication to the craft of bourbon tasting. "When I visit Cigar Aficionado, Savona has a computer and a rubber mouse pad—Bettridge has an icemaker and a blender," he said to laughs from the crowd. "The last time I went over, I don't remember leaving!"
Bettridge, Toraño and Ozgener toast the crowd.
The crowd applauded, and Ozgener, Toraño and Bettridge toasted them from the stage with a clink of their glasses. The floor was soon opened to questions, and many were posed to Bettridge about bourbon and other spirits. The seminar went well past the appointed end time.
At the very end of the seminar, after nearly all the guests had left and the Venetian staff had begun the long cleanup process, two guests stood toward the back of the room, soaking it all in.
They were Glenn and Steve Rasmussen, father and a son, here together from Washington State. It was their first Big Smoke. The son had bought his father the Big Smoke weekend tickets as a present for his 60th birthday. The father, who had smoked cigars for many years, never truly had a smoking buddy until his son began smoking cigars on a trip to Mexico. The two bonded over cigars, and the Big Smoke.
"This is just fantastic," Glenn, the father said. "I was blown away." Said his son Steve, "this is more than I expected." Both planned to return in 2010, when the Big Smoke weekend returns November 12, 13 and 14th.
Photos by Sjodin Photography
CLICK BELOW TO READ ABOUT THE SUNDAY SEMINARS
Charlie Palmer Cooks Breakfast
Roll Your Own Cigar With Team La Gloria