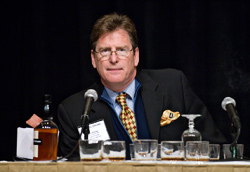 Senior features editor Jack Bettridge led the audience through a tasting of five wonderful bourbons.
Part Three: Las Vegas Big Smoke Sunday Seminars
Bourbon Rules!
David Savona
Posted: November 19, 2009
This year, the fans of the Big Smoke closing spirits and cigars seminar got their wish—bourbon in their glasses. Every year, moderator and senior features editor Jack Bettridge has polled the audience to find out what they wanted to drink. The call repeatedly went out for bourbon.
Bettridge responded with a resounding selection of five bourbons, rather than the traditional three. Immediately after the Super Roll judging, the Venetian waitstaff began filling the empty glasses set in front of each audience member with heady amber liquor: Makers' Mark, Woodford Reserve, Wild Turkey Russell's Reserve, Eagle Rare Single Barrel Ten Year Old and Evan Williams Single Barrel Vintage 2000. The audience opened their bags to remove the two tasting cigars, a Carlos Toraño Exodus 1959 Toro from Honduras and a C.A.O. La Traviata Divino from Nicaragua.
Bettridge typically does his seminar solo, but on this day he was joined on stage by a pair of cigar experts: Charlie Toraño, representing the Carlos Toraño cigar family, and Tim Ozgener, president of C.A.O. International Inc.
David Savona prepares the crowd for the final seminar—and a stiff drink.
Bettridge instructed the crowd to light the Toraño, and took his first, bracing sip of the Maker's Mark. While all bourbon must be made with a minimum 51 percent corn, Maker's distinguishes itself with a mash bill heavy on winter wheat and by the unusually high amount of rotation done to the barrels in its rick houses. "They do the most rotating of any whiskey maker," said Bettridge, who noted that Maker's, unlike most other distillers, does not have any other incarnation of its whiskey save for the original. "Their take is that they make great bourbon all the time."
Bettridge enjoyed the match of Toraño cigar to the Maker's, taking a sip and a puff and pronouncing the combination to be a fine one.
The next bourbon was Woodford Reserve, a top-shelf brand made by Brown-Forman. Woodford uses quite a bit of rye, which Bettridge noted upon his first sip. "It's a lot tarter—that's the rye," he said. The Toraño didn't match as well with this whiskey.
Russell's Reserve, created by Wild Turkey master distiller Jimmy Russell, is a 101 proof bourbon, which is the distiller's comfort zone. "101 is the magic number for Jimmy Russell," said Bettridge. It paired very well with the Toraño.
Charlie Toraño told Bettridge and the crowd that he was no bourbon expert, but his cigar—a Top 25 cigar from year's past made with Honduran, Nicaraguan, Dominican and Costa Rican tobaccos—proved to be a fine match with many of the bourbons. "Not that you have to have a glass of whiskey to enjoy Charlie's cigar," said Bettridge, "but it helps."
Panelists Charlie Toraño (left) and Tim Ozgener join the bourbon and cigar tasting.
Eagle Rare, made by Buffalo Trace, Kentucky's oldest operating still, was distinctive for its value—approximately $28 for a bottle of 10-year-old whiskey. To create the brand, Bettridge said the distillery "picks the barrel they think is best and puts it into bottles."
This one, however, didn't pair well with the Toraño Exodus. "The cigar and the bourbon aren't talking to each other," said Bettridge.