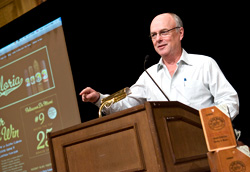 Gordon Mott at the podium.
Part Three: Las Vegas Big Smoke Sunday Seminars
Roll Your Own With Team La Gloria
(continued from page 1)
But after the laughter subsided, the judges seriously evaluated all the submitted cigars and held up a near perfect smoke rolled by David Reed of Richmond, Virginia. He was presented with the humidor and will be going to the Dominican Republic to General Cigar's factory for a first-hand look at how the mythic brand is made.
As Giannini handed Reed his prize box of cigars he said "When this box was first released three years ago, it retailed for $705. Now that it's out of production? Priceless."
The audience applauded and each member was handed a certificate proclaiming them an honorary roller of La Gloria Cubana cigars. As the cigar rolling items were collected, four glasses were upturned at every setting. A new seminar was about to take place. One that involved Bourbon. Thankfully, the razor blades and vegetable gum were removed before the drinking started.
Photos by Sjodin Photography
CLICK BELOW TO READ ABOUT THE SUNDAY SEMINARS
Charlie Palmer Cooks Breakfast
Bourbon Rules!

CLICK BELOW TO READ ABOUT THE SATURDAY SEMINARS
Top Three Cigar Tasting
From Seed to Box
The Best of Cigar Cinema
Fighting for your Rights
Cuban Cigars
Boutique Cigar Brands
Lunch with the Fuentes
CLICK HERE TO READ ABOUT THE EVENING EVENTS